Please install Flash® and turn on Javascript.
RECONGRESS 2018 NEWS

OPPORTUNITY OF A "LIFETIME"! - Our winner of the lifetime complimentary registration to Congress is Marissa Montenegro of Windsor, Calif. Watch the video of the drawing on Facebook (@recongress)
LITURGIES - Watch our video here highlighting the Liturgies at RECongress 2018.
SNEAK A PEEK - Get an advance look at the Program Book that is given to attendees at Congress. Map out your Congress weekend by knowing workshop locations, daily events along with hotel and restaurant maps and information. Find the Program Book here.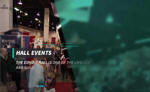 NEW VIDEO! Watch "The things you can do at RECongress 2018" here >
SPEAKER HANDOUTS - As part of our effort to reduce printed materials, we are no longer printing speaker handouts. Some of our speakers do have handouts and we encourage you to check online if any of your workshops offer handouts and print them out and bring them with you to Congress. Find the Speaker Handouts here.
THE LOS ANGELES RELIGIOUS EDUCATION CONGRESS

RECongress is the largest annual gathering of its kind in the world. The four-day event is held at the Anaheim (Calif.) Convention Center and is sponsored by the Los Angeles Office of Religious Education. Begun in 1968 as an "institute" for religious education (CCD) teachers, RECongress has grown to include people of all vocations and different faiths.

Youth Day (March 15, 2018) – Congress opens on Thursday with a day-long event for high school youth. This is an opportunity for students – not only from the Los Angeles Archdiocese but throughout California and the western states – to come together and share in Liturgy, workshops, entertainment and to experience the energy of a Youth Day Rally. See our Youth Day page.

Adult Congress days (March 16-18) – The remaining three-day weekend is open to adults and young adults and offers more than 200 speakers presenting over 300 workshops, in addition to lunchtime entertainment, evening concerts, 16 Liturgies in a variety of characters, the Exhibit Hall and much more.

Free Exhibits (open to Registrants only) – One of the perks of Congress is the Exhibit Hall – held Friday through Sunday – showcasing over 200 companies ranging from religious art to music, and from publishing houses to educational institutions, in addition to our own represented Archdiocesan ministries. See our 2017 Exhibitor Listing.

YOUTH DAY 2018 – THURSDAY, MARCH 15, 2018

Youth Day offers two tracks – with morning Arena events (Track 1) or afternoon Arena events (Track 2). Everyone gets to experience an Arena Liturgy, participate in the Arena Rally, and see the Arena speaker along with two additional workshop choices.
Our schedule for Youth Day is:
TRACK 1

TRACK 2

TIME
EVENT
TIME
EVENT
8:00 am
General Session – Arena
8:00 am
Gathering Session
(Rally / Liturgy with Archbishop
8:45 am
First Convention Workshop
José Gomez / Keynote)
10:00 am
Second Convention Workshop
11:45 am
Lunch
11:00 am
Lunch
1:00 pm
First Convention Workshop
12:15 pm
General Session - Arena
2:00 pm
Second Convention Workshop
(Arena Rally / Liturgy with
3:15 pm
Sending Session
Archbishop José Gomez / Keynote)
3:45 pm
Dismissal
3:45 pm
Dismissal
Registration
The fee for Youth Day 2018 is $30 ($35 after January 26, 2018).


Find more information on the Youth Day page.

ABOUT THE L.A. RELIGIOUS EDUCATION CONGRESS

Yelp Review
"Some people go to Tibet, Bali, or India for spiritual rejuvenation or enlightenment. Others take to the deserts in the Americas or the mountains in the Andes. I head to Orange County, California. For nearly a decade, I have joined thousands of other Catholics for a weekend of workshops, liturgies (I love hearing my favorite gospel singer!), and camaraderie. I call it visiting the Catholic planet. Don't let the name fool you; you don't have to be a Catholic schoolteacher or catechist to take part or even a staunch Catholic. In fact, the LA Congress has conservative Catholic protesters every year taking issue with the multicultural liturgies and/or the messages of inclusiveness. I consider this one of the highlights of every year and I've made it a family tradition bringing along my mother and now my daughter."
– Julie C., San Leandro, CA
American Catholic blog
"The purpose of this event is for the development of faith, but I think this event is much more than that. It is an opportunity to celebrate God and the love of his people. It is also a great opportunity to be inspired and informed and perhaps even transformed. To my friends, I call the Los Angeles Religious Education Congress the Love Fest. There are people hugging, laughing, and a general sense of well-being at this convention. After all, isn't that what God wants for us, to share in his love, to offer hope and support to one another, and share our gifts with each other? I think so, and I can only hope that I too help in my small way to set the world afire."
– Tammy Monjaras, Cincinnati, OH