FUTURE DATES

Youth Day

March 17, 2011


Congress Days

March 18-20, 2011
• Future Dates

• Congress Survey

• RECongress.org/LIVE

• Congress Stats

• ePostcards

• Facebook

• Lost & Found

• Cardinal Chats

• Workshop Recordings

• Reviews of Congress

• For So-Calers Only

• Congress Emailings



Advertisers

Congress 2010 - An 'Incredible' Event!
Can't believe Congress is already over!? Relive some of the Congress "magic" online. On our Congress site you'll find video from Congress LIVE, photos from Youth Day, links to recorded workshops, and be sure to take our online Congress survey, and see the transcripts from the Cardinal's online chat sessions, and much more...
Pass along this Congress emailing or our link — archive.recongress.org — to share with friends and encourage them to sign up for these Congress Emailing updates. If you do not care to receive future updates, you can find removal information at the bottom of this message.
---
¡Para información en español, clic aquí!
FUTURE DATES
Don't forget to mark your calendar. Dates for Congress 2011 are:
• March 17, 2011 (Youth Day)
• March 18-20, 2011 (Congress days)
Location
Congress is held at the Anaheim Convention Center, located at 800 West Katella Ave. in Anaheim, Calif. (just across from Disneyland and Disney's California Adventure). See a Yahoo Map
We invite those of you who attended Congress 2010 to tell us about your experience, and how effective our efforts have been. We'd like to hear from you, especially if you would rate any event as "excellent" or "poor." Please let us know the reasons for your evaluation at the end of the survey.
NOTE: Our online survey will be available only until March 24.
For those who attended Congress, please take a few minutes and complete our online survey. Even if you have completed the paper version, we ask that, if possible, you complete the online survey as well. We can tally our information much sooner using the online method. By taking the online version of the survey, you greatly aid our staff.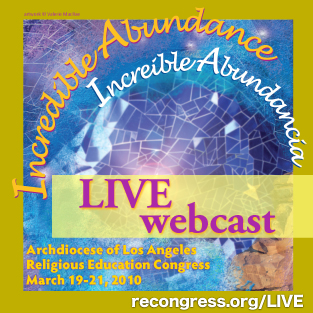 RECONGRESS.ORG/LIVE
Pope Benedict XVI's recently stated that Catholics should use technology to evangelize today's "digital continent." His message highlights how the Web has evolved into a continent of people. This year we were thrilled to be able to share a little of the Congress experience with the "digital continent" from our live Congress webcast! We had a total of 4,014 viewers for this first-event online event.
But don't worry that you've missed it. You can still watch these posted events on our RECongress channel on YouTube.
FRIDAY, MARCH 19
Event:
Opening Rite (in 8 parts)
Workshop: Ronald Rolheiser, OMI (in 7 parts)
"The Abundance of God and Philanthropy of the Heart"
Workshop: Rev. R. Tony Ricard (in 10 parts)
"Why You So Crazy? Developing the Faith of a Fool"
SUNDAY, MARCH 21
Event:
Closing Liturgy (in 8 parts)
ATTENDANCE UP FROM LAST YEAR
Congress 2010 turned out to be one of our best attended events, and even drew a higher attendance than the prior year. See the comparison of last year to this year's registration numbers:
Year
Youth Day
Registration
(mailed)
Registration
(online)
Registration
(on site)
Registration
Total
2009
15,243
11,369
8,390
1,252
36,254
2010
15,860
12,264
9,197
1,017
38,338
Congress draws registrants from nearly every state in the nation. You can find details on the number of registrations by state and country, as well as the top cities in California, on our Congress statistics page. Also, see the number of people who came from YOUR city!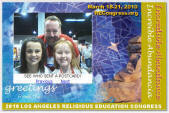 SOUVENIR ePOSTCARDS

Along with the Congress souvenir pens, pins and magnets, Congress also offered a souvenir ePostcard, to be sent home by email or to friends. Offered only on Sunday at the Tech Center in Hall A -- see who sent their ePostcard from Congress.
'TWEETING' ON FACEBOOK
Throughout the weekend Congress news and happenings were posted on our Facebook fan page (facebook.com/RECongress) and on Twitter (twitter.com/@lacongress -- hashtag #REC2010). Watch for posted videos and attendee interviews online! Plus, be sure to upload your own pics and videos with tags of you and your friends! Share them with all our fans and fellow tweeters!
LOST & FOUND
Did you leave something behind at Congress? We seem to have some "leftovers!" Each year after our Religious Education Congress event there are a great many unclaimed items — glasses, bags, books, jackets — that end up in our Lost and Found. Please contact the Congress Office with what you seem to be missing, and we'll see if it's among our Lost and Found items. You can find contact information online on our Lost and Found page. All items not claimed by April 15, 2010 will be donated to a charitable organization.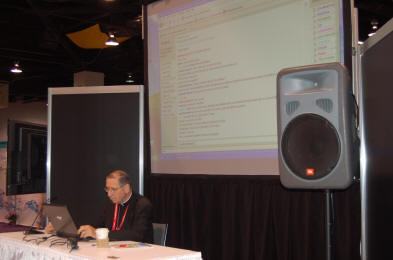 CARDINAL CHAT TRANSCRIPT
Each year from the Religious Education Congress, Los Angeles Cardinal Roger Mahony conducts an online chat session. The first Cardinal chat took place in 1996. This was the Cardinal's 14th annual chat session originating from the Tech Center at Congress. You can find the transcript to this chat at archive.recongress.org/chat2010.htm
For the past few years, preceding his nationwide chats, the Cardinal has added an additional chat session with students from different schools within the Los Angeles Archdiocese. This year's online school chat was with students from St. John Chrysostom School in Inglewood.
CONGRESS RECORDINGS
If you're still thinking about that Congress session you missed or wish you could have shared a talk with a friend, it's not too late! There were 250 Congress workshops recorded by CSC Digital Media that are available on Audio CDs. You can order any of these sessions from this year as well as both cassette tapes and audio CDs from prior years.
CONGRESS IN THE NEWS
See some of what's been said about Congress. You can find links to reviews — especially by The Tidings, newspaper of the Los Angeles Archdiocese — postings, photos and videos about the Religious Education Congress on our Congress Reviews page. You can also find Items about the Los Angeles Religious Education Congress found on the Internet, including videos from Congress, past press releases, and links to Congress history. (And let us know about any we've missed!)

JUST FOR SOUTHERN CALIFORNIANS
Ralphs Grocery Company, a major supermarket chain in the Southern California area, supports schools, churches and other non-profit organizations with annual contributions. The Los Angeles Religious Education Congress is a member of Ralphs Community Contributions Program. Simply by using your Ralphs rewards Card a portion of eligible purchases are contributed to the RECongress. (Note: This is an annual program that must be renewed each year. The current term is through August 31, 2010.)
We encourage all Ralphs shoppers to sign up for the free Ralphs rewards Card and register their card with the Community Contributions Program. It's easy! Every time you shop for groceries and swipe your card at Ralphs, RECongress will automatically earn up to 5% of all eligible purchases per enrolled card. Sign up now! It's never been easier to contribute to the RECongress.
Organization Name: Archdiocese of Los Angeles - Religious Education
Address: 3424 Wilshire Blvd., Los Angeles, CA
Organization Number: 90658
Find step-by-step instructions and information online.
Read About the Ralph rewards Program
EMAILINGS
Be sure to sign-up for the monthly Congress Emailing List. You may opt out from this Emailing at any time from the link below.
You can find a copy of this email our past Congress Emailings on our RECongress.org site.