RECongress 2017


RECongress Dates
February 23 (Youth Day) &
February 24-26, 2017


2017 Congress Theme
"Embrace Trust"
Go to RECongress site »

Find us online:

RECongress is next week!




Be ready for the 2017 Los Angeles Religious Education Congress. Find the Program Book online (the book that attendees receive when they arrive at Congress). Online registration for Youth Day has closed, but remember, Congress never closes! Though there are 104 workshops closed (as of last week), that means there are still 187 workshops available. And don't forget about taped workshops.

Attention RECongress attendees: This year we wish to join the millions of Catholics throughout the world who have taken to heart the call of Pope Francis to care for Our Mother Earth, Our Common Home. Therefore, make sure to bring your own reusable drinking container and avoid using the plastic cups placed at the water stations during our Religious Education Congress.

Pass along this emailing or our link — archive.recongress.org — to share with friends and encourage them to sign up for the Emailings to receive the latest information about RECongress. If you do not care to receive future updates, you can find removal information at the bottom of this message.

Para información en español, clic aquí! »

Dates

The 2017 Los Angeles Religious Education Congress dates are:
• February 23, 2017 (Youth Day) &
• February 24-26, 2017

Location
Congress is held annually at the Anaheim Convention Center, located at 800 West Katella Ave. in Anaheim, Calif. (just south of Disneyland and Disney California Adventure).

Registration

Register for Congress online by credit card or check (ACH processing). At this point we are no longer accepting mailed-in registrations. Please register online or on site at Congress in Anaheim.

Youth Day online registration is closed. There is NO on-site registration for Youth Day.

Congress registration remains open through Sunday morning, February 26.

Announcing the RECongress 2017 app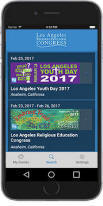 You can now download the RECongress 2017 app – which covers both Youth Day and Congress! It is now available on the iOS and Android platforms as your guide to the Religious Education Congress. With the official RECongress 2017 application (available at the App Store for iPhone and iPad) and on Android (at the Play Store for Android smartphone and tablets) you can:
– View Sessions by Track or Full Schedule
– Manage personal session schedule
– View Speakers and Exhibitor Listings
– Access hotels maps and an interactive Exhibit Hall map
– Interact using your social media accounts (Twitter, Facebook, etc.)
– Access documents and other event information
The app has links for Attendees, Speakers, Schedule, Maps, Exhibitors, Surveys and a sharable photo Gallery of photos you snap at Congress.
View other Congress Updates »


Still Need to Register for Congress?
You can still register for Congress. We are no longer accepting mailed-in registrations, but you may still register online or on site at Congress in Anaheim. Congress registration remains open through Sunday morning, February 26. Note: There is NO on-site registration for Youth Day.
Congress Tickets
If you received an email confirmation with a barcode, print it out and bring it with you to Congress (or have it or your registration number with you on your smartphone) to print your tickets at the Registration area at Congress. If you did not receive your tickets by mail and haven't received a confirmation email, call Nancy this week at (213) 637-7348. At Congress, just go to the Registration area in the Prefunction Area of the Convention Center.

On-site registration hours at Congress are:
Thursday, February 23: 5:30 pm-8:00 pm
Friday, February 24: 7:00 am-3:00 pm
Saturday, February 25: 7:30 am-2:30 pm
Sunday, February 26: 8:00 am-11:00 am
See the Congress Updates »

Help Is On The Way!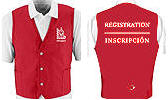 If you discover you need help with your registration on-site at Congress, be on the lookout for our staff decked out in our new vest. There are a number of registration crew who are there to help you register, find the right line and help solve your registration questions. You can find them wearing the bright red vest with the word "Registration" on the back. These people will be walking about in the Registration Area (between Hall B and Hall C)
See the Youth Day Schedule »

Discount Disney Ticket Offer Ends Next Week


There is only one week left for Religious Education Congress attendees to order specially priced Disneyland resort eTickets prior to their arrival. There is special pricing for Twilight Convention tickets (after 4 pm), 1-day 1-park, multi-day and park hopper tickets. This eTicket offer is only available online at http://mydisneygroup.com/recongress2017 and only through Wednesday, February 22, 2017 at 9:00 PM PST. The tickets are valid from Thursday, February 17 to Tuesday, February 26, 2017.
Read about the Disney Ticket offer »

Convention Center Expansion/Parking


The Anaheim Convention Center is still under construction The expansion project, due to be finished by Congress 2019, will add more meeting space. During construction, you may park in Car Park 4 or Car Park 6 (both accessed from West Street), or the Toy Story Lot (off of Harbor Blvd), or the parking structure at the Anaheim GardenWalk (off of Katella Ave.). You can download a parking map here.

During Congress, the Convention Center will be providing shuttle service to and from both the Disney Toy Story Lot and the Anaheim GardenWalk parking structure. For your convenience, the shuttle runs from 7 am to 10 pm. Parking is $15 – the same rate as at the Convention Center.
See the Youth Day Schedule »

Angelus Special Issue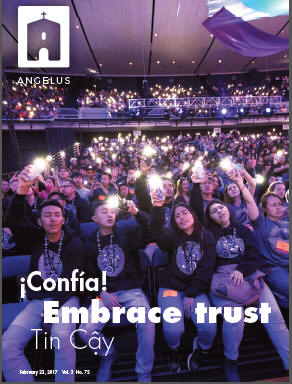 Take a sneak peek at the special Congress edition of Angelus magazine, the newsweekly of the Los Angeles Archdiocese. The edition is part of the "swag bag" that all attendees receive when they arrive at Congress. The souvenir gift bag, available at the Program Book Pick-Up area, is sponsored by Catholic Cemeteries & Mortuaries and includes the special edition of Angelus, newsweekly of the Los Angeles Archdiocese. In the edition are features on RECongress as well as pieces by weekly Angelus columnists -- and Congress speakers -- Bishop Robert Barron, John Allen Jr., Fr. Ronald Rolheiser and Heather King,


View the Angelus special here »

Congress Entertainment: Friday Evening Concert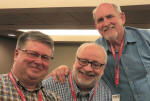 Friday, February 24, 2017 - 8:00 pm - Arena
David Haas, Marty Haugen & Michael Joncas
"With Gratitude: An evening celebrating the Liturgical Music of David Haas, Marty Haugen & Michael Joncas.
Come together to conclude the first full day of Congress 2017 with an evening of sung prayer - featuring both classic favorites like "Shepherd Me, O God," "You Are Mine," and "On Eagle's Wings," and newly composed pieces for the singing Church. This event will mark the very last time David, Marty and Michael will appear and sing together as a trio. A time to sing, pray, and celebrate a collaborative and ministerial friendship of over 30 years, that has gifted praying assemblies throughout the world with song that have enriched the faith of believers throughout the world.
See other Congress Entertainment »

Liturgy Spotlight: Immigrants, Exiles, Refugees Liturgy
Saturday, February 25, 2017 • 5:15 pm • Convention Arena


Bishop Robert McElroy, presider
Developed from the Roman Missal's Mass for Refugees and Exiles, this liturgy considers the plight of our Christian brothers and sisters in the Middle East as well as all those who are fleeing violence and war. Immigrants are included as well, since for many of them, the circumstances motivating the need to migrate can also be the result of traumatic and harsh situations at home. People of almost every country, ethnicity and religion have experienced one of these situations. As a symbol of solidarity with all immigrants, exiles and refugees, today, we simultaneously celebrate two liturgies with this issue in mind: one in English in the Arena, and one in Spanish in Hall B.
See the Listing of Scheduled Liturgies »

RECongress Speaker Changes
There are two speaker changes to note. Cardinal Roger Mahony will not be attending Congress. His workshop -- Saturday Session 4-14: A New President: In Conflict or Harmony with the Gospels? (*) -- will be presented by Fr. Allan Deck, SJ

Dr. Carlos Cabarrús Pellecer, SJ also will not be attending Congress. His workshops:
Friday, Session 2-52: La articulación de los valores humanos con la dimensión cristiana (*) -- will be presented by Dr. Jose Medina.
Saturday, Session 6-53: Espiritualidad y oración (*) -- will be presented by Ernesto Vega.
See other Congress Updates »

Sign up for the Archdiocesan News

Want to know what's happening in the Archdiocese? Subscribe free to their weekly e-newsletter. The ACC Newsbriefs is a free, weekly newsletter sent to your email address each Friday with information on upcoming workshops and events sponsored by departments of the Archdiocesan Catholic Center, and links to archdiocesan web pages for more information and registration. It also includes information on other events throughout the Archdiocese. Over 1,300 people currently receive the ACC Newsbriefs each week. Please note that we only use your email address to send you the ACC Newsbriefs. We do not share your information with anyone else, not even other ACC departments. Anyone with an e-mail address is welcome to subscribe. To subscribe, click the link http://lists.la-archdiocese.org/mailman/listinfo/newsbriefs_lists.la-archdiocese.org and provide your name, your phone number (in case they have any questions), and your email address.
See other Tech Center information »

Airport Shuttle Service


The Religious Education Congress has made arrangements for airport transportation with Karmel Shuttle, offering direct service between Los Angeles International (LAX), John Wayne (SNA), and Long Beach (LGB) airports to and from the Anaheim Resort area. Rates for Los Angeles International (LAX) to/from Anaheim Resort with the discount is $22 for a one-way transfer (reflects a $4 discount). Rates for John Wayne Airport (SNA) to/from the Anaheim Resort is $15 for a one-way transfer (reflects a $4 discount). Reservations are required a minimum of 24 hours in advance.
3 WAYS TO REGISTER:
1) Visit www.karmel.com and enter Promo Code: REC17.
2) Call toll free 1-888-995-RIDE (888-995-7433). Mention Promo Code "REC17" at the time of reservation.
3) Click this link -- exclusively for Religious Education Congress attendees.
See other Congress Spotlights »

Some Congress Reminders
Audio Recording at Congress - click here
Most of the Congress workshop sessions are audio recorded with speaker permission. Audio CDs are available at Congress for purchase at the CSC Digital Media booth, located at the east wall in Exhibit Hall A. Downloadable MP3s will be made available after Congress. You can order on site, from the order page in the Program Book or online -- during Congress and after. NOTE: Delegate recording of any workshop or general assembly session is not permitted.
Live Streaming in Hall B - click here
As an alternative to dealing with the Arena crowd, you can watch Friday's Opening Event (8:30-9:30 am) with a live broadcast in Hall B..

Registration & Program Books Online - click here
Our 2016 Registration Guidebook and even our 2017 Congress Program Book — the one given away at Congress — are now available online in PDF (requires the free Adobe Reader) and in format (requires no software download)..

Hotels - click here
RECongress has contracted with local hotels to offer special rates for attendees. When making hotel reservations, be sure to ask for the Religious Education Congress rate. Check online for our most current listing of hotels.

Show Your Badge & Save Program - click here
Congress attendees can receive promotional offers and discounts during Congress with the "Show Your Badge & Save" program. Discounts are available at participating restaurants, attractions, and much more.

Chair Massage at Congress
On Friday and Saturday (10 am-4:30 pm) and again on Sunday (10 am-2:30 pm) in the Hall A Prefuntion Area you can take a break from the bustle of Congress with a chair massage. The cost is $1 per minute.

A.A. Meetings
Join a lunchtime meeting with other Alcoholics Anonymous (A.A.) men and women. This is an open meeting for anyone working a 12-Step program, or anyone interested in 12-Step recovery. The meeting room is location on the Marriott's lower level, in the San Diego room.

Anaheim Protesters
If there are protesters at Congress, please do not engage in conversation with them. Ignoring them is the best way of responding. We have developed a plan with Convention Center staff to handle any potential protests.
Ralphs Rewards Program - click here
Don't forget to sign up at your Southern California Ralphs store for the free Ralphs rewards Card and register the card with the Community Contributions Program.
See the Youth Day page »
Find Congress Updates here »

Our Web Site – RECongress.org
You can find all Congress information and updates online. Our RECongress Emailings feature some Congress Spotlights and we will be adding speaker and hotel information. Check our site for the latest updates and announcements.
RECongress Emailing
Be sure to sign-up for our twice-a-month Emailing about Congress updates and events. You may opt out from our Congress Emailing at any time from the "Manage Your Subscription" link below. Our Emailings for Congress 2017 are scheduled through April 2017.