RECongress 2016 is here!

The 2016 Los Angeles Religious Education Congress begins this Thursday with Youth Day! Be ready for RECongress with some of our last-minute reminders.
Registration, self-ticket print and help windows are available in the Registration Area with Program Pick-up located in the Prefunction Lobby at the Anaheim Convention Center between Hall A and Hall B. Hours during the Congress weekend are:
Thursday, February 25: 5:30 p.m.-8:30 p.m.
Friday, February 26: 7:00 a.m.-3:00 p.m.
Saturday, February 27: 7:30 a.m.-3:00 p.m.
Sunday, February 28: 8:00 a.m.-11:00 a.m.
CORRECTION:
The location of Friday Evening Prayer was incorrectly listed in the Program Book. It will be held in Convention 210 at 5:15 pm.
MARK YOUR CALENDAR:
Congress 2017 - February 23 (Youth Day) & February 24-26, 2017
---

Pass along this emailing or our link — archive.recongress.org — to receive the latest information about Congress 2016 and encourage your friends to sign up for our Congress Emailing at archive.recongress.org/optin.htm. If you do not care to receive future updates, you can find removal information at the bottom of this message.


Hurry, Offer Ends This Wednesday


Wednesday, February 24, 2016 at 9:00 PM PST is the last time you can purchase specially priced Disneyland resort tickets. The discounted rates apply to Twilight Convention tickets (after 4 pm), 1-day 1-park, multi-day and park hopper tickets. This offer is only available online at disneytickets.disney.go.com/store/ZMRB16A and is not available at the Park. The tickets are valid from Thursday, February 18, 2016, through Monday, February 29, 2016.
See Other Congress Updates »
Convention Center Parking Reminder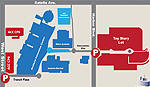 With the Convention Center expansion, some parking has been affected. The construction centers at the former location of Car Park 1 off Katella Ave. During construction, you may park in Car Park 4 or Car Park 6 (both accessed from West Street), or the Toy Story Lot (off of Harbor Blvd), or the parking structure at the Anaheim GardenWalk (off of Katella Ave.). You can download a parking map here.
The Convention Center is providing shuttle service to and from both the Disney Toy Story Lot and the Anaheim GardenWalk parking structure. For your convenience, the shuttle runs from 7 am to 10 pm. Parking is $15 — the same rate as at the Convention Center.
See Other Congress Updates »
60 Years of RECongress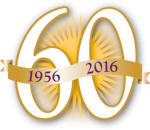 Congress 2016 is our 60th event since the first CCD Institute held in 1956. Celebrating our 60 years, we will be giving away 60 FREE registrations for Congress 2017. Be sure to visit the Office of Religious Education Booth in Hall A and enter your name on one of the iPads. Names will be randomly selected from those entered. You do not need to be present at the booth to win; you will be notified if you are selected.
Be sure to take a souvenir selfie at the ORE booth, and meet the ORE Staff -- see the Program Book for day and times the staff will be present at the ORE booth.
See the schedule in the Guidebook »
Film Showcase 2016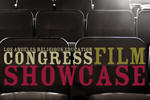 Friday, February 26, 7:45-9:45 pm Convention 201
The Los Angeles Religious Education Congress Film Showcase, in partnership with Loyola Marymount University's Center for Religion and Spirituality, is an annual forum of cinematic work reflective of the Catholic tradition. The following films have been announced as being selected for the 2016 Film Showcase:
40 HOURS
Directed by Father David L. Guffey, C.S.C.
BLOOD OF THE MARTYRS
Directed by Erik Lohr
CHIAMENTENI FRANCESCO (CALL ME FRANCIS)
Directed by Daniele Luchetti
EL ESTUDIENTE (THE STUDENT)
Directed by Roberto Girault
FULL OF GRACE
Directed by Andrew Hyatt
ONE ROLE
Directed by Andrew Odeh
MEDIA APOSTLE
Directed by Sr. Helena Burns, F.S.P.
PHIL'S CAMINO
Directed by Annie O'Neil & Jessica Lewis
TRAFFICKED IN THE U.S.
Directed by Charles Vijay Kumar, C.Ss.R.
ZOLA BRINCÓ (ZOLA JUMPED IN)
Directed by Dominic DeLay
Pre-show begins at 7 p.m., with the Showcase starting a 7:45 p.m. A Q&A with some of the filmmakers will follow. Information and announcements will be posted throughout the week on the Congress Film Showcase at https://www.facebook.com/larecfilmshowcase
Prime Time Shuttle Discount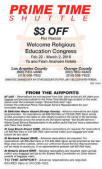 Do you have your shuttle? The Religious Education Congress has made special arrangements for airport transportation with Prime Time Shuttle. They offer 24-hour/7-day service between Los Angeles International (LAX), John Wayne (SNA) and Long Beach (LGB) airports. All departures must be booked at least 24 hours in advance.

For Congress attendees, Prime Time's shared ride shuttle rate is reduced by $3 with the discount coupon: LAX is $12 per person; John Wayne is $7 per person; Long Beach is $35 for the first person ($10 for each additional person). Download the coupon from the Guidebook, call 1-800-RED-VANS (and mention that you are attending the Religious Education Congress) or online to schedule a shuttle.
Don't Forget Your Free ePostcard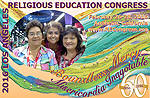 In addition to the Congress 60th year logoed souvenir pens, pins and magnets, you can also claim a free souvenir ePostcard. The ePostcards are only available on Sunday and only at the Technology Center, located in the southeast area of Hall A under the "Computer Demonstration" banner. Take your picture at Congress to email home and/or to your friends.
Audio Recording at Congress
There are 309 workshops offered at Congress 2016, with most sessions audio recorded with speaker permission. A good strategy is choosing sessions that are not recorded, which allows the option of listening to recorded sessions at a later time. You can find ordering information of Audio CDs and MP3s on our Recordings Page. Audio CDs are available at Congress for purchase at the CSC Digital Media booth, located at the east wall in Exhibit Hall A. Downloadable MP3s will be made available after Congress. You can order on site, from the order page in the Program Book or online — during Congress and after. NOTE: Delegate recording of any workshop or general assembly session is not permitted.
Go to Recording page »
Some RECongress Reminders:
Live Streaming in Hall B
As an alternative to dealing with the Arena crowd, you can watch Friday's Opening Event (8:30-9:30 am) by a live streaming broadcast in Hall B.

Program Book Online - click here
Our 2016 Program Book — the one given away at Congress — and even our Registration Guidebook are available online in PDF (requires the free Adobe Reader) and in iPaper format (requires no software download).

Hotels - click here
RECongress has contracted with local hotels to offer special rates for attendees through early February. When making hotel reservations, be sure to ask for the Religious Education Congress rate. Check online for our most current listing of hotels.
Show Your Badge & Save Program - click here
Congress attendees can receive promotional offers and discounts during Congress with the "Show Your Badge & Save" program. Discounts are available at participating restaurants, attractions, and much more.
Anaheim Protesters
If there are protesters at Congress, please do not engage in conversation with them. Ignoring them is the best way of responding. We have developed a plan with Convention Center staff to handle any potential protests.

Lost and Found
There is a Lost & Found desk located outside of Congress Headquarters, located in Convention AR 1, near the south end of the Arena.

Message Center
The Message Center, located in the Prefunction area, can receive incoming messages. Call (714) 765-8883 or (714) 765-8884 to leave a message, or you can leave a note on the Message Board.
Friday: 10:00 am - 6:00 pm
Saturday: 9:00 am - 6:00 pm
Sunday: 9:00 am - 3:00 pm
See the Updates Day page »
Our Web Site — RECongress.org
You can find all Congress information and updates online. Our RECongress Emailings feature Congress Spotlights. Check our site for the latest updates and announcements.
RECongress Emailing
Make sure you are on our list for our twice-a-month Emailings about the Religious Education Congress. Though our Emailing will only last through March, make sure you are on the list for information about Congress 2017! You may opt out from our Congress Emailing at any time from the "Manage Your Subscription" link below.

Find past Emailings at archive.recongress.org/emailing.htm
© 2016 Los Angeles Religious Education Congress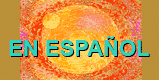 RECongress 2016

RECongress Dates
February 25 (Youth Day) &
February 26-28, 2016

2016 Congress Theme
"Boundless Mercy" / "Misericordia Inagotable"
2016 Theme Reflection
See a reflection on the 2016 Congress logo by ORE Director Fr. Chris Bazyouros.
Read the Reflection »
Location
Anaheim Convention Center
800 West Katella Ave.
Anaheim, Calif. 92802
(just south of Disneyland and Disney California Adventure).
See a Yahoo Map »
Hotel Information
See our listing of contracted hotels with special rates for Congress attendees.
See the Hotel page »
View the Guidebook
The Guidebook is your key to registration and contains all workshop and speaker descriptions, entertainment and liturgy options, and all events during Congress.
View the Guidebook »
Congress Milestones
1956 - first two-day CCD Institute (500 teachers in attendance)
1967 - first three-day "Southern California Confraternity Congress " (7,000 in attendance)
1970 - Congress moves to Anaheim Convention Center
1973 - first "Religious Education Congress," as CCD office renamed to Office of Religious Education.
2016 - our 60th event since the first CCD Institute See the REC Milestones »