ANAHEIM CONVENTION CENTER
Our Religious Education Congress takes place at the Anaheim Convention Center, located at 800 W Katella Ave, Anaheim, CA 92802. The Convention Center Arena is located on Katela Ave, just west of Harbor Blvd.. Their website is www.anaheimconventioncenter.com

Find maps and directions here.

Parking Rates

The parking fee for RECongress 2016 is $15.00, with no in and out privileges.
Note that vehicles in excess of 20 feet in length are charged twice the daily rate per entry and must be parked in designated
spaces. Total length of vehicle cannot exceed 40 feet.
Overnight parking is not allowed.

Convention Center Expansion

The Anaheim Convention Center is expanding. The project, due to be finished in 2017, will transform Car Park 1 into additional meeting space. You can find a video about the expansion here. Additional information can be found on the expansion web site, at www.accexpansion.com

During construction, you may park in Car Park 4 or Car Park 6 (both accessed from West Street), or the Toy Story Lot (off of Harbor Blvd), or the parking structure at the Anaheim GardenWalk (off of Katella Ave.). You can download a parking map here.

The Convention Center is providing shuttle service to and from both the Disney Toy Story Lot and the Anaheim GardenWalk parking structure. For your convenience, the shuttle runs from 7 am to 10 pm. Parking is $15 — the same rate as at the Convention Center.
HOTEL INFORMATION
We have negotiated special rates with surrounding hotel properties. (See the 2016 Hotels listing.) To get the quoted rates, be sure to inform the hotel that you are attending the 2016 Religious Education Congress and ask for the Religious Education Congress Group Rate.
PUBLIC TRANSPORTATION
The following travel information on Public Transportation Options is provided by Visit Anaheim (formerly the Anaheim/Orange Country Visitor & Convention Bureau).

By Bus

The Orange County Transit Authority (OCTA) operates the bus system in the Anaheim/Orange County area, with routes and service to local Metrolink stations.

• Find OCTA Bus Service and detailed schedule information here.

By Train

Amtrak provides passenger rail service in the Anaheim/Orange County area. Twenty-two Pacific Surfliner trains serve Anaheim, Fullerton, Irvine, Santa Ana and San Juan Capistrano each day.

• Find more information on Amtrak.

By Metrolink

Metrolink is Southern California's rail system and provides meeting and convention attendees easy access to major activity centers. OCTA operates the Orange County portion of the Metrolink and has 11 stations offering 42 round trips every weekday on three lines.

ANAHEIM RESORT TRANSIT (ART) SHUTTLE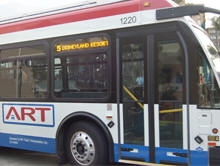 The Anaheim Resort Transit (ART) replaces individual hotel shuttle service to locations throughout the Anaheim Resort District. ART's fleet of vehicles runs along nine routes that connect hotels, Disney land, Disney California Adventure, Downtown Disney and the Anaheim Convention Center with shopping, dining and evening entertainment.

ART schedules and system maps, adult and child passes, display materials and signage will be available at all participating hotels in the Anaheim Resort District.

Service Schedule: Daily service begins 60 minutes before area theme parks open and concludes 30 minutes after closing. Disneyland's East Esplanade offers ART guests priority pick-up and drop-off locations. During peak periods or special events, 10-minute frequency services early morning and evening high-demand periods. Non-peak periods are serviced with 20-minute frequency.

Fares & Passes: ART adult all-day passes can be purchased by cash, ATM and credit card at $5 per day (children 3-9 are $2 per day) for unlimited use; three-day adult passes are priced at $12 (children 3-9 are $3) per day, and five-day adult passes are $20 (children 3-9 are $5). Children 2 and under are free.

Routes: The Anaheim Convent Center is a stop on Routes 1, 3, 9, 12, 18, 20.

Passes are available from:
• The Front Desk of all participating ART properties.
• ART kiosks located at 13 locations throughout the Resort.
• On-board, guests may purchase one-way, one-time, cash-only fares of $5 for adults; children 3-9 are $2; under 2 are free.

Now! Your Phone is Your Ticket!
ART is now in the Apple Store and Android Shop! Download the application to buy passes, get real time schedules, and keep all your passes in our virtual wallet! Get the links to download.

For further information, check online at www.rideart.org or contact the 24-hour, toll-free Call Center at 1-888-364-2787, available in English and Spanish.

AIRLINE TRAVEL
Executours Travel Service is the official agency for the Los Angeles Religious Education Congress.
A Branch of Tzell Travel Group
11111 Santa Monica Blvd Ste 1675
Los Angeles, CA 90025-2994
Ask for the Congress Desk: within California, call (310) 552-0786; outside California, call (800) 323-7004
Fax: 310-552-2622
Email: Info@Executours.com

AIRPORT SHUTTLE
The Religious Education Congress has made special arrangements for airport transportation with Prime Time Shuttle. They offer 24-hour/7-day service between Los Angeles International (LAX), John Wayne (SNA) and Long Beach (LGB) airports. All departures must be booked at least 24 hours in advance.
Prime Time's shared ride shuttle fare is reduced by $3 with the discount coupon below. The one-way rate for LAX is $15 per person (discounted rate is $12 per person); the John Wayne one-way rate is $10 per person (discounted rate is $7 per person); the Long Beach one-way rate is $38 for the first person and $10 for each additional person on the same confirmation number (discounted rate is $35 for the first person and $10 for each additional person).
Download the coupons from the Guidebook or mention that you are attending the Religious Education Congress when you book the shuttle. For more information or to make a reservation, call 1-800-RED-VANS or contact them online at www.primetimeshuttle.com
AIRPORT MAP
The Religious Education Congress is held at the Anaheim Convention Center, 800 W Katella Ave, Anaheim, CA 92802, with workshops and events at the Convention Center and at surrounding hotels.

Airport distances:
• The Los Angeles International Airport (LAX) is approximately 36 miles away.
• The Ontario International Airport (ONT) is approximately 36 miles away.
• John Wayne Airport (SNA) is approximately 14 miles away.
• Long Beach Airport (LGB) is approximately 15 miles away.