The Los Angeles Religious Education Congress is here ... well, in just 21 days! We now have a Youth Day app, the Program Book (the one you get at Congress) is now online and our Congress Updates page answers one of our most-asked questions: "When will I get my tickets?"

Our RECongress Emailings highlight the events going on at Congress 2012 — including a spotlight on some of the speakers and musical artists coming to Congress. Pass along this emailing or our link — archive.recongress.org — to share with friends and encourage them to sign up for our Congress Emailing for updates. If you do not care to receive future updates, you can find removal information at the bottom of this message.

¡Para información en español, clic aquí
DATES
Dates for our next Los Angeles Religious Education Congress are:
• March 22, 2012 (Youth Day)
• March 23-25, 2012
Location
Congress is held at the Anaheim Convention Center, located at 800 West Katella Ave. in Anaheim, Calif. (just south from Disneyland and Disney's California Adventure). See a Yahoo Map
Fees
The registration fee for Congress is $70 ($60 before Feb 4).
Youth Day registration has closed.
Registration
If you haven't registered by this Saturday — wait! Don't mail in your registration, bring it with you to Congress to register on site. But there is a benefit to registering this week: you can still choose your workshops. Pre-registration allows you to select your workshops from among those still open (you can check which workshops have closed on our Updates page). if you register on site, you will only have the choice to receive Arena (English) or Hall B (Spanish) workshops.
Register online for Congress now
CONGRESS TICKETS
"Where are my tickets?" is the most asked question we receive. Let us know if you don't receive your tickets in the mail. We will check our returned mail (every year a great number are returned — wrong address, wrong ZIP Code, etc.). If we don't have them we'll reprint tickets and have them available at Will Call window at the Registration area at Congress. Ticket Pick-Up is available on site at the Convention Center at the Registration Booth located in the Prefunction Lobby. Hours will be on Thursday, March 22 from 6:30 p.m. to 8:30 p.m. and beginning at 7:30 am on Friday and Saturday of Congress.
Check for ticket mailing information

YOUTH DAY APP
Youth Day now has its own mobile application! Download the new "Youth Day 2012" app now! With this app you can stay up-to-date with all Youth Day speakers, musicians and performers by following them on Twitter, viewing their websites, and even finding them on Facebook. This app allows you to enter giveaways to win prizes, including signed and unsigned CDs, T-shirts, books and more! Plus, tweets will be selected and displayed during rallies, so watch for your tweet! Follow @YouthDay2012 on Twitter for more info.
---
Remember: There are no tickets for Youth Day. Your name badge says it all — It indicates which track you are in (pink for am Track 1, green for pm Track 2), which Convention workshop you received and the speaker and its locations.

SNEAK A PEEK AT THE PROGRAM BOOK
Be ready for Congress: See the online version of the Program Book that attendees receive when they arrive at Congress 2012. Get a little extra time to plan out your weekend by downloading the Program Book. Available in PDF and iPaper formats.
WHAT YOU'LL FIND:
— Spotlight on events at Congress
— Tech Center schedule
— Speaker Signing schedule
— Exhibitor listing and Categories listing
— Restaurant guide and map
— Audio Recording Form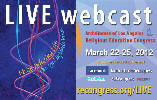 RECONGRESS.ORG/LIVE
At Congress 2010 we were thrilled to invite the global cyber community to join us in our first-ever "live" webcast! Since then, we have expanded our live coverage. Know someone who can't make it to Congress? You could invite them to experience the outpouring of grace and enthusiasm right here on the web on our "live" page. Watch for updated scheduling.
CONGRESS CHOIR INVITATION
Consider this your invitation to participate in the 2012 Congress Choir. The combined talents of nearly 350 musicians and artists comprise the group that will provide the music for the final liturgies on Sunday, March 25. Last year's choir of 250 included members from at least eight dioceses.
To be in the Congress Choir, you must attend one of the regional rehearsals and the final two Los Angeles-area rehearsals on March 20 & 21. Regional rehearsals not only include the California cities of Los Angeles, Oxnard, San Diego, San Francisco and Yucaipa, but are also scheduled in Washington state, Oregon, New York, Minnesota, Massachusetts, Arizona and Alaska (yes, Alaska!).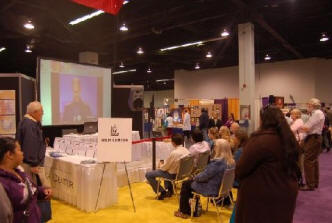 TECH CENTER IN HALL A
The Technology Center at the Los Angeles Religious Education Congress is adjacent to the Office of Religious Education booth, located in the center of Exhibit Hall A. Its purpose is to highlight educational software, online services and Internet resources that are of interest to our Congress attendees. This year we are featuring exhibitors (like Gradelink and Outside da Box), speakers (like Caroline Cerveny and Victor Valenzuela), and special guests (including Chris Gonzalez on creating our Youth Day mobile app). The Tech Center also offers free Internet access to Congress-goers.
Special Tech Offers
Don't miss the special offers at the Tech Center:
k'ya Street Fare at the Hotel Ménage is offering Buy 2 Get 1 Menu Item Free cards (to the first 10 attendees each day of Congress.)
ePostcards — Only on Sunday of Congress can you drop by for your free ePostcard souvenir of Congress. We had over 200 photos taken last year by those who dropped by the Tech Center for their personalized souvenirs.

FEATURED SPEAKER: RICHARD LEONARD, SJ
Jesuit priest Fr. Richard Leonard is Director of the Australian Catholic Office for Film and Broadcasting, based in Melbourne, Australia. As a visiting professor, he has taught at the Gregorian University in Rome; at the University of California, Los Angeles; and at the University of Melbourne and the Jesuit Theological College in Australia. Fr. Leonard is author of several books.
Friday, March 23, 2012
10:00-11:30 am — Session 1-18
"Glimpsing Eternity: Film, Faith and the Last Things"
For the last 20 years the most successful box office films have been science fantasies. There is great interest in other worlds and other modes of existence. How can these elements of popular culture be reconciled with Catholic theology, and what contemporary things can we preach and teach in regard to heaven, hell and purgatory?
Saturday, March 24, 2012
10:00-11:30 am — Session 4-12
"Screening the Sacred: Jesus on the Silver Screen"
Some of the images of Jesus in films stay with people for a lifetime, especially when it comes to his Passion and death. Some are helpful, others are not. How can we use these portrayals in our own spiritual journey, and how can they assist us in our preaching and teaching?
---
SPEAKER UPDATES UPDATES
Speaker Michael Joncas is unable to attend Congress.
Session 4-10: "Visual Arts and the Sacraments"(*) will be presented by Fr. Richard Fragomeni.
Session 8-14: "Music and the Sacraments of Healing" will be presented by David Haas.

Archbishop Luis Antonio Tagle, STD is unable to attend Congress. His two workshops are cancelled:
Session 2-25: New Evangelization: Some Perspectives from Asia
Session 5-25: Living the Eucharist in Asia

Cardinal Oscar Rodriguez has canceled his participation at the Religious Education Congress to fulfill a personal engagement with Pope Benedict. His session 4-19, "Living the Mission of Jesus in Our World Today," has been cancelled.
See the RECongress 2012 Speakers Page
CONGRESS REGISTRATION STATS
We now have over 14,000 registered (and at capacity) for Youth Day and nearly 19,000 registered for Congress. You can find statistics about registrations
—
foreign registrations and registrations by city and state
—
on our stats page ... including the
most popular states by registration:
| | |
| --- | --- |
| STATE | REGISTRATIONS |
| California | 16,229 |
| Arizona | 295 |
| Nevada | 217 |
| Hawaii | 171 |
| Washington | 159 |
| Texas | 155 |
| Utah | 83 |
| Oregon | 80 |
| Colorado | 57 |
| Illinois | 53 |
See our Congress 2012 Statistics page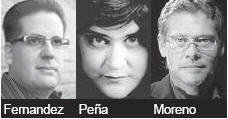 SUNDAY LUNCH ENTERTAINMENT

Hall B — 11:45 am - 12:30 pm
Santiago Fernández,
Donna Peña &
Rafael Moreno
"Cantando, Alabando y Celebrando"

Come join this energetic trio for a festive and uplifting lunchtime celebration of singing, praising and gathering! Don't miss this wonderful opportunity to experience the joy of the Lord through music!
¡Únanse a este entusiasta trío para celebrar alegremente con canto y alabanza durante su almuerzo! ¡No se pierdan esta maravillosa oportunidad de vivir la alegría del Señor con la música!

SCOOTER/WHEELCHAIR RENTALS
OC Medical has scooters and wheelchairs for rent to attendees during the Religious Education Congress. Contact them to reserve equipment. OC Medical Supply is located at 755 N Euclid Street in Anaheim 92801. Their toll-free number is 1-800-593-4942 and fax is 1-714-956-4692. Store hours are Monday through Friday from 9am - 6pm, Saturday from 10am - 2pm. Online at www.ocmedicalsupply.com.


SPECIAL CONGRESS OFFER
Congress attendees can pre-order specially priced Disneyland Resort Tickets. Find specials on tickets to Disneyland and Disney's California Adventure, with special pricing on evening passes and on single- and multi-day passes for both Disneyland Resort parks. Note: These tickets are only available for sale online until March 22. Tickets are valid March 19-April 1, 2012.

HOTELS
Don't forget to make your hotel reservation. RECongress has contracted with local hotels to offer special rates for attendees, and the special rates end this month. Check online for our most current listing of hotels for Congress attendees. When making reservations, be sure to ask for the Religious Education Congress rate.
See the RECongress Hotels Page

JUST FOR SOUTHERN CALIFORNIANS
We encourage all Southern California Ralphs shoppers to sign up for the free Ralphs rewards Card and register their card with the Community Contributions Program. It's easy! Every time you shop for groceries and scan your card at Ralphs, RECongress will automatically earn up to 5% of all eligible purchases per enrolled card. It's never been easier to contribute to the RECongress. Find step-by-step instructions and information on our Congress site.
RECONGRESS.ORG
You can find all the latest Congress information and updates online. We are always adding new speaker and hotel information. Check our site for updates and announcements.
EMAILING
Our Emailings for Congress 2012 run through April 2012. Be sure to Sign-up for our Congress Emailing List for Congress reminders and news. If you missed any, you can find them all online at archive.recongress.org/Emailing. You may opt out from this Emailing at any time from the link below.