The Los Angeles Religious Education Congress is here! Today is the last day to register online. If you don't register today ... wait and register on-site at Congress.

Can't attend in person? Join us at RECongress.org/LIVE to participate in Congress via our live streaming. You will be able to view many of the Arena events and workshops. And, this year, we are mobile compatible, so the stream now works with iOS devices like the iPhone and the iPad! Also, you can tweet your Congress comments using the hashtag: #REC2012

Find last-minute information about Congress in this Emailing and online at archive.recongress.org/2012/updates.htm. Our RECongress Emailings highlight the events going on at Congress 2012. Pass along this emailing or our link — archive.recongress.org — to share with friends and encourage them to sign up for our Congress Emailing for updates. If you do not care to receive future updates, you can find removal information at the bottom of this message.

¡Para información en español, clic aquí
DATES
Dates for the Los Angeles Religious Education Congress are:
• March 22, 2012 (Youth Day)
• March 23-25, 2012
FUTURE DATES
Dates for RECongress 2013 are:
• February 21, 2013 (Youth Day)
• February 22-24, 2013
Location
Congress is held at the Anaheim Convention Center, located at 800 West Katella Ave. in Anaheim, Calif. (just south from Disneyland and Disney's California Adventure). See a Yahoo Map
Fees
The registration fee for Congress is $70 ($60 before Feb 4).
Youth Day registration has closed.
Exhibit Hours
Exhibits are located in Hall A and will be open:
Friday: 8:00 am - 5:00 pm
Saturday: 8:00 am - 5:00 pm
Sunday: 8:00 am - 3:00 pm
Registration
Haven't registered for Congress? It's not too late. Today is the last day to register online. But you can still register on site at Congress at the Registration Booth located in the Prefunction Lobby. Hours will be on Thursday, March 22 from 6:30 pm to 8:30 pm and Friday and Saturday of Congress beginning at 7:30 am.
TICKET WILL CALL
Didn't receive your Congress tickets in the mail? We have had quite a few tickets returned to us in the mail (wrong address, wrong ZIP Code, etc.). Check our Will Call window at the Registration area at Congress. Ticket Pick-Up is available on site at the Convention Center at the Registration Booth located in the Prefunction Lobby. Hours will be on Thursday, March 22 from 6:30 pm to 8:30 pm and Friday and Saturday of Congress beginning at 7:30 am.
YOUTH DAY UPDATES


Youth Day App
Download the new "Youth Day 2012" app here! You can stay up-to-date with all Youth Day speakers, musicians and performers, and enter giveaways to win prizes! Plus, tweets will be selected and displayed during rallies, so watch for your tweet! Follow @YouthDay2012 on Twitter for more info.
---
Youth Day is full!
Youth Day has reached capacity and is closed to new registration. Remember: There are no tickets for Youth Day this year. Your name badge says it all — It indicates which track you are in (pink for morning Track 1, green for afternoon Track 2), which Convention workshop you received and the speaker and its location.

SNEAK A PEEK AT THE PROGRAM BOOK
Be ready for Congress: See the online version of the Program Book that attendees receive when they arrive at Congress 2012. Get a little extra time to plan out your weekend by downloading the Program Book. Available in PDF and iPaper formats.
WHAT YOU'LL FIND:
— Spotlight on events at Congress
— Tech Center schedule
— Speaker Signing schedule
— Exhibitor listing and Categories listing
— Restaurant guide and map
— Audio Recording Form

RECONGRESS THEME SONGS
"Voice Infusing Life/Voz Que Infunde Vida" — the theme song of RECongress 2012 — appears on the newly released bilingual, contemporary album Unidos, by Santiago Fernandez and Jesse Manibusan ... and just in time for Congress. The digital playlist of Unidos is available on iTunes and the full album can be purchased at spiritandsong.com or during the LA Congress at the OCP/spiritandsong.com booth (booths 307, 406).
---
You can also get a preview of the new 2012 Youth Day theme song, "Called Out," written by Jesse Manibusan and Cooper Ray. Listen to them both on our Congress Songs Page. Or look for the QR code elsewhere in this mailing.
RECONGRESS.ORG/LIVE
See the latest of our live-from-Congress schedule on RECongress.org/LIVE. Watch events happening in the Arena, beginning Thursday with Youth Day and running all the way through Sunday. And, this year, we are mobile compatible, so the stream now works with iOS devices like the iPhone and the iPad!

And don't forget to follow us on Twitter @LACongress. We will be responding to your comments -- use hashtag #REC2012. You can also post comments on our Facebook page.

Twitter - www.twitter.com/LACongress @LACongress #REC2012

Facebook - www.facebook.com/RECongress
TIPS TO SURVIVE CONGRESS!
If you're not already familiar with it, the RECongress is the largest annual gathering of Catholics in North America. It is held at the Anaheim Convention Center across the street from Disneyland. Thursday is Youth Day, which attracts around 15,000 high schoolers, and Friday through Sunday is the Congress itself which is attended by anywhere from 15,000 to 20,000 teachers, catechists, musicians and other Catholics in ministry from all over the country. There are dozens of conference sessions each day with Masses and other events in the evenings. Here are a few of the dozen handy tips for surviving the Religious Education Congress.
— Dress for comfort
— Take your entire registration packet
— Bring a pack to carry
— Lose the car
— Shop early
— Plan ahead
— Chill out
Find all the Tips and their descriptions on our web site.
Read the Tips to Survive Congress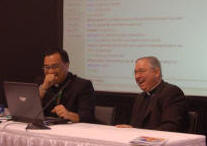 TECH CENTER IN HALL A
Archbishop Gomez Online Chat
Join us Friday morning at the Tech Center or online as Los Angeles Archbishop José Gomez conducts a live online chat session with students from St. Dorothy Elementary School in Glendora. Read about the chat at wwwRECcongress.org/chat2012s.htm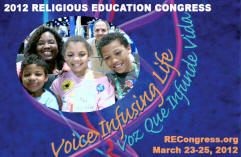 FREE SOUVENIR ePOSTCARDS
Don't forget to drop by the Tech Center on Congress Sunday for your free ePostcard souvenir. We had over 200 photos taken last year. Claim your free, personalized ePostcard this year.

Tech Center Schedule
The Technology Center is located in the center of Exhibit Hall A, under the "Compute Demonstration" banner. Its purpose is to highlight educational software, online services and Internet resources that are of interest to our Congress attendees. See the schedule at archive.recongress.org/2012/tech.htm

Special Tech Offer
k'ya Street Fare at the Hotel Ménage is offering Buy 2 Get 1 Menu Item Free cards (to the first 10 attendees each day of Congress.)

SPEAKER UPDATES
Speaker Handouts Online - link
Some of the Arena and Hall B speakers have provided handouts for their workshops. This option is for speakers assigned to rooms where the capacity is too large to provide everyone handouts. There is a link to the following handouts on our Speakers Page:
1-51: Cómo entusiasmar a los niños con las cosas de Dios(*) - Luis Benavides
2-52: ¿Por qué el pecado es pecado? (*) - José-Román Flecha

Speaker Signings - link
Congress authors and musical artists will be available to sign books and CDs in the Signing Area (southeast area of Exhibit Hall A, near the Recording Booth). Check the schedule at the Book Signing Area for updated times.

Audio Recording - link
Many of the Congress workshop sessions will be recorded with speaker permission. Audio CDs — and this year, downloadable MP3s — are available for purchase at Congress at the CSC Digital Media booth, located at the east wall in Exhibit Hall A, from the page in the Program Book, and online.

Ticket Exchange
You may exchange tickets for any open workshops during the same period beginning on Friday at 11:30 am at the Registration Booth's Exchange window.
Note: Any ticket can be used for sessions of the same time in the Arena or Hall B.

Speaker Changes
Speaker Michael Joncas is unable to attend Congress.
Session 4-10: "Visual Arts and the Sacraments"(*) will be presented by Fr. Richard Fragomeni.
Session 8-14: "Music and the Sacraments of Healing" will be presented by David Haas.

Archbishop Luis Antonio Tagle, STD is unable to attend Congress. His two workshops are cancelled:
Session 2-25: New Evangelization: Some Perspectives from Asia
Session 5-25: Living the Eucharist in Asia

Cardinal Oscar Rodriguez is unable to attend Congress. His workshop is cancelled:
Session 4-19, "Living the Mission of Jesus in Our World Today"

See the RECongress 2012 Speakers Page


CONGRESS REGISTRATION STATS
in addition to the over 20,000 registered for Congress from throughout the United States, there are an additional 497 registered for Congress — all from foreign countries. As of March 11, we have these numbers registered:
Canada - 329
Australia - 36
Mexico - 26
England - 20
Ireland - 16
South Korea - 6
Pakistan - 5
Puerto Rico - 3
Argentina - 2
Philippines - 2
Germany - 1
Ghana - 1
North Ireland - 1

See our Congress 2012 Statistics page


CONGRESS REMINDERSCONGRESS REMINDERS
Live Streaming in Hall B
As an alternative to the Arena, you can now watch Friday's Opening Event (8:30-9:30 am) broadcast live in Hall B.

Scooter / Wheelchair Rentals
OC Medical has scooters and wheelchairs for rent to attendees during the Religious Education Congress. Contact them at (800) 593-4942 or online at www.ocmedicalsupply.com.

Disney Resort Tickets - only until March 22
Congress attendees can pre-order specially priced Disneyland Resort Tickets. Find specials on tickets to Disneyland and Disney's California Adventure, with special pricing on evening passes and on single- and multi-day passes for both Disneyland Resort parks. Note: These tickets are only available for sale online until March 22. Tickets are valid March 19-April 1, 2012.

Program Book Available Online - link
Take a "sneak peek" at the Congress Program Book — the one given away at Congress. Now available in PDF and iPaper formats online.

Hotels - link
When making hotel reservations, be sure to ask for the Religious Education Congress rate. RECongress has contracted with local hotels to offer special rates for attendees. Check online for our most current listing of hotels.

Convention Center Parking
Day parking is available in the Convention Center parking structures at the rate of $12 per day, with no in-and-out privileges.

Airport Shuttle - link
Prime Time Shuttle is offering Congress attendees special online convention discounts for transportation to and from Southern California airport or cruise ship terminals.

Unwind at Congress
Friday and Saturday (10 am - 4:30 pm) and Sunday (10 am - 2:30 pm) in the Hall A Prefuntion Area you can take a break from the bustle of Congress with a chair massage. The cost is $1 per minute.

A.A. Meetings
Join a lunchtime meeting (Friday through Sunday) with other Alcoholics Anonymous (A.A.) men and women to share experiences, strengths and hopes with mutual support for recovery from alcoholism. (The meeting room is location in the Marriott's lower level San Diego room.)

Lost and Found
There is a Lost & Found desk located outside of Congress Headquarters,
located in Convention AR 1, near the south end of the Arena.

Message Center
The Message Center, located in the Prefunction area, can receive incoming messages. Call (714) 765-8883 or (714) 765-8884 to leave a message, or you can leave a note on the Message Board.
Friday: 10:00 am - 6:00 pm
Saturday: 9:00 am - 6:00 pm
Sunday: 9:00 am - 3:00 pm

Ralphs Rewards Program - link
Don't forget to sign up at your Southern California Ralphs store for the free Ralphs rewards Card and register the card with the Community Contributions Program. It's easy! Every time you shop for groceries and scan your card at Ralphs, RECongress will automatically earn up to 5% of all eligible purchases per enrolled card. It's never been easier to contribute to the RECongress.

RECONGRESS.ORG
You can find all the latest Congress information and updates online. Check our site for the latest updates and announcements.

EMAILING
Our Emailings for Congress 2012 run through April 2012. Be sure to Sign-up for our Congress Emailing List for Congress reminders and news. If you missed any, you can find them all online at archive.recongress.org/Emailing. You may opt out from this Emailing at any time from the link below.