Important Dates
Feb 4 - Fees scheduled to increase
Feb 4 - Last day for refunds
Feb 10 - Congress & Youth Day ticket mailing begins
Feb 25 - Youth Day Registration Closes
Mar 4 - Last day to mail in Congress registrations
Mar 7 - Last day we mail out-of-state tickets
Mar 14 - Last day we mail in-state tickets
Mar 15 - Online registration ends

Congress 2012
Mar. 22 (Youth Day) & Mar. 23-25, 2012

2012 Theme
"Voice Infusing Life" /
"Voz que Infunde Vida"

• Dates

• Hotels

• Emailing


Online at archive.recongress.org


Email us at
congress
@la-archdiocese.org

Office of Religious Education - Archdiocese of Los Angeles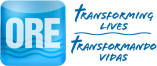 Friend us, find us, watch us...

Advertisers
You can tell the Religious Education Congress is getting close. February is a month of deadlines — for early bird registration, for special rates at some hotels, and for volunteers at Youth Day. Don't miss out on the lower prices. Save some money — don't delay!

And be sure to watch the new RECongress 2012 video, with a welcome by Sr. Edith Prendergast, Director of Religious Education, and Ernesto Vega, Coordinator of Hispanic Ministries. Featuring highlights from Congress, the video also invites you to "Take the Challenge" and share your own experience of Congress with others.

Our RECongress Emailings highlight some of the events going on at Congress 2012 — including added events and a spotlight on some of the speakers and musical artists coming to Congress. Pass along this emailing or our link — archive.recongress.org — to share with friends and encourage them to sign up for our Congress Emailing for updates. If you do not care to receive future updates, you can find removal information at the bottom of this message.

¡Para información en español, clic aquí



CONGRESS THEME SONG


Santiago Fernández has written this year's 2012 RECongress Theme Song, "Voice Infusing Life / Voz Que Infunde Vida." Listen to this year's theme song — as well as to some of our other past themes songs — on our Congress Songs page.
VOICE INFUSING LIFE / VOZ QUE INFUNDE VIDA
Refrain:
Voice infusing life,
voz que infunde vida;
your voice resounds in us, O God,
and we echo it to the world.
Voice infusing life,
voz que infunde vida;
que vivamos para transmitir, Señor,
tu esperanza, paz y amor.

DATES
Dates for our next Los Angeles Religious Education Congress dates are:
• March 22, 2012 (Youth Day)
• March 23-25, 2012
Location
Congress is held at the Anaheim Convention Center, located at 800 West Katella Ave. in Anaheim, Calif. (just south from Disneyland and Disney's California Adventure). See a Yahoo Map
Fees
The registration fee for Congress is $60 per person. Youth Day has a separate registration and fee of $20 per person. After February 4th fees are scheduled to be $70 per person for Congress and $25 per person for Youth Day. Watch for extended online registration!
Registration
The Registration Guidebook contains all workshop and speaker descriptions, entertainment and liturgy options, and all events during Congress. You can view the Guidebook online, download it and registration online — all paper free!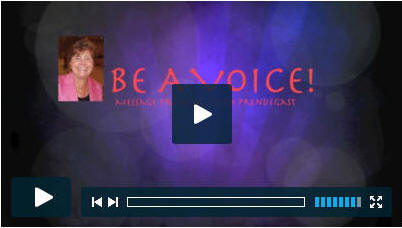 ACCEPT THE CHALLENGE
Be a Voice for Congress
RECongress aims to teach more about the Catholic faith as well as to advance personal growth. We invite you to join in this great work and offer others the opportunity to hear God's voice in their own lives by inviting them to RECongress. Sign up to "Accept the Challenge."

On the 'Accept the Challenge' site you can find:
Take the Challenge - Sign up for the contest
Voice Infusing Life - Watch the video
Shout Out! - Post on Facebook and Twitter
Viva Voices! - An update blog and RSS Feed

"Accept the Challenge" Contest

<!— NEW —>

YOUTH DAY DEADLINES
For Youth:
MCs at Youth Day — For those interested in becoming an MC at Youth Day to introduce speakers, don't delay. We invite any high school students attending Youth Day to consider becoming an MC for the day. (Deadline: Friday, February 8, 2012). Download the form on the Youth Day page.

For Adults:
Adult Volunteers at Youth Day — If you or someone you know who is adult and is NOT chaperoning a group for Youth Day, but would like to volunteer for the day, we have a place for you! Our adult volunteer team helps with crowd control, information sharing and much more during the day. We're looking for youth-friendly people that can make the day more enjoyable for all. (Deadline: Friday, February 17, 2012). Download the form on the Youth Day page.

FEATURED SPEAKER: REV. DR. JOHN BELL
With his colleague, Graham Maule, John Bell began the Wild Goose Resource Group and is Liturgical Resource Worker with The Iona Community, based in Glasgow, Scotland. He has worked for more than 20 years with churches and Christian organizations. Bell lectures on spirituality, liturgical music and Scripture and has been on broadcasts on BBC national radio, and has authored two books and the DVD series, "Living the Questions."
Sunday, March 25, 2012
1:00 - 2:30 pm — Session 8-03
"10 Things You Didn't Know About Jesus"
Not another workshop about what we already know, but one about what we overlook. In his book, "10 Things They Never Told Me About Jesus," John Bell explores facets of the personal life, relationships and ministry of Jesus, which are seldom the stuff of preaching or conversation, but are all rooted in the Gospels and are necessary if we are to be freed from the passive stereotypes that still dominate thinking about Christ. In this session John will share the stories of encounters with people on the periphery of religious life and in situations where politeness was not a prerequisite for discussing faith.
---
John Bell will also be leading Iona Prayer set for 9 pm in Convention 210.
See the RECongress 2012 Speakers Page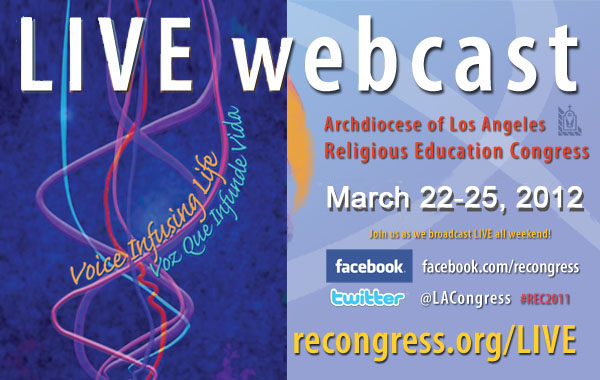 LIVE STREAMING IN HALL B

Opening Event, 8:30-9:30 am – Hall B

Another Congress first! You can now watch Friday's Opening Event broadcast live in Hall B. With the growing popularity of our RECongress.org/LIVE streaming, this is another venue to view the morning Arena experience.

SUNDAY LUNCH ENTERTAINMENT

Arena — 11:45 am - 12:30 pm
Jacob and Matthew with Danielle Rose

The Jacob and Matthew Band with Danielle Rose are sure to lift you off your seats. You will sing with reckless abandon the prayer song of your heart, rejoice in the Lord, and dance for joy with their up-beat songs and high-energy sound. Come, listen to the music and lyrics that inspire self-reflection while bringing a cutting-edge style that will surely move you to sing, dance and pray!

SPECIAL CONGRESS OFFER
Congress attendees can pre-order specially priced Disneyland Resort Tickets. Find specials on tickets to Disneyland and Disney's California Adventure, with special pricing on evening passes and on single- and multi-day passes for both Disneyland Resort parks. Note: These tickets are only available for sale online until March 22. Tickets are valid March 19-April 1, 2012.

HOTELS
Don't forget to make your hotel reservation. RECongress has contracted with local hotels to offer special rates for attendees. We suggest making hotel reservations as soon as possible. Check online for our most current listing of hotels for Congress attendees. When making reservations, be sure to ask for the Religious Education Congress rate. You can find information about contracted hotels on our web site.

JUST FOR SOUTHERN CALIFORNIANS
We encourage all Southern California Ralphs shoppers to sign up for the free Ralphs rewards Card and register their card with the Community Contributions Program. It's easy! Every time you shop for groceries and scan your card at Ralphs, RECongress will automatically earn up to 5% of all eligible purchases per enrolled card. Sign up now! It's never been easier to contribute to the RECongress. Find step-by-step instructions and information on our Congress site.
RECONGRESS.ORG
You can find all the latest Congress information and updates online. We are always adding new speaker and hotel information. Check our site for updates and announcements.
EMAILING
Our Emailings for Congress 2012 run through April 2012. Be sure to Sign-up for our Congress Emailing List for Congress reminders and news. If you missed any, you can find them all online at archive.recongress.org/Emailing. You may opt out from this Emailing at any time from the link below.