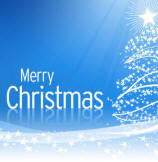 Congress 2012
Mar. 22 (Youth Day) & Mar. 23-25, 2012

2012 Theme
"Voice Infusing Life" /
"Voz que Infunde Vida"

• Dates

• Hotels

• Emailing


Online at archive.recongress.org


Email us at
congress
@la-archdiocese.org

Office of Religious Education - Archdiocese of Los Angeles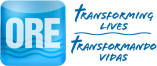 Friend us, find us, watch us...
Merry Christmas from RECongress!
Wishing you peace, love and joy during this holy season of hopeful anticipation. May your heart be filled by God's abundant spirit of love, transforming us into generous givers.

Paulette Smith, Congress Event Coordinator
Jan Pedroza, Congress Program Coordinator

Pass along this emailing or our link — archive.recongress.org — to share with friends and encourage them to sign up for our Congress Emailing for updates. If you do not care to receive future updates, you can find removal information at the bottom of this message.

¡Para información en español, clic aquí!



WHAT IS CONGRESS?
The Religious Education Congress, sponsored by the Archdiocese of Los Angeles Office of Religious Education, is the nation's largest annual gathering of Roman Catholics! Our last RECongress, held in March 2011, brought together nearly 40,000 people during the four-day weekend!

DATES
Dates for our next Los Angeles Religious Education Congress dates are:
• March 22, 2012 (Youth Day)
• March 23-25, 2012
Location
Congress is held at the Anaheim Convention Center, located at 800 West Katella Ave. in Anaheim, Calif. (just across from Disneyland and Disney's California Adventure). See a Yahoo Map
Fee
The registration fee for Congress is $60 per person. Youth Day has a separate registration and fee of $20 per person.
Registration
The Registration Guidebook contains all workshop and speaker descriptions, entertainment and liturgy options, and all events during Congress. There are two Registration Forms per book. Guidebooks have been mailed. If you did not receive your copyattended RECongress 2011, you will automatically be mailed a Registration Guidebook. Guidebooks will be available late-October.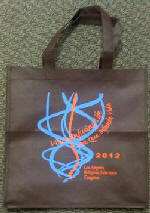 CONGRESS 2012 BAG
We received a sample of the bag to be handed out at Congress 2012. The brown tote features the 2012 Congress logo on one side and the logo of the bag sponsor, Guadalupe Radio, on the other. Every Congress attendee will receive a bag filled with several items, including the Program Book, a lanyard and name badge holder.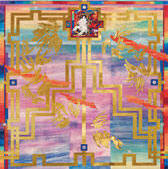 ART EXHIBIT
The Saint John's Bible: Letters and Revelation
After more than 12 years, the creation of The Saint John's Bible has reached its conclusion. Letters and Revelation, the final volume of the entire monumental project, includes some of the most crucial works of all the Christian Scriptures. Renowned calligrapher and illuminator Donald Jackson has collaborated with scribes, artists and theologians to lend them a new life and vibrancy for modern readers.

Letters and Revelation contains more than 30 illuminations and special text treatments, many of which are included in this exhibition. They are stunning in their beauty and dramatic imagery. Written and drawn entirely by hand using quills and paints hand-ground from precious minerals and stones — such as lapis lazuli, malachite, silver and 24-karat gold — The Saint John's Bible puts Jackson's mastery of an ancient craft at the service of the timeless spiritual vision of Sacred Scripture.

<!— NEW —>

YOUTH DAY OPPORTUNITIES
For Youth
We invite all high school students attending Youth Day to consider becoming MCs to introduce speakers before workshops. Young people may also become part of the Archdiocesan choir for our liturgy -- talented singers and instrumentalists are invited to come be part of the group that leads the music at Mass.

For Adults
If you are an adult (or you know someone who is) that is NOT chaperoning a group for Youth Day, and would like to volunteer for the day, we have a place for you! Our adult volunteer team helps with crowd control, information sharing and much more during the day. We're looking for youth-friendly people that can make the day more enjoyable for all.

Adult Volunteers
Youth Day is fast approaching and we need volunteers to help make the day run smoothly for our young people! If you received a letter and postcard to volunteer for Youth Day, please return the postcard to Erin and Jonathan Avila at the address on the postcard. If you are interested in volunteering and did not receive a letter/postcard, please email Erin and Jonathan Avila at YDvolunteer@recongress.org.

Find out more and download forms off our web site..

FEATURED SPEAKER: MATTHEW KELLY
Born in Sydney, Australia, Matthew Kelly is a business consultant and speaker who has presented to more than 4 million people in over 50 countries in business forums, high schools and churches. Raised Catholic, Kelly founded and is President of The Dynamic Catholic Institute to research what it takes to establish vibrant Catholic communities in the 21st century. His books have been published in 25 languages and have appeared on best-seller lists; his latest title is "Rediscover Catholicism."
Friday, March 23, 2012
3:00 - 4:30 pm - Session 3-14
"Finding Catholic Game Changers"
Even the most casual observer is aware that the tide is going out on Catholicism. Do we just sit here and watch? Or is there something we can do? In this session, Matthew Kelly will explore what it will take to regenerate interest and engagement among Catholics today. He will also discuss the essence of a game-changer and teach you how to find them both in your life and in your parish.
Saturday, March 24, 2012
3:00 - 4:30 pm - Session 6-12
"The Four Signs of a Dynamic Catholic"
Did you know that highly engaged Catholics have four things in common? Based on more than three years of research by The Dynamic Catholic Institute, Matthew Kelly will speak about the four signs, how they were derived, what they mean to your spiritual life and to the life of a parish, and how they will change the way we minister to people.
See the RECongress 2012 Speakers Page
CONGRESS VOLUNTEERS
Those attending Congress who intend to volunteer to assist at the workshops need to submit their volunteer card and registration form as soon as possible! All volunteer cards and registrations need to be returned by January 5, 2012. Interested in volunteering for Congress? Please email the English Volunteer Chairpersons Dolly and Jim Anderson at RECvolunteer@recongress.org.
See the Congress Volunteers Page

SPECIAL CONGRESS OFFER
Congress attendees can pre-order specially priced Disneyland Resort Tickets. Find specials on tickets to Disneyland and Disney's California Adventure, with special pricing on evening passes and on single- and multi-day passes for both Disneyland Resort parks. Note: These tickets are only available for sale online until March 22. Tickets are valid March 19-April 1, 2012.

HOTELS
RECongress has contracted with local hotels to offer special rates for attendees. We suggest making hotel reservations as soon as possible. Check online for our most current listing of hotels for Congress attendees. When making reservations, be sure to ask for the Religious Education Congress rate. You can find information about contracted hotels on our web site.

JUST FOR SOUTHERN CALIFORNIANS
We encourage all Southern California Ralphs shoppers to sign up for the free Ralphs rewards Card and register their card with the Community Contributions Program. It's easy! Every time you shop for groceries and scan your card at Ralphs, RECongress will automatically earn up to 5% of all eligible purchases per enrolled card. Sign up now! It's never been easier to contribute to the RECongress. Find step-by-step instructions and information on our Congress site.
RECONGRESS.ORG
You can find all the latest Congress information and updates online. We are always adding new speaker and hotel information. Check our site for updates and announcements.
Emailings for Congress 2012 run through April 2012. Be sure to Sign-up for our Congress Emailing List for Congress reminders and news. If you missed any, you can find them all online at archive.recongress.org/Emailing. You may opt out from this Emailing at any time from the link below.