Youth Day

March 18, 2010
Youth Day Theme
"I'm Just Sayin'..."
Congress Days
March 19-21, 2010
Congress Theme
"Incredible Abundance"
"Increíble Abundancia"

• Cell Phone Help

• RECongress/LIVE

• Congress Dates

• Important Dates

• On Facebook

• Speaker Signings

• Congress Tickets

• 'Surviving' Congress

• Congress Statistics

• Film Showcase

• Cardinal Chat

• Program Sneak Peek

• Workshop Recordings

• Mahony Book Signing

• David Whyte Poetry

• JustFaith Dinner

• Odds & Ends

• For So-Calers Only

• Congress Emailings



FUTURE DATES

Youth Day
March 17, 2011

Congress Days
March 18-20, 2011
Advertisers

It's Here! RECongress arrives NEXT week!
... and online registration ends tonight at 11 p.m. PST!
This is our last Emailing before the 2010 Los Angeles Religious Education Congress. Pass along this emailing or our link — archive.recongress.org — to share with friends and encourage them to sign up for our Congress Emailing updates. If you do not care to receive future updates, you can find removal information at the bottom of this message.
---
¡Para información en español, clic aquí!

DON'T FORGET YOUR CELL
Remember: Bring your old cell phones — working or not — with you to Congress. This year RECongress is partnering with GET GREEN TO GET GREEN, an organization that recycles cell phones. The proceeds generated from this partnership will be donated to the Haiti relief efforts through Catholic Relief Services. CRS has committed at least $25 million for Haiti relief and recovery.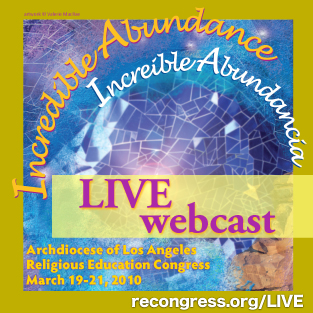 RECONGRESS.ORG/LIVE
Know someone who can't make it to Congress? Invite them to experience Congress right here on the web at our new live page — RECongress.org/LIVE. This year we are thrilled to invite the global cyber community to join us in our first-ever live webcast!
Join us for the fun and excitement HERE beginning Friday, March 19 at 8:30 am PST as we stream live from the Anaheim Convention Center Arena, culminating with our Closing Liturgy on Sunday at 3:30pm PST.
FRIDAY, MARCH 19
8:00am-9:30am
Event: Opening Rite and Welcome
10:00am-11:30am
Workshop: Ronald Rolheiser, OMI
11:45am-12:30pm
Concert: The Jacob & Matthew Band
1:00pm-2:30pm
Workshop: Rev. R. Tony Ricard
3:00pm-4:30pm
Workshop: Matthew Kelly
5:15pm-6:45pm
Liturgy: Jazz Liturgy
6:45pm-7:45pm
REPEAT: Opening Rite and Welcome
8:00pm-10:00pm
Concert: "Friday Night LIVE Rock 'n' Praise!"
SUNDAY, MARCH 21
2:00pm-3:00pm
REPEAT: Highlights of Friday Night Concert
3:30pm-5:00pm
Event: Closing Liturgy
DATES
The 2010 Los Angeles Religious Education Congress dates are:
• March 18, 2010 (Youth Day)
• March 19-21, 2010 (Congress days)
FUTURE DATES
We now have our dates for Congress 2011. Dates are:
• March 17, 2011 (Youth Day)
• March 18-20, 2011 (Congress days)
Location
Congress is held at the Anaheim Convention Center, located at 800 West Katella Ave. in Anaheim, Calif. (just across from Disneyland and Disney's California Adventure). See a Yahoo Map
Fee
The registration fee for Congress is $70 ($60 by February 5, 2010).
Registration
Waited until now to register? Forgot to send in your registration? Don't worry! You can still register on site at Congress. Bring your Registration Card with you to Congress — we only need your name and mailing address. Registration is available Thursday, March 18, from 6:30 p.m. to 8:30 p.m. and each day of Congress beginning at 8 a.m.
IMPORTANT DATES
Feb 5 - Registration fees increased
Feb 23 - Youth Day Registration Closed
Mar 11 - Online registration ends 11 p.m. PST
Mar 12 - Last day we mail tickets to California addresses
Mar 18 - Ticket pickup at Congress - 6:30pm - 8:30pm
Mar 19 - Ticket pickup/Registration opens at 8am
Mar 20 - Ticket pickup/Registration opens at 8am
Mar 21 - Ticket pickup/Registration opens at 8am
Find other updates on our Congress Updates page.
BEING 'SOCIAL' AT CONGRESS
Throughout the weekend, follow Congress news and happenings on our Facebook fan page (http://www.facebook.com/RECongress) and on Twitter page (http://twitter.com/@lacongress). We'll be showcasing videos, asking questions, and keeping you up-to-date about the weekend's great opportunities! Plus, please use this opportunity to upload your own pics and videos with tags of you and your friends! Share them with all our fans and fellow tweeters!
Using Twitter to share your experiences of Congress? Use the tag #REC2010 when sending a tweet, and keep up with all the other participants who will be tweeting about their experience. It's fun to look at what other folks who are attending Congress are talking about on Twitter.
SPEAKER SIGNING
Again at Congress we will have a Speaker Book Signing area in the Exhibit Hall — this year in the southeast corner of Hall A. See the latest, expanded listing of speakers, including Keynote Mitch Albom and Sunday address speaker Sr. Barbara Fiand. The schedule is found online under the Updates page. Note: There may be additional updates found on the on-site schedule at the Speaker Book Signing area.
CONGRESS TICKETS
DIDN'T GET YOUR TICKETS IN THE MAIL? Need to pick up your tickets from Will Call? Ticket pick-up is available at the Registration Will Call window at Congress on Thursday, March 18, from 6:30 p.m. to 8:30 p.m. and each day of Congress beginning at 8 a.m. You can find information about Congress and Youth Day ticket mailing dates along with Speaker Updates, Closed Workshops and Arena and Hall B speakers online at our Congress 2010 Updates Page.
---
Didn't get the tickets you wanted? There is hope! Ticket Exchange is available beginning at 12 noon on Friday, March 19 in the Registration area.
"I selected my workshops, but can I still change one or two of them at Congress?"
"May I exchange my Congress tickets?"
Yes. For Congress you have the following options:
You may use the tickets you receive; or
You may exchange your tickets (beginning noon on Friday) at the Ticket Exchange window located at the Registration Booth; or
Just use the ticket you were assigned for the workshop you would like to attend. Once all properly ticketed attendees are admitted, then the workshop is opened up to other ticket holders -- if there is available seating.
---
DID YOU KNOW? Your ticket is always good for an Arena (English workshop) or Hall B (Spanish workshop) seat, which is always the most popular workshop from each period. You can find listings of who is appearing in the Arena and Hall B on our Congress 2010 Updates Page.
'SURVIVING' CONGRESS
RECongress is the largest regularly scheduled gathering of Catholics in North America. It is held at the Anaheim Convention Center across the street from Disneyland. Thursday is Youth Day, which attracts around 15,000 high schoolers, and Friday through Sunday is the Congress itself which is attended by anywhere from 15,000 to 20,000 teachers, catechists, musicians and other Catholics in ministry from all over the country. There are dozens of conference sessions each day with Masses and other events in the evenings.
Here are a dozen handy tips for surviving the Religious Education Congress by attendee Claude Muncey, with added comments by Teena Posas.
LOOK WHO'S COMING TO CONGRESS

YOUTH DAY
Chaperones
2,910
Youth
12,727
Total
15,637
CONGRESS
Mailed-in Registrations
11,764
Online Registrations
8,662
Total Pre-registered
20,426
Contributors to Endowment Fund
622
Endowment Fund Contributions
$7,750
EXHIBITORS
Representatives
1,834
Companies
255
WORKSHOPS
Speakers
184
Languages
3
Congress Sessions
281
Youth Day Sessions
24
Volunteers
453

TOTAL REGISTERED

37,105
FOREIGN REGISTRATIONS (as of 3/8/2010)
CANADA
324
AUSTRALIA
36
ENGLAND
30
MEXICO
20
IRELAND
15
PAKISTAN
10
EQUATORIAL GUINEA
2
NEW ZEALAND
1
Find how many pre-registrations there are by state, and see how many others are coming from YOUR city! You can find details on the number of registrations by city and state and in a graphic map on our Statistics page.

2010 FILM SHOWCASE
The Los Angeles Religious Education Congress Film Showcase was established in 2007 to highlight cinematic work rooted in Catholic social teaching, justice, ministry and spirituality. The fourth annual Showcase honors and exhibits excerpts from films, shorts, documentaries, experimental films and animation, with an international audience of educators, ministers, artists and fellow filmmakers from both the Hollywood and independent communities. The Showcase has announced this year's featured films and honored guests. Sponsors will be listed at the end of the week.

CARDINAL CHAT
HAVE A QUESTION you'd like to ask Cardinal Roger Mahony? You may do just that for his 14th annual online chat session from the Religious Education Congress. On Friday, March 19 @ 11:30 a.m. PST sign on from our home page at archive.recongress.org to join in the live chat session from the main hall at the Religious Education Congress in Anaheim, California. Check back after the chat for transcripts from this session and the preceding chat session with students from St. John Chrysostom School in Inglewood.
Cardinal, what is the meaning of Lent?
Cardinal, who will be your successor?
Cardinal, how can we encourage more new priests?
These questions and more will be submitted for the chat. Can't make the chat? Ask your questions NOW to be submitted for the chat. Just click the Ask the Cardinal link on our Chat page.

PROGRAM BOOK SNEAK PEEK
Be ready for Congress: See the online version of the Program Book that people receive when they arrive at Congress 2010. Get a little extra time to plan out your weekend by downloading the Program Book. Available in PDF and iPaper formats.
WHAT YOU'LL FIND:
Spotlight on events at Congress
Tech Center schedule
Exhibitor listing and Exhibitor Categories listing
Restaurant guide and contact information
Audio Recording Form
CONGRESS RECORDINGS
It's just not possible to attend every Congress workshop. Most of our Congress sessions are being recorded by CSC Digital Media and offered on audio CDs. Catch a workshop you're not able to attend by ordering a CD at the CSC duplication area located on the east wall in Exhibit Hall A, or by mailing or faxing the Recording Form found in the Program Book, or by ordering online.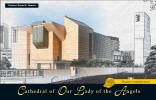 CARDINAL BOOK SIGNING
Cardinal Roger Mahony will be autographing his latest book, "Cathedral of Our Lady of the Angels — Under Construction," on Friday, March 19 at noon at Booth 351-353 in Exhibit Hall A. This 232-page coffee table book is a photo journal of the construction of the Cathedral as photographed and written by the Cardinal himself. If you miss the opportunity to have him personally sign your book, limited pre-signed copies will be available at the booth throughout the weekend.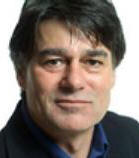 AN EVENING WITH DAVID WHYTE
Poet and author David Whyte will lead an evening journey through the poetic tradition, looking at the thresholds human beings have always had to cross to live a larger, richer, more courageous and more generous life, no matter the outward circumstances.
"An Evening of Poetry with David Whyte" will be held Friday at 8 pm at the Anaheim Convention Center in Room 207. The fee is $20 at the door, and free to registered Congress participants.

JUSTFAITH DINNER
Jack Jezreel, founder of JustFaith Ministries, will be speaking at the JustFaith Gathering Dinner on Saturday, March 20 at the Anaheim Convention Center. This year, the dinner is open to all who are interested. The JustFaith Reception and Dinner will be held from 6:00pm to 9:30pm. To learn more about this event, please visit the Office of Justice and Peace web site for the registration form or call them at (213) 637-7550.

ODDS AND ENDS
WHAT'S THE WEATHER going to be like? Youth Day is expected to be sunny and 69° — according to the Weather Channel's 10-Day forecast for Anaheim.
PARKING at the Anaheim Convention Center is $10 per day. There is no in-and-out privileges, and there is no overnight parking.
JOHN ANGOTTI has written the 2010 Youth Day theme song, entitled "I'm Just Sayin'. " Download a FREE MP3 of the song off our Youth Day page at
archive.recongress.org/YD
.
DID YOU BOOK YOUR HOTEL? Find the listing of hotels near to the Anaheim Convention Center at archive.recongress.org/hotels.
THE TIDINGS has some pre-event Congress coverage. Find the listing of RECongress stories appearing in The Tidings, newspaper of the Los Angeles Archdiocese, at
archive.recongress.org/reviews.htm
.
DISCOUNT TICKETS for Disneyland and Disney California Adventure are available online ONLY until 9 pm PST March 15, 2010. The link is found off the RECongress home page at
archive.recongress.org
, under the "Congress" tab.
SOUVENIRS — Don't leave Congress without getting your souvenir items. This year we have pins, note pads, magnets and eco-friendly pens. Find them at the Information/Souvenir booth in the center of Hall A.
REMEMBER: Attendees are welcome to invite their non-registered friends to attend the evening concerts and liturgies at Congress. The Exhibit Hall, however, is available only to registered Congress attendees.

JUST FOR SOUTHERN CALIFORNIANS
Ralphs Grocery Company, a major supermarket chain in the Southern California area, supports schools, churches and other non-profit organizations with annual contributions. The Los Angeles Religious Education Congress is a member of Ralphs Community Contributions Program. Simply by using your Ralphs rewards Card a portion of eligible purchases are contributed to the RECongress. (Note: This is an annual program that must be renewed each year. The current term is through August 31, 2010.
We encourage all Ralphs shoppers to sign up for the free Ralphs rewards Card and register their card with the Community Contributions Program. It's easy! Every time you shop for groceries and swipe your card at Ralphs, RECongress will automatically earn up to 5% of all eligible purchases per enrolled card. Sign up now! It's never been easier to contribute to the RECongress.
Organization Name: Archdiocese of Los Angeles - Religious Education
Address: 3424 Wilshire Blvd., Los Angeles, CA
Organization Number: 90658
Find step-by-step instructions and information online.
Read About the Ralph rewards Program
Be sure to sign-up for the monthly Congress Emailing List. You may opt out from this Emailing at any time from the link below.
You can find a copy of this email our past Congress Emailings on our RECongress.org site.