Congress -- It's Just 2 Weeks Away!

YOUR OLD CELL CAN HELP HAITI
Remember: Bring your old cell phones — working or not — with you to Congress. This year RECongress is partnering with GET GREEN TO GET GREEN, an organization that recycles cell phones. The proceeds generated from this partnership will be donated to the Haiti relief efforts through Catholic Relief Services. CRS has committed at least $25 million for relief and recovery.
---
SNEAK A PEEK AT THE PROGRAM BOOK
Take an advance look at the Program Book that Congress attendees will receive this year. Found online in an iPaper web format or as a downloadable PDF. Available online at archive.recongress.org/2010/guidebook.htm.
---
This is our semimonthly Emailing about the Los Angeles Religious Education Congress. Pass along this emailing or our link — archive.recongress.org — to share with friends and encourage them to sign up for our Congress Emailing updates. If you do not care to receive future updates, you can find removal information at the bottom of this message.
¡Para información en español, clic aquí!

RECongress Keeping 'Green'
The Los Angeles Religious Education Congress is committed to live our faith by protecting God's creation and advocating on behalf of people in poverty who face the hardest impact of global climate change.

Affirming our desire to care for the earth, we encourage you (if possible) to choose the option of online registration for Congress 2010. This simple initiative will help reduce paper waste and ultimately help protect the environment.

---

EXHIBITOR SPOTLIGHT
RISO, Inc. - (800) 876-7476 - us.riso.com
Category: Printing Equipment
Booth: 172 Concern about the environment has become a focal point for consumers and businesses alike. RISO digital duplicators and inkjet printers provide high-quality, high-speed printing with a lessened environmental impact than other printing technologies. In a 2007 RISO was ranked as the "most green" office products company. Unlike copiers that constantly heat up a thermal drum — even when not in use — RISO printers have very low power requirements. Their optional ink savings feature automatically detects blank pages in a document and omits them from your print job. Their recyclable ink cartridges, Energy Star rating and lack of harmful fumes and emissions help to make RISO one of the greenest printers on the planet.


---

GREEN TIPS
Bring your own mug, cup or glass for water at Congress.
— cedunlap

---

Most conference rooms are provided with ice water in coolers. I suggest we bring our own plastic bottle to get the water to reduce the usage of the disposable cups. You can also refill bottles at the water fountains, located outside of the bathrooms throughout the Convention Center.
— vwong888

---

Let us know of any green tips you might have to share with your fellow Congress-goers at RECongress@aol.com
DATES
The 2010 Los Angeles Religious Education Congress dates are:
• March 18, 2010 (Youth Day)
• March 19-21, 2010 (Congress days)
FUTURE DATES
We now have our dates for Congress 2011. Dates are:
• March 17, 2011 (Youth Day)
• March 18-20, 2011 (Congress days)
Location
Congress is held at the Anaheim Convention Center, located at 800 West Katella Ave. in Anaheim, Calif. (just across from Disneyland and Disney's California Adventure). See a Yahoo Map
Fee
The registration fee for Congress is $70 ($60 by February 5, 2010).
Registration
If you haven't mailed your Congress registration yet, be sure to mail it by March 4. After that, just hang on to it and bring it with you to register on site any of the three days of Congress. Note: You still register online for Congress through March 11.
YOUTH DAY
You don't have to wait until March 18 to get a flavor of Your Day! A preview of the 2010 Youth Day Theme Song, "I'm Just Sayin'" by John Angotti is now available on the Youth Day page.
Note: Youth Day registration has closed, and there is no on-site registration for the event.
IMPORTANT DATES & INFO
Feb 5 - Registration Fees increase
Feb 10 - Congress and Youth Day ticket mailing begins
Feb 23 - Youth Day Registration Closes
Mar 4 - Last day to mail in Congress registrations (register on site)
Mar 8 - Last day we mail out-of-state tickets
Mar 11 - Online registration ends 11 p.m. PST
Mar 12 - Last day to mail in-state tickets
Find other updates on our Congress Updates page.
CONGRESS TICKETS
"I haven't received my tickets!" — Nearly all tickets for Congress and Youth Day have been mailed. If your tickets were returned back to us, or if you have indicated to hold your tickets, your tickets will be in Will Call.
Ticket Pick-Up is available on site at the Convention Center at the Registration Booth located in the Prefunction Lobby. Hours will be on Thursday, March 18 from 6:30 p.m. to 8:30 p.m. and any day of Congress beginning at 8 a.m. NOTE: Congress Program Books are also available during the Thursday hours.
You can find tickets mailing information and other Congress updates on our web site.
CONGRESS LOGOWEAR
This year KWD Distributors, the official supplier of Congress Logowear, is offering Congress attendees a selection of green products which from to choose. Take home a beautiful and practical reminder of your fantastic weekend attending the 2010 Los Angeles Religious Education Congress. Stop by booths #437 & 439, located in the center of Hall A.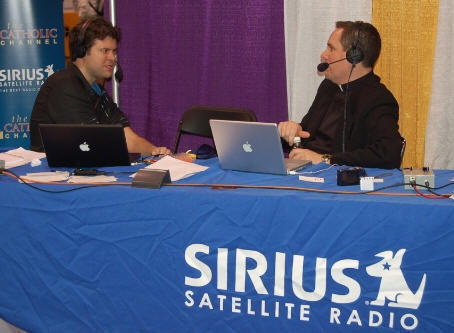 BUSTED HALO RETURNS TO CONGRESS
Fr. Dave Dwyer, host of "The Busted Halo Show" will be on location at the 2010 Los Angeles Religious Education Congress on Friday and Saturday, March 19 & 20.
The Busted Halo Show airs Monday through Friday, from 7 pm to 10 pm ESTon Satellite Radio (Sirius Channel 159, XM Channel 117). Saturday's show will be rebroadcast on Monday.
VOLUNTEER REMINDER
If you aren't on our 2010 Volunteer list and you're still interested in volunteering, we always have a need for Eucharistic Ministers for the two Closing Liturgies on Sunday in the Arena. You can find more and contact information on our Volunteers page.
NOTE: We've been having trouble with emails getting through. If you've contacted someone recently through the addresses on the Volunteers page, please try them again.
CONGRESS PREVIEW IN THE TIDINGS


The Tidings, newspaper of the Los Angeles Archdiocese, will have a special Congress preview this week, in its March 5th issue. It will feature some of the upcoming Congress speakers, entertainers and exhibitors. As The Tidings states: "Be encouraged to attend CONGRESS even if it is for the first time; you will find the experience positive, educational, visual, musical and spiritual … enriching for any Catholic adult or even a friend who wants to know more."
You can find The Tidings online at www.the-tidings.com or contact them at 213-637-7360.
Read other reviews about Congress
LGBT & THEIR FAMILIES
The Office for Ministry with Lesbian and Gay Catholics (MLGC) has created a guide to the 2010 Religious Education Congress for LGBT Catholics and their families. It includes recommended workshops and recommended liturgies. In addition, there is information about the MLGC booth, the drop-in hospitality suite, and wine & cheese receptions on Friday and Saturday nights. You can find the Guide off the GLO page at St. Monica's Catholic Community web site at www.stmonica.net/community_life/

JUST FOR SOUTHERN CALIFORNIANS
Ralphs Grocery Company, a major supermarket chain in the Southern California area, supports schools, churches and other non-profit organizations with annual contributions. The Los Angeles Religious Education Congress is a member of Ralphs Community Contributions Program. Simply by using your Ralphs rewards Card a portion of eligible purchases are contributed to the RECongress. (Note: This is an annual program that must be renewed each year. The current term is through August 31, 2010.)
We encourage all Ralphs shoppers to sign up for the free Ralphs rewards Card and register their card with the Community Contributions Program. It's easy! Every time you shop for groceries and swipe your card at Ralphs, RECongress will automatically earn up to 5% of all eligible purchases per enrolled card. Sign up now! It's never been easier to contribute to the RECongress.
Organization Name: Archdiocese of Los Angeles - Religious Education
Address: 3424 Wilshire Blvd., Los Angeles, CA
Organization Number: 90658
Find step-by-step instructions and information online.
Read About the Ralph rewards Program
Be sure to sign-up for the monthly Congress Emailing List. You may opt out from this Emailing at any time from the link below.
You can find a copy of this email our past Congress Emailings on our RECongress.org site.