It's only a month until Congress 2010!

YOUR OLD CELL CAN HELP HAITI
Remember: Bring your old cell phones — working or not — with you to Congress. This year RECongress is partnering with GET GREEN TO GET GREEN, an organization that recycles cell phones. The proceeds generated from this partnership will be donated to the Haiti relief efforts through Catholic Relief Services. CRS has committed at least $25 million for relief and recovery.
---
NOTE: YOUTH DAY registration is still available, but is scheduled to end online this week. Check the Youth Day page at archive.recongress.org/YD
---
This is our semimonthly Emailing about the Los Angeles Religious Education Congress. Pass along this emailing or our link — archive.recongress.org — to share with friends and encourage them to sign up for our Congress Emailing updates. If you do not care to receive future updates, you can find removal information at the bottom of this message.
¡Para información en español, clic aquí!

RECongress Keeping 'Green'
The Los Angeles Religious Education Congress is committed to live our faith by protecting God's creation and advocating on behalf of people in poverty who face the hardest impact of global climate change.

Affirming our desire to care for the earth, we encourage you (if possible) to choose the option of online registration for Congress 2010. This simple initiative will help reduce paper waste and ultimately help protect the environment.

---

CONVENTION CENTER GOES 'GREEN'
In January 2004, the Anaheim Convention Center started a sustainability program — all because attendees were becoming more and more knowledgeable about environmental issues. The Convention Centers' environmental program includes: • Bailing cardboard, plastic and office paper; all other trash is recycled offsite — 55% of the waste is recyclable; • Aluminum cans are no longer being sold on site; • All toilet paper, paper towels and toilet seat covers are made from 100% recyclable materials; • Utilizing non-plastic service-ware, cornstarch cups, and sugarcane byproduct plates and trays; • Exhibit halls, meeting rooms and lobby areas have energy-efficient lighting, and the Arena signboards use LED lamps; • Solar panels on the roof of Exhibit Hall D generate electricity; • Offering fully rainforest-certified coffee and a "fair-trade" decaf coffee; • Using organically grown fresh herbs, organic nut meats, and free-range chicken and eggs.

---

GREEN TIP
Plug in electronics and computers to power strips and save energy by turning off computers when not in use. Set network systems to low-power sleep modes. Shutting down just one computer and monitor system can save up to $100 annually.

---

GOING GREEN
"I would like to encourage the green theme by letting people know how easy it is to take the Metrolink to Anaheim from various locations. There is a bus that runs along Katella Ave. and picks up behind the Metrolink station in Anaheim and drops off right in front of the Anaheim Convention Center. In addition, the turn-out in front [of the Convention Center] is also the pickup and drop-off point for the hotel shuttles. No need to deal with the freeways or traffic hassles. Go Green–er, please."
— Congress Attendee Beverly Franco

Let us know of any green tips you might have to share.

DATES
The 2010 Los Angeles Religious Education Congress dates are:
• March 18, 2010 (Youth Day)
• March 19-21, 2010 (Congress days)

Future Dates
We now have our dates for Congress 2011. Dates are:
• March 17, 2011 (Youth Day)
• March 18-20, 2011 (Congress days)
Location
Congress is held at the Anaheim Convention Center, located at 800 West Katella Ave. in Anaheim, Calif. (just across from Disneyland and Disney's California Adventure). See a Yahoo Map
Fee
The registration fee for Congress is $60 ($70 after February 5, 2010).
Registration
There are two ways to register:
— Download the Guidebook and register online (by credit card)
— Order a Guidebook and register by mail (by check)
Find more detailed information online.
IMPORTANT CONGRESS DATES
• Feb 5 - Registration Fees increase
• Feb 10 - Congress and Youth Day Ticket mailing begins
• Feb 25 - Youth Day Registration Closes
• Mar 4 - Last day to mail in registrations
• Mar 11 - Online registration ends 11 p.m. PST
YOUTH DAY T-SHIRT
Official Youth Day T-Shirts are available for group pre-orders. Orders with payment must be received by February 26, 2010 and will be available for pick-up starting at 8 a.m. on Youth Day at a booth in the Grand Lobby (south side) of the Convention Center Arena.
There is discount pricing for pre-orders — T-Shirts are $15 and Sweatshirts are $37. Check online for sizes, on-site pricing and to download the order form — go to the Youth Day 2010 page.

CONGRESS 2010 THEME
Listing to a preview of the 2010 Congress theme song, "Incredible Abundance," written by Donna Peña. You can find the link toward the bottom of our RECongress Home Page.
Donna also wrote the 2000 Congress theme song "Awaken Hope" (with David Haas), the 1995 theme song, "Passion For Justice," and the 1993 Congress theme song, "Compassion Poured Out."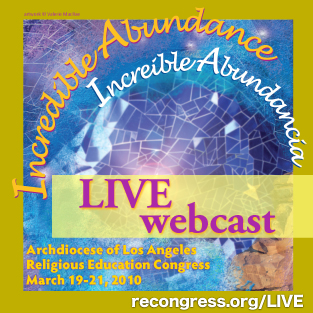 RECONGRESS LIVE ... IN YOUR HOME!


This year Congress will have its first-ever "live" webcast! Know someone who can't make it to Congress? Share the Congress experience with them through RECongress.org/LIVE. Experience this outpouring of grace and enthusiasm of Congress right here on the web at our new "live" site: archive.recongress.org/LIVE.

Join the fun and excitement as we stream "live" from the Anaheim Convention Center Arena, beginning Friday, March 19th at 8:30 am PST through the Closing Liturgy on Sunday at 3:30 pm PST. Videos will remain available for 24 hours after the event.

CARDINAL MAHONY CHAT
Have a question to ask Cardinal Mahony? Here is your chance to do just that. Send your question NOW to be submitted during the chat session on Friday, March 19, 2010.
Since 1996 Cardinal Mahony has conducted an online chat session (originally on CompuServe, later with AOL, and now with ChurchWerks). This year he will first conduct a private chat with school students from the archdiocese (this year with St. John Chrysostom School), and then in a nationwide chat session that YOU can join in. This is this the Cardinal's 14th annual online appearance and one of the highlights for the 40,000 attendees at the four-day event.
CONGRESS VOLUNTEERS
Congress could not function without the hundreds of volunteers who give of their time. All pre-registered volunteers are required to attend the Volunteer Meeting that will be held on February 23, 2010 at 7:30 pm at St. Vincent School Hall, 2333 S Figueroa St, Los Angeles, CA 90007 (between 23rd St. and Adams Blvd.).
If you aren't on the Volunteer list and you are interested in volunteering, we always have a need for Eucharistic Ministers for the two Closing Liturgies in the Arena.
We also have a need this year for three volunteers to help the florists on Wednesday, March 17, 2010 (the day before Youth Day). Activities include unloading supplies, preparation of flowers, delivery of arrangements and other jobs as needed. Some activities require lifting. Time: 10:00 a.m. to 4:30 p.m. Parking fee will be provided.
NOTE: If you've submitted an email to RECflowers@la-archdiocese.org, please do so again. We've had trouble with that email address.

You can find more and contact information on our Volunteers page.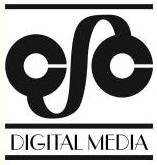 HEAR MORE OF CONGRESS
Congress 2010 offers 8 periods of some 35 workshops totaling 315 possible sessions by 188 speakers. You just can't possibly hear them all! But you can hear more than you attend. Many of the speakers at Congress have given their permission to record their workshop. (NOTE: Delegate recording of any workshop or general assembly is not permitted.) CSC Digital Media offers selected sessions from current and past Religious Education Congresses available on Audio CDs (since 2006) and Cassettes (only through 2008). Find 10 years of your favorite Congress speakers on our "Recorded at Congress" link page.

THE LIFE & LEGACY OF BISHOP OSCAR ROMERO
Velada Conmemorativa en honor al legado de Mons. Oscar Romero
Viernes, 19 de marzo, 8:00 pm
Presentación multimedia sobre la vida y legado de fe de Mons. Romero en su 30 aniversario del gozo de su resurrección en el pueblo de Dios.
See the 2010 Congress Highlights
REGISTRATION DROP-OFF/BOOK PICK-UP
If you intend to either drop off your Congress registration or pick up Registration Guidebooks at the Archdiocesan Catholic Center, please note that there is a fee for parking in the parking structure. We suggest that for very short term, temporary parking, you park in front of the building on Mariposa St. in the loading zone. Again, this for short term temporary parking!

JUST FOR SOUTHERN CALIFORNIANS
Ralphs Grocery Company, a major supermarket chain in the Southern California area, supports schools, churches and other non-profit organizations with annual contributions. The Los Angeles Religious Education Congress is a member of Ralphs Community Contributions Program. Simply by using your Ralphs rewards Card a portion of eligible purchases are contributed to the RECongress. (Note: This is an annual program that must be renewed each year. The current term is through August 31, 2010.)
We encourage all Ralphs shoppers to sign up for the free Ralphs rewards Card and register their card with the Community Contributions Program. It's easy! Every time you shop for groceries and swipe your card at Ralphs, RECongress will automatically earn up to 5% of all eligible purchases per enrolled card. Sign up now! It's never been easier to contribute to the RECongress.
Organization Name: Archdiocese of Los Angeles - Religious Education
Address: 3424 Wilshire Blvd., Los Angeles, CA
Organization Number: 90658
Find step-by-step instructions and information online.
RECONGRESS.ORG
You can find all Congress information and updates online. We will soon be adding Congress Spotlights and are constantly updating speaker and hotel information. Check our site for updates and announcements.
EMAILING
Be sure to sign-up for the monthly Congress Emailing List. You may opt out from this Emailing at any time from the link below.
You can find a copy of this email our past Congress Emailings on our RECongress.org site.

© 2009-2010 RECongress.org