RECongress 2019 is Next Week!
We are just 10 days away from the 2019 Los Angeles Religious Education Congress. Be ready for it with these aids: The Program Book can found here (use the restaurant listing to make your dining plans); see a listing of our 2019 Exhibitors here; and find the list of Liturgies and prayer services for the weekend here; listen to Jeanne Cotter's theme song, "Thirsting for Justice," here.


---
Have questions about RECongress? First, try our Help page here.

---
Pass along this emailing or our link — archive.recongress.org — to share with friends and encourage them to sign up for the Emailings to receive the latest information about RECongress 2019. If you do not care to receive future updates, you can find removal information at the bottom of this message.
The 2019 RECongress Program Book is online
Preview the online version of the Program Book that attendees receive when they arrive for RECongress 2019. Get a little extra time to plan out your weekend by downloading the Program Book for workshop and restaurant locations. Also available in PDF and iPaper formats.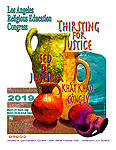 WHAT YOU'LL FIND:
— Workshop locations and maps
— Spotlight on events at Congress
— Speaker Signing schedule
— Technology Center schedule
— Exhibitor and Categories listings
— Map of the ACC North building
— Restaurant guide and map
— Audio Recording Form
Preview the 2019 Program Book »
RECongress Workshop Recordings & Videos
Have you found that there are two workshops you just can't miss -- but they are at the same time! Try this option: All workshops indicate if they are recorded (denoted by an asterisk or headphones). If one session is recorded and the other is not, use whatever ticket you have to attend the workshop that is not recorded (if there is available seating). Then you can pick up the recording during RECongress at the Conference Media booth in Hall A or download it as an MP3 after RECongress. Another option to keep in mind is that all workshops in the Arena (English) and North Hall (Spanish) are live streamed and most will be posted on our YouTube Channel after RECongress. Note: All recorded workshops have the speaker's permission. Delegate recording of any workshop or general assembly session is not permitted.
"Where are my tickets?"
This is currently our most asked question. Our last mailing was just March 5. After March 5, RECongress tickets are no longer mailed. If you do not receive your tickets in the mail, please come to the Registration Area located in the Prefunction Lobby of the Anaheim Convention Center and we will assist you. If you provided an email address with your registration, you should have received an email confirmation of your registration. Please bring that email with you to the Registration Area (or have it available on your phone) to scan and print out your tickets. If you have registered and have not received a barcode confirmation, please contact the RECongress Registration Desk at (213) 637-7348 or email recongress@aol.com.
Art Exhibit Announced
RECongress annually features an Art Exhibit located in the Arena Lobby (between the Arena and Hall A). This year it is an exhibit of photographs that pay tribute to the memory of Msgr. Óscar Arnulfo Romero, who was murdered on March 24, 1980. Msgr. Romero was actively engaged in denouncing violations of the human rights of the most vulnerable individuals in El Salvador. He was canonized on October 14, 2019.
Congress Sunday, March 24, marks the one-year anniversary of Msgr. Romero being named a saint. That date also marks the U.N. International Day for the Right to the Truth Concerning Gross Human Rights Violations and for the Dignity of Victims. purpose of the Day is to:
-- Honor the memory of victims of gross and systematic human rights violations and promote the importance of the right to truth and justice;
-- Pay tribute to those who have devoted their lives to, and lost their lives in, the struggle to promote and protect human rights for all;
-- Recognize, in particular, the important work and values of Archbishop Oscar Romero, of El Salvador, who was assassinated after denouncing violations of the human rights of the most vulnerable populations and defending the principles of protecting lives, promoting human dignity and opposition to all forms of violence.
Youth Day: Directions and Parking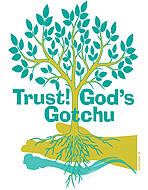 Youth Day attendees should arrive before 8:00 am (doors open as early as 7:30 am). Once parked, participants will be asked to walk down Convention Way to the Convention Center. Participants from Track 1 should move directly to the Arena for the General Session. Participants from Track 2 should head to ACC North for their selected workshop. Note that drop-offs are not be allowed in front or behind the Convention Center.
Bus parking and bus drop-off is available in the Toy Story parking Lot for $35 per bus.
Car parking is available in any Convention Center lot ($16 per car). We recommend that you park in the lot in ACC North (off Katella Ave.). Young people should not transport themselves; Chaperones who are driving must be 25 years of age.
Tips for "Surviving" RECongress
If you're not already familiar with it, the RECongress is probably the largest regularly scheduled gathering of Catholics in North America. It is held at the Anaheim Convention Center across the street from Disneyland. Thursday is Youth Day, which attracts up to 15,000 high schoolers, and Friday through Sunday are the adult days, which are attended by anywhere from 15,000 to 20,000 teachers, catechists, musicians and other Catholics in ministry from all over the country. There are dozens of conference sessions each day with Masses and other events in the evenings. Here are a dozen handy tips for surviving the Religious Education Congress by long-time attendee Claude Muncey.
Dress for comfort
There is nothing formal about RECongress. Good shoes and socks are a must. Think of it as going on a day hike with 10,000 of your closest friends!...
Learn how to survive RECongress »
RECongress Spotlight: Robert Feduccia
Over the three adult days, RECongress 2019 will offer 278 workshops presented by 186 speakers. Topics range from personal growth to music to spiritual topics — in English, Spanish and Vietnamese. Each Emailing spotlight one of our speakers:

Robert Feduccia Jr. was founding director of the national Youth Liturgical Leadership Program at Saint Meinrad School of Theology in Indiana. In addition to his work as a parish youth minister, keynote speaker and retreat leader, he has spoken at various diocesan and major national youth conferences. Feduccia has been published in several publications. Now based in Tennessee, he is currently Vice President of Christian Faith Events for Declan Weir Productions.
Friday, March 22, 1:00-2:30 pm - Session 2-09
TEACHING YOUNG PEOPLE HOW TO PRAY

Recent research among youth and young adults shows that daily, personal prayer is a key factor remaining active in the Church. We will look deeply at some of the data and find a path forward for those who say they are "spiritual, but not religious." We will look at real strategies for developing daily encounters between our young people and Christ Jesus that makes them excited to be Catholic.
Find our listing of RECongress Speakers here »
Hall A: Tech Center Updates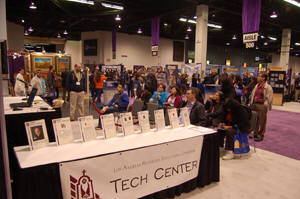 The Technology Center is located in the center of Exhibit Hall A and across the aisle from the Office of Religious Education booth. Its purpose is to highlight educational software, online services and internet resources that is of interest to our Congress attendees. Check the schedule for these events:
-- Video Chat with Bishop Joseph Brennan on Friday;
-- NCEA presents hands-on iPad demonstrations of free apps;
-- Verbum Catholic Study Software has presentations every day;
-- Family Theater Productions' free Catholic Central video series;
-- Gradelink offers 5 website must-haves to increase enrollment;
-- Magis Center demonstrates ways to evangelize in 21st century;
-- Word on Fire offers homilies, DVDs and online resources.
Find the Tech Center schedule here »
Spotlight: Performance Stage in Hall A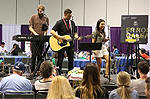 Friday through Sunday
– Convention Hall A, southeast area
Several of the performing artists at Congress have scheduled time to appear at the Performance Stage in Hall A. The stage showcases 20-minute sets of live music and is located in the southeast area of Exhibit Hall A. Check the posted schedule onsite for changes/additions to appearance times of Chris Estrella, Mel Kennedy, Michael Mangan and more.
Find other RECongress Entertainment here »
Only one week left to order Disney tickets
Religious Education Congress attendees may click here to purchase specially priced Disneyland resort eTickets. There is special pricing for Twilight Convention tickets (after 4 pm), 1-day 1-park, multi-day and park hopper tickets. This eTicket offer is only available online and ends BEFORE RECongress.
Behind the Scenes: Bianca Langlois
Our Los Angeles Religious Education Congress could not function without the hundreds of volunteers who give of their time. We have those volunteers who are "out in front" -- workshop Assistants (ticket takers/greeters), Chairperson (workshop coordinator) and the Master of Ceremonies "MC" (who introduces the speaker and makes announcements) -- but there is an army of people behind the scenes. These is to highlight just a few of the committee members, coordinators and volunteers who work behind the scenes.
Name: Bianca Langlois
What is your current role in RECongress?
My current role this year for RECongress is Coordinating Saturday Morning Praise with a talented co-coordinator Laura Diaz and a gifted team, Jesse Manibusan for music and Ann Myers for movement.
How did you become a part of the REC team?
I first began volunteering to assist with Youth Liturgies in 1990 and as time progressed Paulette Smith invited me to coordinate liturgies for congress.
What are your most memorable RECongress moments?
The 2015 Australian Arena Mass was an experience because everything was coordinated via email. Anne Frawley-Mangan was their coordinator and I was the stateside contact for forms and questions. But when they arrived, I had the privilege of meeting the entire team, along with a team of indigenous youth who came as the liturgical movement team, absolutely unforgettable! They were a community of joyful and big-hearted people I will never forget!
Just for Southern Californians
Local shoppers can easily support the Religious Education Congress just by shopping at Ralphs and Food4Less grocery stores. When you link your Rewards card in the Community Contributions program, a portion of eligible purchases are contributed to the RECongress. Sign up online (instructions below) or by calling (800) 443-4438. Each September begins a new term. Even if you have been a part of the program before, you must re-register in this new term.

If you already have a registered Rewards card (This means that you have already entered your email address and assigned yourself a password):
1. Log in to www.ralphs.com
2. Click Sign In
3. Enter your email address and password
4. Select My Account under Welcome, Valued Customer
5. Click on Community Rewards on the left
6. In the Search box, type "KV939" or "Archdiocese of Los Angeles
- Religious Education"
7. Remember to click on the circle next to the name
8. Click on Enroll to finish your enrollment process.
Find step-by-step instructions and information online.
Some Congress Reminders





Live Streaming in North Hall (upper level) - click here
Don't forget, as an alternative to dealing with the Arena crowd, you can watch Friday's Opening Event (8:30-9:30 am) with a live stream in North Hall. (North Hall replaces Hall B events.)

Saturday Morning Praise & Keynote - click here
Please remember time for our Morning Praise & Keynote, which begins on Saturday at 7:50 am. Our English Keynote with Sr. Kathleen Bryant, RSC, is in the Arena and our Spanish Keynote with Sr. Norma Pimentel, MJ, is in North Hall.

Front Row with Archbishop Gomez - click here
Saturday, March 23, 10:15 am – Performance Stage, Hall A
Congress Speaker Christina Lamas will moderate the Front Row with Archbishop José Gomez event live at the Performance Stage in Hall A and also online via Facebook.

FREE RECongress ePostcard - click here




Sunday, March 24, 9 am - 2 pm - Tech Center, Hall A
Don't forget your free electronic postcard. Take a souvenir picture at RECongress 2019 to email home and to your friends! Only available on Sunday and only at the Technology Center, located in the center of Hall A.

Show Your Badge & Save Program - click here
RECongress attendees can receive entertainment and dining discounts during the weekend with the "Show Your Badge & Save" program. Dining discounts are currently available at IHOP, Joe's Crab Shack, House of Blues and Downtown Disney restaurants Catal, Naples, Ralph Brennan's and Tortilla Jo's.

Chair Massage at Congress
On Friday and Saturday (10 am-4:30 pm) and again on Sunday (10 am-2:30 pm) in the Hall A Prefuntion Area you can take a break from the bustle of Congress with a chair massage. The cost is $1 per minute.

A.A. Meetings
Join a lunchtime meeting with other Alcoholics Anonymous (A.A.) men and women. This is an open meeting for anyone working a 12-Step program or anyone interested in 12-Step recovery. The meeting room is location on the Marriott's lower level, in the San Diego room.

Hotels - click here
We have contracted with certain hotels in the Convention Center area with a variety of pricing and room types that should meet everyone's needs. Check for availability.

Ralphs Rewards Program - click here
Don't forget to register for the Community Contributions Program with your free Ralphs rewards Card. It's the easiest way to benefit RECongress all year long.




Find Congress updates here »
© 2019 Los Angeles Religious Education Congress
RECongress 2019

RECongress Dates
March 21 (Youth Day) &
March 22-24 (Adult Days)
Youth Day Theme
"Trust! God's Gotchu"
Youth Day page »
Adult Days Theme
"Thirsting for Justice" / "Sed de Justicia" /
"Khát Khao Công Lý"
2019 Theme Reflection
See a reflection by the Director on the 2019 RECongress theme.
Read the Reflection »
Location
Anaheim Convention Center
800 West Katella Ave.
Anaheim, Calif. 92802
(just south of Disneyland and Disney California Adventure).
See a Yahoo Map »
Registration Fees

Youth Day has a separate registration and fee. Youth Day is $40 per person
The fee for the Adult Days is $85 per person.
Have Questions?
View our RECongress help page to see the most frequently asked questions and their answers. See our FAQ page »
See our FAQ page »
Important Dates

Feb 15: Last day to request refunds

Mar 1: Registration fees increased
Mar 1: Last day to register by mail (only online or on-site registration available)
RECongress Milestones
1956 - first two-day CCD Institute (500 teachers in attendance)

1967 - first three-day "Southern California Confraternity Congress" (7,000 in attendance)

1970 - CCD Congress moves from Los Angeles to Anaheim Convention Center

1973 - first "Religious Education Congress" as CCD office is renamed to Office of Religious Education
See the REC Milestones »