RECongress 2019 Is Here ... Almost
It's almost March! And the 2019 Los Angeles Religious Education Congress is almost here -- but some deadlines are! If you or a friend hasn't yet registered, you can still register for Youth Day and the Adult Days of RECongress at the discount rate, but prices go up Friday, March 1.
And beginning this week, anyone who registers for RECongress won't be mailed tickets but will receive an email confirmation that includes a barcode. Please bring that email with you to the Registration Area (or have it available on your phone) to self-scan and print out your tickets at RECongress.
Note: Those registered who reside outside of the United States and Canada will receive barcode confirmations instead of mailed tickets. In fact, see how many are registered from foreign countries on our Statistics page.
And remember these upcoming deadlines:
Feb. 28 is the last day to register at the lower rate;
Feb. 28 is also the last day for some hotel discounts;
March 1 is the last day to register by mail;
March 15 is the last mailing of Youth Day packets;
March 18 is the last day to order Disney ticket at a special rate.
If you haven't registered yet, you can still register online or on site in Anaheim. (Friday is the last day to mail in registrations.)
---
Have questions about RECongress? First, try our Help page here.

---
Pass along this emailing or our link — archive.recongress.org — to share with friends and encourage them to sign up for the Emailings to receive the latest information about RECongress 2019. If you do not care to receive future updates, you can find removal information at the bottom of this message.
"North Hall" and Sacred Space in ACC North
Remind your friends about the two big relocations for RECongress 2019 that utilize the ACC North building.
Hall B: ALL Hall B events have moved to the 200 Level — the upper level — of ACC North. Both Youth Day and our Adult Days will utilize the upper level area we call "North Hall."
Sacred Space: Sacred Space also moves to the lower level of ACC North. The Chapel and the Labyrinth will move to North rooms 151-152. The Sacrament of Reconciliation will be available in North rooms 153-156.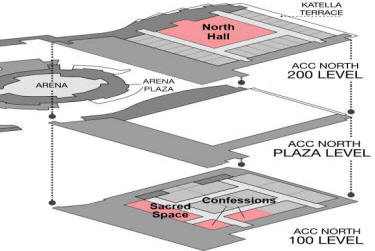 "I haven't received my tickets"
If your tickets have not arrived by the time you're heading off to the Religious Education Congress, please email our office to see if your tickets were returned by the Post Office. If they have been returned to our office, we can make the address correction and mail them back to you (until March 5). If the tickets were lost in the mail, you will have to bring your email confirmation and a form of ID to the Existing Ticket Holders line in the registration area at Congress and we will reprint your tickets for you.
"I did not receive an email confirmation"
When registering, either online or by mail, make sure to provide an email address. You will be sent confirmation of your registration by email. If you haven't received an email confirmation, you might not have provided an email address or it may have been entered incorrectly. You can contact the Congress Registration Desk at (213) 637-7348 to verify your email address or to reissue an email confirmation.
Check our registration Help page »
Sneak a Peek at the Program Book
Get a head start on planning your trip to Anaheim. You can now view the online version of the Program Book that attendees receive when they arrive for RECongress 2019. Get a little extra time to plan out your weekend by downloading the Program Book for workshop and restaurant locations. Also available in PDF and iPaper formats.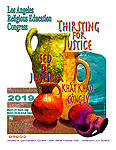 WHAT YOU'LL FIND:
— Workshop locations and maps
— Spotlight on events at Congress
— Speaker Signing schedule
— Technology Center schedule
— Exhibitor and Categories listings
— Map of the ACC North building
— Restaurant guide and map
— Audio Recording Form
Preview the 2019 Program Book »
This Week is the Deadline for Many Hotels
If you haven't reserved a hotel yet, please note that a number of our contracted hotels have reservation deadlines of February 28. As a tip: Please pay special attention to the amenities offered — some properties offer free breakfast options and several hotels offer suites that can house up to 6 people — which can add even greater value to your stay.
Airport Shuttle Service

The Religious Education Congress has made arrangements for discounted airport transportation with Karmel Shuttle, offering direct service between Los Angeles International (LAX), John Wayne (SNA), and Long Beach (LGB) airports to and from the Anaheim Resort. Reservations are required 24 hours in advance.
3 WAYS TO REGISTER:
1) Visit www.karmel.com and enter Promo Code: RECON19.
2) Call toll free 1-888-995-RIDE (888-995-7433) and mention promo
code "RECON19" at the time of reservation.
3) Click this link -- exclusively for Religious Education Congress attendees.
Find additional shuttle information here »
Youth Day Speaker: Mike Patin
Youth Day 2019 is Thursday, March 21, and in each of our RECongress Emailings we feature one of our 15 speakers of the day:

Mike Patin, the "engaging" Cajun, lives in Lafayette, La. He has served the church as a high school teacher, coach and diocesan staff person. Patin previously was with the CYO/Youth Ministry Office for the New Orleans Archdiocese and, since 2003, he has been a full-time "faith horticulturist" addressing groups across the United States and Canada as parish mission presenter, trainer, retreat facilitator and more. He has published two books: "A Standing Invitation" and "This Was Not in the Brochures: Lessons from Work, Life and Ministry."
Title: DISCONNECTED
Speaker: Mike Patin
Location: ACC North 155-157 (lower Level 100)
All you wanna do is livestream, post, chat or text. Then you lose your signal or connection – so frustrating! Today, we're gonna look at SIN. We are all sinners. How does sin disconnect, frustrate, weaken us? And how do we get the "signal" back? Fear not. "Trust! God's Gotchu."
Find Youth Day information here »
RECongress Spotlight: Dr. Michael DiPaolo
Over the three adult days, RECongress 2019 will offer 278 workshops presented by 186 speakers. Topics range from personal growth to music to spiritual topics — in English, Spanish and Vietnamese. Each Emailing spotlight one of our speakers:

Michael DiPaolo, PhD is a clinical psychologist and certified Imago Relationship Therapist in private practice in Los Angeles who works with individuals and couples. He has counseled over 1,000 couples in marriage preparation throughout the Los Angeles Archdiocese. Dr. DiPaolo is a speaker, workshop presenter and retreat leader who has presented for several years at the archdiocesan and parish gatherings. He is author of "The Impact of Multiple Childhood Trauma on Homeless Runaway Adolescents."
Saturday, March 23, 3:00-4:30 pm - Session 6-07
CONTEMPLATIVE DATING
Can you find God through dating? The world of modem romance may not seem a match for a contemplative lifestyle. Yet, finding real connection may hinge upon exploring the very places where contemplation brings us. It's not about finding the right person, it's about being the right person. Along the way we'll provide a strategy to approach dating differently and introduce a "Safe Conversations" communication practice to help keep things moving. Don't bumble around or get down. Swipe right and come learn what contemplative dating is all about!

Find our listing of RECongress Speakers here »
RECongress Spotlight: Busted Halo Live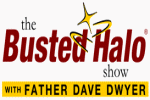 Friday, noon-2:00 pm – Hall A
Saturday, 1:00 pm-3:00 pm – Hall A

Come watch SiriusXM Radio's "The Busted Halo Show" as it broadcasts live from RECongress. Join in the fun with host Fr. David Dwyer and his team as they interview speakers and entertainers appearing at RECongress 2019. The Busted Halo Show airs Monday through Friday, from 7-10 pm Eastern time on SiriusXM Satellite Radio channel 129.
Note: Fr. David Dwyer, CSP has workshop 4-08 on Saturday at 10 am entitled "What Our Young Adults Are Thirsting For."
See other RECongress Spotlights here »
Spotlight: Exhibit Hall A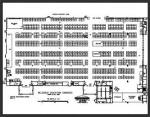 One of the most sought-after perks of registration is admission to the Exhibit Hall. And again this year, we have reached our limit for those wishing to exhibit. With a capacity of 524 booths in Hall A, RECongress 2019 will showcase over 259 companies as exhibitors — ranging from religious art to music, from publishing houses to educational institutions, in addition to our own represented Archdiocesan ministries. Hours for the Exhibit Hall (Hall A) during RECongress adult days are: Friday & Saturday from 8:00 am to 5:00 pm and Sunday from 8:00 am to 3:00 pm. You can download a map of Hall A here.
Find the listing of RECongress Exhibitors here »
Liturgy Spotlight: Saturday Evening Prayer
Within the Catholic Archdiocese of Los Angeles, liturgy is celebrated every Sunday in no fewer than 40 different languages. We have worked diligently to inculturate the liturgies at Congress to accurately and authentically reflect the church of Los Angeles.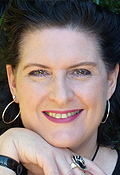 Saturday, March 23 2019 • 5:15 pm
Evening Prayer
Anne Frawley-Mangan, presider (photo)
Music by Michael Mangan

The prayer of the Church in the Liturgy of the Hours has a long and wonderful history. It has been an important part of what we offer to participants of the Religious Education Congress who want to experience something different. After a long day of workshops, sessions, conversations (and even shopping!), the opportunity to praise God for the blessings of the day and to offer all its joys and struggles back to him through the praying of the psalms is balm for the soul.
Find the listing of Congress Liturgies here »
Just for Southern Californians
Local shoppers can easily support the Religious Education Congress just by shopping at Ralphs and Food4Less grocery stores. When you link your Rewards card in the Community Contributions program, a portion of eligible purchases are contributed to the RECongress. Sign up online (instructions below) or by calling (800) 443-4438. Each September begins a new term. Even if you have been a part of the program before, you must re-register in this new term.

If you already have a registered Rewards card (This means that you have already entered your email address and assigned yourself a password):
1. Log in to www.ralphs.com
2. Click Sign In
3. Enter your email address and password
4. Select My Account under Welcome, Valued Customer
5. Click on Community Rewards on the left
6. In the Search box, type "KV939" or "Archdiocese of Los Angeles
- Religious Education"
7. Remember to click on the circle next to the name
8. Click on Enroll to finish your enrollment process.
Find step-by-step instructions and information online.
Looking Back 30 Years ... at 1989
From the Registration Guidebook at the 1989 Religious Education Congress held April 20-23.

1989 Religious Education Congress
Theme: Proclaim God's Glory
Saturday, April 22 - 8:30 a.m.
KEYNOTE ADDRESS
Sister Francesca Thompson, OSF
Assistant to the Dean, Associate Professor Afro-American Studies, Department of Communications, Fordham University, New York. Sr. Francesca received her Ph.D., Theatre/Speech, University of Michigan. Sr. Francesca has an extensive background as lecturer author and director of plays and theatre productions.
PROCLAIMING GOD'S GLORY: REBIRTHING JESUS IN OUR WORLD
We are called and therefore have a vocation to "rebirth Jesus" in our world. In spite of the existing difficulties and monumental obstacles, we, as Christians and followers of Gospel directives, must respond differently to the needs of our society because we are different. How identifiable are we as Christians and how much can we legitimately claim to be followers of the Jesus of the Gospels? A call and a challenge to become that which we profess to be … as we proclaim God's glory.
A Snap from ... 1970
1970 Arena Liturgy from the upper level
In 1970, the Confraternity of Christian Doctrine (CCD) Congress relocated from a Los Angeles International Airport hotel to the Anaheim Convention Center. The event was held February 20-22 with the theme, "That All May Be One."
See the early days of the Religious Education Congress »
Our Web Site — RECongress.org
You can find all RECongress information and updates online. Our upcoming Emailings will feature some Congress Spotlights, and we will be adding our speaker and hotel information online. Check our site for updates and announcements.
RECongress Emailing
Be sure to sign-up for our twice-a-month Emailings about the latest updates and information about the Religious Education Congress. You may opt out from our Congress Emailing at any time from the "Manage Your Subscription" link below.

Find past Emailings at archive.recongress.org/emailing.htm
© 2019 Los Angeles Religious Education Congress
RECongress 2019

RECongress Dates
March 21 (Youth Day) &
March 22-24 (Adult Days)
Youth Day Theme
"Trust! God's Gotchu"
Youth Day page »
Adult Days Theme
"Thirsting for Justice" / "Sed de Justicia" /
"Khát Khao Công Lý"
2019 Theme Reflection
See a reflection by the Director on the 2019 RECongress theme.
Read the Reflection »
Location
Anaheim Convention Center
800 West Katella Ave.
Anaheim, Calif. 92802
(just south of Disneyland and Disney California Adventure).
See a Yahoo Map »
Registration Fees

Youth Day has a separate registration and fee. Youth Day is $35 ($40 after March 1)
The Adult Days have a separate registration and fee. The fee for the adult days is $75 ($85 after March 1).
Have Questions?
View our RECongress help page to see the most frequently asked questions and their answers. See our FAQ page »
See our FAQ page »
Important Dates

Feb 15: Last day to request refunds

Feb 28: Registration fees increase after today
Feb 28: Last day for some hotel reservation discounts
Mar 1: Last day to register by mail (only online or on-site registration available)
Mar 5: Last mailing of RECongress Adult Day tickets.
RECongress Milestones
1956 - first two-day CCD Institute (500 teachers in attendance)

1967 - first three-day "Southern California Confraternity Congress" (7,000 in attendance)

1970 - CCD Congress moves from Los Angeles to Anaheim Convention Center

1973 - first "Religious Education Congress" as CCD office is renamed to Office of Religious Education
See the REC Milestones »