REC2019 deadlines, exhibitors announced
The 2019 Los Angeles Religious Education Congress is next month, and this month has a few important deadline dates to keep in mind: February 15 is the last day to request a refund; and February 22 is the last day to register at the lower rate. If you haven't already registered, after February 22, Youth Day fees increases $5 per person; fees for the Adult Days increase $10 per person.
And one of the most sought-after perks of registration is admission to the Exhibit Hall. And again this year, we have reached our limit for those wishing to exhibit. With a capacity of 524 booths in Hall A, RECongress 2019 will showcase over 259 companies as exhibitors — ranging from religious art to music, from publishing houses to educational institutions, in addition to our own represented Archdiocesan ministries. Find the list of 2019 exhibitors here.

---
Have questions about RECongress? First, try our Help page here.

---
Pass along this emailing or our link — archive.recongress.org — to share with friends and encourage them to sign up for the Emailings to receive the latest information about RECongress 2019. If you do not care to receive future updates, you can find removal information at the bottom of this message.
Location. Location. Location.
There are two big relocations for RECongress 2019 that utilize the new ACC North building.
Hall B: We have moved all our Hall B ("Spanish Arena") events to the 200 Level — the upper level — of ACC North. Both Youth Day and our Adult Days will utilize the area we call "North Hall."
Sacred Space: Traditionally located on the third floor of the main Convention Center, Sacred Space also moves to the lower level of ACC North. Our Chapel and the Labyrinth will move to North rooms 151-152. The Sacrament of Reconciliation will be available in North rooms 153-156.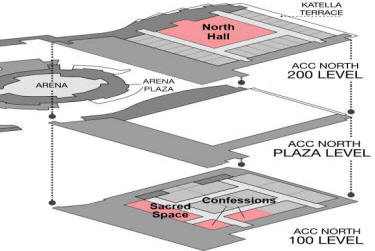 Registration Guidebooks have been mailed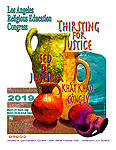 If your RECongress Registration Guidebook didn't show up in the mail, remember that the Guidebook is available in four different formats:
PDF/strong>: The 2019 Registration Guidebook is available online in the Adobe Portable Document Format (PDF). Using their free Reader, you can view the complete Guidebook or specific sections here.
iPaper: The Guidebook is also available in the iPaper format, which requires NO software download. See it here.
Web Pages: View each workshop period (English and Spanish) as a Web page. Go to our Navigation page here.
Paper: Still prefer a paper copy of the Guidebook? If you don't have one, you can order it here.
Your Invitation to Volunteer
Our RECongress could not function without the hundreds of volunteers who give of their time. If you have attended in the past and would like to find out more about becoming a volunteer for our event, please consider this your "personal invitation."
We have a need for volunteers for both Youth Day and our Adult Days. including Workshop Volunteers (English, Spanish and Vietnamese), Eucharistic Ministers for the two Sunday Closing Liturgies in the Arena, and musicians for the RECongress Choir. Congress Volunteers also pay a discounted registration fee, provided they register by February 11, 2019.
Youth Day 2019 Workshops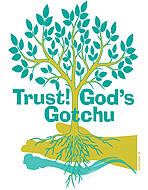 In addition to the Arena events (General Session, Liturgy and Keynote), Youth Day attendees will be able to choose two of the 14 workshops being offered. Note: New this year, you do not have to register ahead of time for any of the Youth Day workshops. Large groups are welcome to split into smaller groups as long as all young people are chaperoned.
Youth Day Speaker: Fr. Rob Galea
Youth Day 2019 is Thursday, March 21, and in each of our RECongress Emailings we feature one of our 15 speakers of the day:

Fr. Rob Galea is a parish priest and university chaplain in the Diocese of Sandhurst, Victoria, Australia. He is also founder and Director of FRG Ministry and, in 2008 (with the late Australian Bishop Joseph Grech) founded the Stronger Youth Program "By God's Grace." Fr. Galea speaks and sings at schools, churches and conferences across Australia and around the globe. The singer/songwriter has seven CD releases and has written a number of songs for various campaigns and international conferences, and his latest book is entitled "Breakthrough."
Title: MY GOD IS BIGGER
Speaker: Fr. Rob Galea
Location: ACC North 155-157 (lower Level 100)
Sometimes we just don't realize how BIG God is. We limit God in our lives because we don't know what He is capable of. He is bigger than your anxiety, bigger than your worries, bigger than sickness, death and the universe as we know it. Come and be amazed at the greatness of my God! Fr. Rob Galea will use music and story in this workshop to remember.
Find Youth Day information here »
Spotlight: Heather Banis & Suzanne Healy
Over the three days, RECongress 2019 will offer 278 workshops presented by 186 speakers. Topics range from personal growth to music to spiritual topics — in English, Spanish and Vietnamese. Each Emailing spotlight one of our speakers:

Dr. Heather Banis is a licensed clinical psychologist with an extensive background in trauma psychology. After serving as a clinical consultant to the Los Angeles Archdiocese for 10 years, she assumed the role of Victims Assistance Ministry Coordinator in 2016. As such, Dr. Banis has spoken at schools, community organizations and professional conferences. Her past experiences running a non-profit for medically ill children, serving as a school psychologist and building a private practice also inform her efforts in her current role.

Suzanne Healy, MFT is a retired Marriage and Family Therapist with 20 years of experience. She most recently served the Los Angeles Archdiocese as Victims Assistance Coordinator from 2007-2016. In that role, Healy ministered to victims of childhood sexual abuse by members of the Church. The former school counselor and private practice therapist has presented at a number of conferences, including those sponsored by the Los Angeles Department of Mental Health.
Friday, March 22, 10:00-11:30 am - Session 1-03
ABUSED, GRIEVING, GRACED, HEALING: WHAT VICTIMS OF SEXUAL ABUSE HAVE TAUGHT US ABOUT THE JOURNEY OF HEALING
This workshop is intended for those whose lives have been impacted by sexual abuse – as victim-survivors, loved ones, ministers and /or concerned Catholics. The stages of healing will be discussed in the context of our experience. In our role as victims' assistance ministry coordinators, we have witnessed time and again how powerful spirituality can be in the healing process of an abuse survivor.
Find our listing of RECongress Speakers here »
REC Spotlight: Sacred Illuminations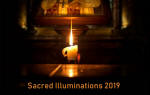 Saturday, March 23, 8:30 pm
– Convention 213 (2nd floor)
You are invited to ... Sacred Illuminations: A mystical choreography of light and sound. Incorporating her newest liturgical and fine art photography and reflections, Sr. Rose Marie Tulacz, SND will bring us to encounter in a deeper way, the love and power of the Father's love, transforming us through the reality of our daily lives.
Find other RECongress Spotlights here »
Spotlight: Sunday Afternoon Concert
Sunday, March 24, 11:45 am-12:30 pm — ACC North Hall (upper level)


Jesse Manibusan & Tom Kendzia
"Just for Fun!"
Let's get together and sing! Come join Jesse Manibusan and Tom Kendzia as they lead us in a fun concert of some of our favorite music. Upbeat and inspirational – this music event will be the perfect mid-day pick me up! Grab a friend and come join the song!
Find other RECongress Entertainment here »
Liturgy Spotlight: Sanctification of Human Labor Mass (in English and in Spanish)
Within the Catholic Archdiocese of Los Angeles, liturgy is celebrated every Sunday in no fewer than 40 different languages. We have worked diligently to inculturate the liturgies at Congress to accurately and authentically reflect the church of Los Angeles.

Friday, March 22, 2019 • 5:15 pmbr> Sanctification of Human Labor (English)
Location: Convention Arena
Presider: Bishop John Stowe
Music by Meredith Augustin
Friday, March 22, 2019 • 5:15 pm


Santificación del Trabajo Humano (Spanish)
Location: North Hall (upper level)
Presider: Msgr. Arturo Bañuelas
Music by Dolores Gomez & Jose Garcia
There are two opportunities to experience this liturgy. In the Gospel of this day's Mass, Jesus uses a very vivid image of a vineyard to describe God's plan. By speaking in this way, Jesus shows that humanity was always meant to honor God with their labors. God desires to respond by making human work an experience of his blessing.
Find the listing of RECongress Liturgies here »
Disney ticket pricing going up
Religious Education Congress attendees may click here to purchase specially priced Disneyland resort eTickets. There is special pricing for Twilight Convention tickets (after 4 pm), 1-day 1-park, multi-day and park hopper tickets. This eTicket offer is only available online and ends BEFORE RECongress.
Anaheim Hotel Tips

With you in mind, the Religious Education Congress has contracted with certain hotels in the area of the Convention Center that offer a variety of pricing and room types that should meet everyone's needs. Please pay special attention to the amenities offered — some properties offer free breakfast options and several hotels offer suites that can house up to 6 people — which can add even greater value to your stay. We look forward to your presence with us at the Religious Education Congress 2019.
Just for Southern Californians
Local shoppers can easily support the Religious Education Congress just by shopping at Ralphs and Food4Less grocery stores. When you link your Rewards card in the Community Contributions program, a portion of eligible purchases are contributed to the RECongress. Sign up online (instructions below) or by calling (800) 443-4438. Each September begins a new term. Even if you have been a part of the program before, you must re-register in this new term.

If you already have a registered Rewards card (This means that you have already entered your email address and assigned yourself a password):
1. Log in to www.ralphs.com
2. Click Sign In
3. Enter your email address and password
4. Select My Account under Welcome, Valued Customer
5. Click on Community Rewards on the left
6. In the Search box, type "KV939" or "Archdiocese of Los Angeles
- Religious Education"
7. Remember to click on the circle next to the name
8. Click on Enroll to finish your enrollment process.
Find step-by-step instructions and information online.
Looking Back 40 Years ... at 1979
From the Registration Guidebook at the 1979 Religious Education Congress held February 1-4, 1979.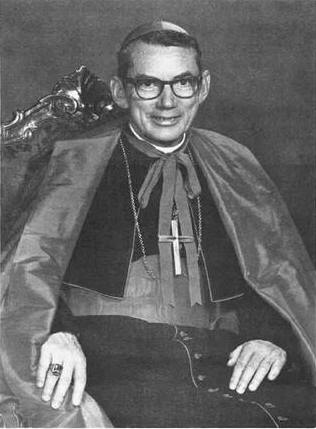 January 12th, 1979
Dear friends:
Welcome to the Religious Education Congress!
Each one of us is "called by name." We are called by name into the gift of life, into a family and community but especially we are called by name into the community of faith - the Church.
During these days of the Congress we gather as a people responding to His call. We recognize that we are called by name into a unique relationship of love. We believe that in coming together we have the opportunity to grow into a deeper awareness of the intimacy of God's love for us, and ours for one another. We experience the support of our brothers and sisters in the Lord and thus come to a deeper appreciation of who we are in His name.
These days are much more than an educational opportunity.
They are a prayerful pause in the hectic pace of our lives. May all
of you rejoice in their gift, and may the Holy Spirit refresh you in
truth, peace, and joy.
Very sincerely yours,
Timothy Cardinal Manning
Archbishop of Los Angeles
A Snap from ... 1970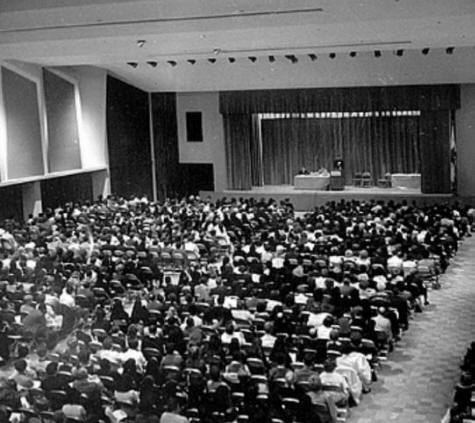 The Anaheim Room at the Anaheim Convention Center
By the late-1960s, the annual Confraternity of Catholic Doctrine Congress was outgrowing the facilities of the International Hotel near LAX. So, in 1970, the CCD Congress moved to the much larger Anaheim Convention Center. (At that time the cities of Orange County were still a part of the Los Angeles Archdiocese.) The event was held February 20-22, 1970 with the theme "That All May Be One." Registration was $5 for one day or per workshop; $10 for two days. The first day hosted a Youth Conference only for high school students — which later became Youth Day.
See the early days of the Religious Education Congress »/a>
Our Web Site — RECongress.org
You can find all RECongress information and updates online. Our upcoming Emailings will feature some Congress Spotlights, and we will be adding our speaker and hotel information online. Check our site for updates and announcements.
RECongress Emailing
Be sure to sign-up for our twice-a-month Emailings about the latest updates and information about the Religious Education Congress. You may opt out from our Congress Emailing at any time from the "Manage Your Subscription" link below.

Find past Emailings at archive.recongress.org/emailing.htm
© 2019 Los Angeles Religious Education Congress
RECongress 2019

RECongress Dates
March 21 (Youth Day) &
March 22-24 (Adult Days)
Youth Day Theme
"Trust! God's Gotchu"
Youth Day page »
Adult Days Theme
"Thirsting for Justice" / "Sed de Justicia" /
"Khát Khao Công Lý"
2019 Theme Reflection
See a reflection by the Director on the 2019 RECongress theme.
Read the Reflection »
Location
Anaheim Convention Center
800 West Katella Ave.
Anaheim, Calif. 92802
(just south of Disneyland and Disney California Adventure).
See a Yahoo Map »
Registration Fees
Youth Day has a separate registration and fee. Youth Day is $40 per person, with special discount pricing of $35 being extended through February 28, 2019.
The fee for the Adult Days is Day has a separate registration and fee. Youth Day is $85 per person, with special discount pricing of $75 extended through February 28, 2019.
Have Questions?
View our RECongress help page to see the most frequently asked questions and their answers. See our FAQ page »
See our FAQ page »
Important Dates

Feb 15: Last day to request refunds
Feb 22: Registration fees increase after today
Mar 1: Last day to register by mail (only online or on-site registration available)
RECongress Milestones
1956 - first two-day CCD Institute (500 teachers in attendance)
1967 - first three-day "Southern California Confraternity Congress" (7,000 in attendance)

1970 - CCD Congress moves from Los Angeles to Anaheim Convention Center

1973 - first "Religious Education Congress" as CCD office is renamed to Office of Religious Education
See the REC Milestones »