RECongress 2017


RECongress Dates
February 23 (Youth Day) &
February 24-26, 2017


2017 Congress Theme
"Embrace Trust"
Go to RECongress site »

Find us online:

RECongress 2017 is this month!




The 2017 Religious Education Congress

is only 22 days away! You can still register for Youth Day and Congress. And if you are considering staying in Anaheim, be sure to make your hotel reservations now. Some of our contracted hotel rates are only good through Feb. 2; Feb. 3 is the last day to register by mail; and

after Feb. 11 barcodes start to be sent by email

. Haven't received your tickets yet? Find ticket information and more online on our Updates page.

Watch for coming news about our Congress 2017 app. It will appear in iOS and Android formats and features speaker information, session schedules, workshops, maps and more!

Be sure to view our new video here about RECongress 2017 with a welcome by Fr. Chris Bazyouros, Director of the Office of Religious Education, and Victoria Radleigh, Coordinator of Youth Day.

Pass along this emailing or our link — archive.recongress.org — to share with friends and encourage them to sign up for the Emailings to receive the latest information about RECongress. If you do not care to receive future updates, you can find removal information at the bottom of this message.

Para información en español, clic aquí! »

Dates

The 2017 Los Angeles Religious Education Congress dates are:
• February 23, 2017 (Youth Day) &
• February 24-26, 2017


Location
Congress is held annually at the Anaheim Convention Center, located at 800 West Katella Ave. in Anaheim, Calif. (just south of Disneyland and Disney California Adventure).

Registration

Register for Congress online by using a credit card or check (ACH processing). If you register by mail, you may do so ONLY until February 3, 2017 enclosing check or money order along with the form found in the Registration Guidebook. (You may order the Guidebook here, or download the form here.) Be sure to provide an email address to receive your registration confirmation by email.

Deadline Reminders
Here is a reminder of some important dates to remember about the Religious Education Congress:
Jan. 6 was the last day to request refunds.
Feb. 3 is the last day to register by mail (register online/on site after this date)
Feb. 10 is the last mailing of Congress tickets (barcodes via email only after this date)
Feb. 10 is the last day to register online for Youth Day (mail-in after this date)
Feb. 11 all registrants will now be emailed a barcode to print their tickets on site
See the Congress Updates page »


Special Hotels Rates Good Through Feb. 22


Consider staying at Congress this year. And if you have put off making your hotel reservations, NOW is the time. We have contracted with a number of hotels nearby to the Anaheim Convention Center for special rates for attendees. To get the quoted rates, be sure to inform them that you are attending RECongress and ask for the REC or Religious Education Congress Block Group Rate. Note: Many of the hotels guarantee special rates only through tomorrow, February 2.
See the listing of Hotels »

Last Weeks for Discounted Disney Tickets


Don't forget to order your Disney tickets early. RECongress attendees may purchase specially priced Disneyland resort eTickets prior to their arrival. There is special pricing for Twilight Convention tickets (after 4 pm), 1-day 1-park, multi-day and park hopper tickets. This eTicket offer is only available online at mydisneygroup.com/recongress2017 and only through Wednesday, February 22, 2017 at 9:00 PM PST. Note: Tickets are valid from Thursday, February 17, 2017, through Tuesday, February 26, 2017.
Read about the Disney Ticket offer »

Youth Day: New! Food Court in Hall C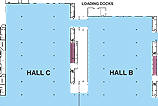 Bet you haven't been in Hall C! We are excited to announce that this year Hall C at the Anaheim Convention Center will be transformed into a Food Court! All Hall C meal options are $10 – tax included! Options include your entrée, side, and a beverage. Choose from pizza, tacos, hot dogs, grilled cheese, hamburgers, cheeseburgers and more! Additional seating and concessions will be available throughout the Convention Center – such as by Eco Grounds, the Arena Grill, and the Grand Plaza. As you prepare for Youth Day, we encourage you to take advantage of this new option!
See the Youth Day Page »

Volunteers at RECongress
The Religious Education Congress literally could not function without the hundreds of volunteers who give of their time. We just held our Volunteer Meeting on Tuesday, January 24. (See photos from our January 24th meeting here.) Check our Volunteer page for ways you can participate in a special way at RECongress:
• Youth Day Volunteers, including coordinators, crowd flow and other designated duties.
• English & Spanish Volunteers as Assistants (ticket takers/greeters), Chairperson (coordinator), and Master of Ceremonies "MC" (who introduces the speaker and makes announcements).
• Congress Choir at the 8:00 am and 3:30 pm Sunday Closing Liturgies.
• Eucharistic Ministers as Ministers of the Cup for any or all liturgies in the Arena.
If you have attended Congress in the past and would like to find out more about becoming a volunteer, please consider this your "personal invitation."
See the Volunteers page »

Congress Speaker Feature: Dr. Leonard DeLorenzo
Over the three days, Congress 2017 will offer 321 workshops presented by 194 speakers. Topics range from personal growth to music to spiritual topics — in English, Spanish and Vietnamese. In each Emailing we spotlight one of our speakers:

Dr. Leonard DeLorenzo is Director of Notre Dame Vision at the Institute for Church Life at the University of Notre Dame in Indiana, where he also teaches theology. He is author of "Witness: Learning to Tell the Stories of Grace That Illumine Our Lives" and "Work of Love: A Theological Reconstruction of the Communion of Saints." Dr. DeLorenzo is author of many articles and book chapters, and is a frequent speaker at national events, including the Gulf Coast Faith Formation Conference and at the National Conference on Catholic Youth Ministry.
Session 2-10 - Friday, February 24, 1:00-2:30 pm
WITNESS: LEARNING TO TELL THE STORIES OF GRACE THAT ILLUMINE OUR LIVES
Recent research shows that the single greatest difference between those who identify as "Catholic" and those who identify as "former Catholic" is "the belief that God is a personal being involved in the lives of people today." If we are to shape our whole lives as a Christian story, we must first learn how to recognize, craft and share stories of grace about particular life experiences. We will focus on seven principles for crafting stories of grace for teens, young adults and even not-so-young-anymore adults that allow us to speak of God's action in our lives persuasively and in real terms.
Session 6-07 - Saturday, February 25, 3:00-4:30 pm
ART, LITERATURE AND THE RENEWAL OF THE CHRISTIAN IMAGINATION
Studying art and literature assists in the formation of a sacramental imagination while also fostering the skills, behaviors and dispositions of mature discipleship. We will see how those of us who live in a consumer culture are slowly formed to hold unstable desires, fueled by a general inability to pay attention. We will then explore how the discipline of "strategic patience" that art and literature demand helps heal us of this malady, schooling us in the virtues of stability and the generosity of attention.
See our other Congress Speakers »

Liturgy Spotlight: Mass of Healing
Friday, February 24, 2017 • 5:15 PM • Hilton California


Rev. Chris Ponnet, presider
Music by Janèt Sullivan Whitaker & Sarah Hart
Los Angeles-native Fr. Chris Ponnet was ordained for the Los Angeles Archdiocese in 1983. Since then, he has served as Director for the Archdiocesan Office of Catholic HIV/AIDS Ministry. He also serves as Pastor at St. Camillus Center for Spiritual Care in Los Angeles. Fr. Ponnet has spoken at the RECongress and at the archdiocesan regional congresses for many years and has made presentations at Pax Christi Peace and Justice conferences and at local congregations and meetings around the county.
See the Listing of Scheduled Liturgies »

Congress Entertainment: Friday Evening Concert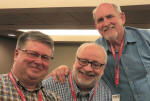 Friday, February 24, 8:00 pm – Convention Arena
"With Gratitude: An Evening Celebrating the Liturgical Music of David Haas, Marty Haugen & Michael Joncas"
Come together to conclude the first full day of Congress 2017 with an evening of sung prayer – featuring both classic favorites like "Shepherd Me, O God," "You Are Mine" and "On Eagle's Wings," and newly composed pieces for the singing Church. This event will mark the very last time Michael, David and Marty will appear and sing together as a trio. A time to sing, pray and celebrate a collaborative and ministerial friendship of over 30 years, that has gifted praying assemblies around the world with songs that have enriched the faith of believers throughout the world.
See other Congress Entertainment »

Visit the Technology Center in Hall A ...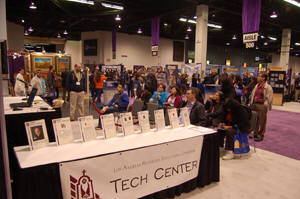 Friday through Sunday – Tech Center in Hall A
Don't forget to check the online Tech Center schedule or at the Tech Center for computer demonstrations by Archdiocesan Fingerprinting, Catholic Relief Services, Friendship Ministries, Gradelink, JS Paluch / OneParish, Online Learning (OLALA), St. Camillus Center, and more. Los Angeles Archbishop José Gomez starts off events at the Tech Center on Friday with an online video chat with students from St. Francis of Assisi School in the Silver Lake neighborhood.
See the Tech Center page »
... and Don't Forget Your Free ePostcard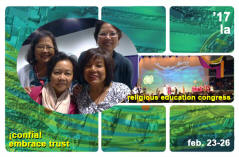 In addition to the Congress-logoed items, including souvenir shirts, pens, pins and magnets, you can also claim a free souvenir ePostcard. The electronic postcard is only available on Sunday and only at the Technology Center, located in the center of Hall A under the "Computer Demonstration" banner. Take a souvenir picture at Congress 2017 to email home and to your friends!
See Last Year's ePostcards »

Sign up for the Archdiocesan News

Want to know what's happening in the Archdiocese? Subscribe free to their weekly e-newsletter. The ACC Newsbriefs is a free, weekly newsletter sent to your email address each Friday with information on upcoming workshops and events sponsored by departments of the Archdiocesan Catholic Center, and links to archdiocesan web pages for more information and registration. It also includes information on other events throughout the Archdiocese. Over 1,300 people currently receive the ACC Newsbriefs each week. Please note that we only use your email address to send you the ACC Newsbriefs. We do not share your information with anyone else, not even other ACC departments. Anyone with an e-mail address is welcome to subscribe. To subscribe, click the link http://lists.la-archdiocese.org/mailman/listinfo/newsbriefs_lists.la-archdiocese.org and provide your name, your phone number (in case they have any questions), and your email address.
Read about the Disney Ticket offer »

Some Congress Reminders
Convention Center Parking
With the expansion of the Anaheim Convention Center, Car Park 1 is gone. You may park in Car Park 4 or Car Park 6 (both accessed from West Street), or the Toy Story Lot (off of Harbor Blvd), or the parking structure at the Anaheim GardenWalk (off of Katella Ave.). You can download a parking map here.
Parking Shuttle
The Convention Center is providing shuttle service to and from both the Disney Toy Story Lot and the Anaheim GardenWalk parking structure. For your convenience, the shuttle runs from 7 am to 10 pm. Parking is $15 -- the same rate as at the Convention Center.
Audio Recording at Congress - click here
Most of the Congress workshop sessions are audio recorded with speaker permission. A good strategy is to attend workshop that are not recorded and then order the Audio CDs and Downloadable MP3s of the ones you missed after Congress. You can order at Congress or after off their website.
Live Streaming in Hall B
Watch Friday's Opening Event (8:30-9:30 am) in Hall B with the broadcast from the Arena -- the same streaming you can find online at archive.recongress.org/live

Show Your Badge & Save Program - click here
Congress attendees can receive promotional offers and discounts during Congress with the "Show Your Badge & Save" program. Discounts are available at participating attractions and restaurants, including Baskin Robbins, House of Blues Anaheim, Joe's Crab Shack, McDonald's and Togo's.

Airport Shuttle - click here
Karmel Shuttle is offering direct service between Los Angeles International (LAX), John Wayne (SNA), and Long Beach (LGB) airports to and from the Anaheim Resort area. Register online by visiting www.karmel.comm and enter Promo Code: REC17, or call toll free 1-888-995-RIDE (888-995-7433). Mention Promo Code "REC17" at the time of reservation.
A.A. Meetings
Join a lunchtime meeting with other Alcoholics Anonymous (A.A.) men and women. This is an open meeting for anyone working a 12-Step program, or anyone interested in 12-Step recovery. The meeting room is location on the Marriott's lower level, in the San Diego room.

Ralphs Rewards Program - click here
Don't forget to sign up at your Southern California Ralphs store for the free Ralphs rewards Card and register the card with the Community Contributions Program.
Find Congress 2017 Updates here »

Our Web Site – RECongress.org
You can find all Congress information and updates online. Our RECongress Emailings feature some Congress Spotlights and we will be adding speaker and hotel information. Check our site for the latest updates and announcements.
RECongress Emailing
Be sure to sign-up for our twice-a-month Emailing about Congress updates and events. You may opt out from our Congress Emailing at any time from the "Manage Your Subscription" link below. Our Emailings for Congress 2017 are scheduled through April 2017.