JUST ANNOUNCED: Los Angeles Coadjutor Archbishop José Gomez will conduct an online chat this year. Sacred Illuminations returns to Congress 2011. And "The Stations of the Cross: A Contemporary Meditation on the Passion of Christ" will be on display at Sacred Space. Our RECongress Emailings highlight some of the events going on at Congress 2011 — including added events and a spotlight on some of the musical artists coming to Congress. Also, be sure to check the web site for hotel properties with special attendee rates and updated speaker information. So start your planning now to attend Congress 2011.


---

Pass along this emailing or our link — archive.recongress.org — to share with friends and encourage them to sign up for our Congress Emailing for updates. If you do not care to receive future updates, you can find removal information at the bottom of this message.

¡Para información en español, clic aquí!



WHAT IS CONGRESS?
The Religious Education Congress, sponsored by the Archdiocese of Los Angeles Office of Religious Education, is the nation's largest annual gathering of Roman Catholics! Our last RECongress, held in March 2010, brought together nearly 40,000 people during the four-day weekend! We even had 438 foreign registrants -- from Canada (324 of them!), Australia (36), England (30), Mexico (20), Ireland (15), Pakistan (10), and New Zealand (1).

DATES
The 2011 Los Angeles Religious Education Congress dates are:
• March 17, 2011 (Youth Day)
• March 18-20, 2011 (adult days)
Location
Congress is held at the Anaheim Convention Center, located at 800 West Katella Ave. in Anaheim, Calif. (just across from Disneyland and Disney's California Adventure). See a Yahoo Map
Fee
The fee for Youth Day is $20 per person. The fee for Congress, with separate registration form and fee, is $60 per person. Rates are scheduled to increase after February 4, 2011.
Registration
You can register for Youth Day and Congress days online by credit card. For those paying by check, you can use the forms in the Registration Guidebook. The Guidebook contains all workshop and speaker descriptions and one Youth Day form and two individual Congress Registration Forms per book. If you attended RECongress 2010, you will automatically be mailed a Registration Guidebook. If you need a Guidebook, you can view one or order one online.

YOUTH DAY - MARCH 17, 2011
Theme: Godbook: Everyone Invited
We want to remind you of important ways that young people can be involved in the day. We are looking for MCs, Singers, Musicians and other interested youth to be part of the activities in Anaheim. We would also love to have adults volunteer for our day. Those interested must be over 21 and NOT planning to chaperone a parish or school group. You can download registration forms and get much more information online at archive.recongress.org/YD.
For Youth
Arena Choir - To find out about becoming a singer or instrumentalist for the Arena Choir, download the YD Choir Flyer. (Deadline by January 4, 2011.)
Grand Ballroom Choir - To find out about being part of the the Grand Ballroom Choir, sponsored by the Santa Barbara Region, contact Daryl Hitt at dhitt@holycross-moorpark.org.
YD MCs - Young people who would like to be MCs for Youth Day, with duties to introduce speakers and more, can download the YD MC flyer. (Deadline is February 4, 2011)
For Adults
Adult Volunteers - Adults who are NOT chaperones can find out about volunteer opportunities by downloading the YD Volunteer form. The deadline is February 15, 2011.
Go to the RECongress.org/YD Page
ARCHBISHOP GOMEZ CHAT
Friday, March 18, 10-11 am
Our new Coadjutor Archbishop for Los Angeles, José Gomez, has announced he will conduct on online chat this year from Congress. This will be among his first events as Archbishop of Los Angeles, effective with Cardinal Mahony's retirement in February 2011.
Born in 1951 in Monterrey, Mexico, José Gomez was ordained a priest in 1978 in Spain, and after serving in parish ministry in San Antonio and in the Diocese of Galveston-Houston, he was appointed in 2001 as Auxiliary Bishop of Denver. In 2005, he was installed as Archbishop of San Antonio, and in April 2010 he was appointed as Coadjutor Archbishop for Los Angeles.
You can find transcripts of Cardinal Mahony's 15 years of online chats on the Congress web site.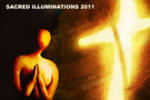 SACRED ILLUMINATIONS
Saturday, March 19, 8-9 pm
Convention 213
Featured again at Congress is Sacred Illuminations, a mystical choreography of light and sound. Incorporating her newest liturgical and fine art photography and reflections, Sister Rose Marie Tulacz, SND will bring us deeper in surrender to the care, to the heart, of God. Come reflect and pray.


REGISTER ONLINE
Registration Guidebooks for Congress 2011 have been mailed! But you don't need one to register. You can view the Guidebook online NOW and register online by credit card for Youth Day and Congress. If you haven't already done so, there are two ways to register for Youth Day and Congress:

Online with credit card:
• First, choose your sessions -- You may either Download the Registration Guidebook (in sections or the complete Guidebook in PDF form) or check each period's listings on our web site (Congress 2011 Workshops & Links) to see workshop offerings for those you would like to attend.
• Find your interests -- You can also find a listing of speakers/ topics/ titles/ languages on our 2011 Topics page.
• Plan out a first and second choices -- Choose a first and a second choice (in case of a full or canceled workshop) for each period you wish to attend
• Register -- When ready, click the red "Register" button off our home page or go directly to archive.recongress.org/register.htm to register by credit card.

By Mail with check:
• Order your Guidebook -- If you're new to Congress, either view the Guidebook online or order your own copy. The Guidebook provides information about Congress as well as all workshop descriptions and two Registration Forms. (NOTE: Those who registered last year will automatically receive their Guidebook.)
• Choose your sessions -- Use the daily events pages and workshops descriptions (online as the Overview page) to select a first and second workshop choice (in case of a full or canceled workshop) for each of the eight periods you wish to attend.
• Fill out the Registration Form -- The Registration Form is on the inside back cover of the Guidebook. Mail it in along with payment ($60 per person before February 4, 2011).

See the Congress Registration Page

THE STATIONS @ SACRED SPACE
"The Stations of the Cross: A Contemporary Meditation on the Passion of Christ"
Illustrated: The 12th Station
Sacred Space
Friday through Sunday – Convention 304
This year Sacred Space will feature 15 original acrylic paintings, each with an accompanying Scripture passage, verse of poetry and a prayer, portraying the 14 traditional Stations of the Cross plus the Resurrection. A collaborative effort between a Protestant, Chris Hull (the artist), and a Catholic, John Hull (the writer), this ecumenically sensitive presentation explores the application of each "station" to the contemporary spiritual struggles of today's men and women. In addition, artist Chris Hull has combined the use of shape, color and light to create each individual portrayal of Christ, which offers rich and varied possibilities for meditation.
BRING YOUR OLD CELL PHONES TO CONGRESSS
Last year we witnessed two of the largest natural disasters in recent memory in Haiti and Pakistan. And through the generous participation of Congress 2010 attendees in our Cell Phone Recycling Initiative, we have been able to donate $1,800 to Catholic Relief Services' emergency assistance to Haiti. Again this year we are partnering with GetGreenToGetGreen.com to collect phones to benefit Haiti and Pakistan. Bring your old cell phones — working or not — with you to Congress. More than 130 million cell phones are thrown away every year. Don't throw away electronics that should be recycled. Do your part to recycle your old cell phone — and help us help Haiti and Pakistan in the process.

JUST FOR SOUTHERN CALIFORNIANS
Ralphs Grocery Company, a major supermarket chain in the Southern California area, supports schools, churches and other non-profit organizations with annual contributions. The Los Angeles Religious Education Congress is a member of Ralphs Community Contributions Program. Simply by using your Ralphs rewardss Card a portion of eligible purchases are contributed to the RECongress. (Note: This is an annual program that must be renewed each year. The current term is September 1, 2010 through August 31, 2011.)
Even if you were part of this program last year, you will need to update your account again this year. We encourage all Ralphs shoppers to sign up for the free Ralphs rewards Card and register their card with the Community Contributions Program. It's easy! Every time you shop for groceries and scan your card at Ralphs, RECongress will automatically earn up to 5% of all eligible purchases per enrolled card. Sign up now! It's never been easier to contribute to the RECongress.
Organization Name:: Archdiocese of Los Angeles - Religious Education
Address: 3424 Wilshire Blvd., 3rd Floor, Los Angeles, CA
Organization Number: 90658
Find step-by-step instructions and information online.
RECONGRESS.ORG
You can find all Congress information and updates online. We will soon be adding Congress Spotlights and are constantly updating speaker and hotel information. Check our site for updates and announcements.
EMAILING
Find this and past Congress Emailings online at our Emailings page at archive.recongress.org/Emailingg
Be sure to Sign-up for the Congress Emailing List. You may opt out from this Emailing at any time from the link below.
---
Find us on Facebook at www.facebook.com/RECongress