Keynote announced; fees to go up
Fees for the Los Angeles Religious Education Congress are set to increase after this Friday, February 4 -- however, you can get a time extension online! Throughout the weekend you can register at the lower rate. If you haven't already done so, be sure to plan out your workshops and register online this week to save $10!

Our RECongress Emailings highlight some of the events going on at Congress 2011 — including added events and a spotlight on some of the speakers and musical artists coming to Congress. Be sure to check our Web site for speakers, hotel and exhibitor updates.

---

Pass along this emailing or our link — archive.recongress.org — to share with friends and encourage them to sign up for our Congress Emailing for updates. If you do not care to receive future updates, you can find removal information at the bottom of this message.

¡Para información en español, clic aquí!




DATES
The 2011 Los Angeles Religious Education Congress dates are:
• March 17, 2011 (Youth Day)
• March 18-20, 2011 (adult days)
Location
Congress is held at the Anaheim Convention Center, located at 800 West Katella Ave. in Anaheim, Calif. (just across from Disneyland and Disney's California Adventure). See a Yahoo Map
Fees
Fees increase after this weekend. The fee for Youth Day is $20 per person. The fee for Congress, with separate registration form and fee, is $60 per person. Rates are scheduled to increase after February 4, 2011.
Registration
You can register for Youth Day and Congress days online by credit card. For those paying by check, you can use the forms in the Registration Guidebook. The Guidebook contains all workshop and speaker descriptions and one Youth Day form and two individual Congress Registration Forms per book. If you need a Guidebook, you can view one or order one online.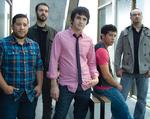 CONGRESS THEME SONG
The Congress 2011 Theme song is by the Jacob and Matthew Band. Jacob Villalobos and Matthew Leon started together as high school students to sing at a weekend retreat for St. Hilary Church in Pico Rivera, Calif. Today, the Jacob and Matthew Band is a five piece Southern California-based group that includes singer-songwriter Jacob Villalobos on guitar, singer-songwriter Mathew Leon on lead vocals, singer-songwriter Michael Paul Leon on electric guitar, Michael Debellis on bass, and Lonn Hayes on drums.
You can find them more information about the band at JacobandMatt.com. And you can find the artists from other Congress theme songs online on our Songs page.

SATURDAY KEYNOTE ANNOUNCED
Saturday, March 19 - Convention Arena
Jack Jezreel
"Gathered and Sent: Saints, Prophets and Martyrs on a Mission"
The Gospels, the legacy of holy witnesses, and Vatican II speak of a Church that, at its best, gathers and sends. While this fundamental dimension of our faith tradition has struggled to see full expression in the local parish, the future of American Catholicism holds some exciting and promising prospects if we are willing to renew the possibilities of parish purpose and structure.

Jack Jezreel spent six years in a Catholic Worker community before turning his attention to transformative education. For the last dozen years he has given 40-50 presentations annually, including continuing education opportunities for priests, deacons, religious communities as well as keynote addresses for Pax Christi, St. Vincent de Paul, Catholic Charities USA, and the National Association of Diaconate Directors. Jezreel is the original author of "JustFaith" and serves as founder and Executive Director of JustFaith Ministries, based in Kentucky.
CONGRESS ENTERTAINMENT SPOTLIGHT
Sunday Lunchtime Entertainment
Sunday, March 20 - 11:45 am - 12:30 pm
Convention Center Arena
Rafael Moreno and Santiago Fernández
Come join this charismatic duo for an unforgettable lunchtime
musical experience! From festive to inspirational, from rhythmic to
reflective, their songs will surely lift your spirit and leave you reenergized!

Rafael Moreno, a lay musician who is entirely committed to evangelization through music, has performed for 25 years in the ministry of "Producciones Agua Viva." His concerts, or "prayer assemblies" as he prefers to call them, have taken place in a wide variety of settings and locations. His work of evangelization through music has led him to present workshops on songwriting, music production and arrangement, group dynamics, rehearsals, the spiritual life of the music service, among others. He has traveled throughout the United States, Mexico, Guatemala, Panama, Colombia, Argentina, and Chile, and has recorded and performed with numerous Catholic musical groups and solo artists.
Santiago Fernández has been active in parish music ministry for the past 20 years. He is currently Music Minister at St. Michael Parish in Pontiac, Mich., where he directs the English and Spanish choirs. Santiago is a frequent speaker and workshop presenter at events and conferences around the country in the area of Hispanic liturgical music. He holds a bachelor's degree in music and is certified in both Pastoral Ministry and Liturgical Ministry, locally by the Archdiocese of Detroit and nationally by the U.S. Conference of Catholic Bishops' (USCCB) Commission on Certification and Accreditation. A Liturgy & Prayer coordinator for the First National Encuentro for Hispanic Youth and Young Adult Ministry 2006, Santiago is currently Music Director for the National Catholic Council for Hispanic Ministry (NCCHM). He has also participated at various events of the Archdiocese of Detroit as guest conductor, cantor and consultant. Santiago won Spanish Album of the Year and Spanish Song of the Year at the 2010 Unity Awards and previously in 2006 for Best International Artist, CD and song.
See the Congress 2011 Schedule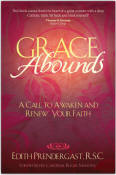 BOOK RELEASE AT CONGRESS
"Grace Abounds: A Call to Awaken and Renew Your Faith"
by Sr. Edith Prendergast, RSC with a foreword by Cardinal Roger Mahony

"Sr. Edith's stellar and passionate keynotes, gathered beautifully here, will inspire and educate us for years to come!"
Rev. Richard Rohr, OFM, Founding Director
Center for Action and Contemplation
In this collection of rallying keynotes from the annual Los Angeles Religious Education Congress, Sr. Edith Prendergast, RSC, Director of the Archdiocese's Office of Religious Education, issues a clarion call to both conversion and renewal...
You can find more and pre-Congress ordering information online.
NEED ASSISTANCE AT CONGRESS?
The Religious Education Congress Committee wants everyone to enjoy their Congress experience. If you need an attendant to accompany you at Congress, you are allowed free admission for only one attendant to accompany you to workshops and other Congress events. It is important to mail your registration — along with your attendant's — in the same envelope with a note explaining that both need to be registered in the same workshops. It is essential that you register by this weekend.
Congress also offers interpreters and Assistive Listening Devices (ALDs) for deaf and hard of hearing persons. Our Closing Liturgy on Sunday will be interpreted with special seating for all deaf community members. You can find additional information and a special request form in the Registration Guidebook to be submitted along with your registration.
If you have any questions or concerns regarding your ability to attend or enjoy RECongress due to handicap access or mobility concerns, please feel free to contact Rob Williams at RECmobility@recongress.org. RECongress' Mobility Team will be available to help with wheelchair transport, special seating and any access issues within Congress. At Congress you can find the Mobility Team located just outside Congress Headquarters (AR-1), in the Arena Lobby area.

NOTE: The Convention Center does not provide wheelchairs. You may contact Alpha Drugs Pharmacy at either of their two locations in Anaheim: 1240 S. Magnolia, (714) 220-0373; or 515 S. Beach Blvd., (714) 821-8959.
in Energy
See our Volunteer & Mobility information

WIN AN IPAD AT CONGRESS
Visit the Office of Religious Education booth (booth #430 near the center of Exhibit Hall A) for information how how you could win an Apple IPad.
Also at the ORE Booth is the new Broadcast Booth area. Get in on the action as we interview presenters, artists, exhibitors and more, all from the floor of Exhibit Hall A!
And be sure to check our Web site soon for information about this year's RECongress LIVE! coverage, which begins Friday morning of Congress and continues throughout the entire weekend. Check recongress.org/LIVE in the coming weeks for a schedule of events.
ENDOWMENT FUND
The Office of Religious Education has established an Endowment Fund to support the ongoing education and formation of Directors of Religious Education, Adult Educators, Young Adults and Youth Ministers. by making scholarships available to them to pursue graduate studies. It is our hope that every Director of Religious Education will be given the opportunity receive a master's degree in Religious Education/Religious Studies. The fund is currently supporting 20 students to pursue a master's degree in religious education.
Gift offerings at the 2010 Congress Saturday night liturgies — together with online contributions — have added $44,702 to this fund. It's an easy add-on to online registration . Those who contribute to this fund will be listed in the Congress Program Book as a Benefactor, Donor, Sponsor, or Friend. In addition, the portion contributed to the fund is tax deductible.
Register at RECongress.org/register.htm
SPEAKER HANDOUTS ONLINE
Some of the Arena and Hall B speakers have provided handouts for their workshops. This option is for speakers assigned to the biggest rooms where the capacity is too large to provide everyone handouts. There is a link to the following handouts on our Speakers Page:
1-55: Del ministerio al misterio(*) - Rev. Domingo Rodríguez Zambrana
3-55: ¿Es mi grupo un grupo sano?(*) - Sr. Glenda Hernandez
5-51: La catequesis con niños pequeños(*) - Luis Benavides
6-53: Felicidad del camino(*) - José-Román Flecha Andres
8-01: Gratitude as a Spiritual Pathway - Dr. Wilkie Au

HOTELS
Most of the hotels that have contracted with Congress only guarantee special rates through this month. Consider staying locally to enjoy the full experience of Congress. Check our Hotel listing to find information about rates. And our Interactive Hotel Map shows hotel locations and rates. Make your hotel reservations as soon as possible. When making reservations, be sure to ask for the Religious Education Congress rate

BRING YOUR OLD CELL PHONE TO CONGRESSS
Last year we witnessed two of the largest natural disasters in recent memory in Haiti and Pakistan. And through the generous participation of Congress 2010 attendees in our Cell Phone Recycling Initiative, we have been able to donate $1,800 to Catholic Relief Services' emergency assistance to Haiti. Again this year we are partnering with GetGreenToGetGreen.com to collect phones to benefit Haiti and Pakistan. Bring your old cell phones — working or not — with you to Congress. More than 130 million cell phones are thrown away every year. Don't throw away electronics that should be recycled. Do your part to recycle your old cell phone — and help us help Haiti and Pakistan in the process.

JUST FOR SOUTHERN CALIFORNIANS
Ralphs Grocery Company, a major supermarket chain in the Southern California area, supports schools, churches and other non-profit organizations with annual contributions. The Los Angeles Religious Education Congress is a member of Ralphs Community Contributions Program. Simply by using your Ralphs rewardss Card a portion of eligible purchases are contributed to the RECongress. (Note: This is an annual program that must be renewed each year. The current term is September 1, 2010 through August 31, 2011.)
Even if you were part of this program last year, you will need to update your account again this year. We encourage all Ralphs shoppers to sign up for the free Ralphs rewards Card and register their card with the Community Contributions Program. It's easy! Every time you shop for groceries and scan your card at Ralphs, RECongress will automatically earn up to 5% of all eligible purchases per enrolled card. Sign up now! It's never been easier to contribute to the RECongress.
Organization Name:: Archdiocese of Los Angeles - Religious Education
Address: 3424 Wilshire Blvd., 3rd Floor, Los Angeles, CA
Organization Number: 90658
Find step-by-step instructions and information online.
RECONGRESS.ORG
You can find all Congress information and updates online. We have begun to add our Exhibitors list for Congress 2011 and are constantly updating on our Congress 2011 Updates page. Check our site for updates and announcements.
EMAILING
Find this and past Congress Emailings online at our Emailings page at archive.recongress.org/Emailing
Be sure to Sign-up for the Congress Emailing List. You may opt out from this Emailing at any time from the link below.
---
Find us on Facebook at www.facebook.com/RECongress