Congress 2009
Dates

Feb. 26, 2008
(Youth Day) &
February 27 -
March 1, 2009
• • •
Congress 2010 Dates
March 18, 2010(Youth Day) &
March 19-21, 2010

Are you suffering from PCS?
You're not alone. It's true: There are many who look forward to Congress, and when it's over they suffer from PCS - Post-Congress Syndrome. If you're feeling a little "postpartum" depression, here's a little "Congress fix" to help ease the suffering! On our Congress site you'll find updated photos from Youth Day, links to recorded workshops, take our online Congress survey, see the transcripts from the Cardinal's online chat sessions, new video segments, and more....

---

DATES FOR CONGRESS 2010
Our dates for our next Los Angeles Religious Education Congress are:
• March 18, 2010 (Youth Day)
• March 19-21, 2010 (Congress days)

LOCATION
Congress is held at the Anaheim Convention Center, located at 800 West Katella Ave. in Anaheim, Calif. (just across from Disneyland and Disney's California Adventure).
ONLINE
We invite those of you who attended Congress 2009
to tell us about your experience. Much thought and effort has gone into planning the RECongress. Please tell us how effective our efforts have been by completing our online evaluation form. We'd like to hear from you, especially if you would rate any event as "excellent" or "poor." Please let us know the reasons for your evaluation at the end of the survey in the "Comments" section.
For those who filled out the paper version of the form: if possible, we ask that you also please take the online survey. We can tally our information much sooner using the online method.

See who came to
Congress!
This year for Congress 2009, we have registrants representing every state in the nation -- except four: Arkansas, Maine, New Hampshire, and Vermont. You can find details on number of registrations by state and country, as well as the top cities in California for registrations on our Congress statistics page, online at
archive.recongress.org/2009/stats.htm
| | |
| --- | --- |
| REGISTRANTS | |
| Guidebooks Mailed (2008 Attendees) | 22,752 |
| Youth Day Chaperones | 2,843 |
| Youth Day Youths | 12,400 |
| Youth Day Total | 15,243 |
| Congress Pre-registrations by mail | 11,369 |
| Online Pre-registrations | 8,390 |
| On-site Registrations | 1,100 |
| Congress Registrations | 20,859 |
| EXHIBITORS | |
| Companies | 237 |
| Representatives | 1,676 |
| WORKSHOPS | |
| Speakers | 179 |
| Languages | 4 |
| Congress Sessions | 281 |
| Youth Day Sessions | 24 |
| Volunteers | 461 |
| TOTAL REGISTERED | 38,418 |
TOP FIVE STATES:
California - 17,051
Arizona - 465
Oregon - 216
Nevada - 190
Texas - 174

TOP FIVE CITIES (all California):
Los Angeles - 1,977
San Diego - 577
San Jose - 418
Long Beach - 286
Bakersfield - 212

TOP FIVE COUNTRIES:
Canada - 295
Ireland - 44
England - 19
Mexico - 15
Nicaragua - 7
See the number of people who came from YOUR city! You can find details on the number of registrations by city and state on our city statistics page at http://archive.recongress.org/2009/city.htm
A number of our Congress workshops
were recorded by CSC Digital Media, and are available on Audio CDs. If you didn't get a chance to order any recordings during Congress, you can still order online at
archive.recongress.org/tapes
. Also, from that page you can order cassette tapes and Audio CDs from past years as well.
Youth Day photos are now online
on the RECongress Web site. Find the Photos link off our Home Page at
archive.recongress.org
. And check back often as we continue to post more photos of the Congress weekend.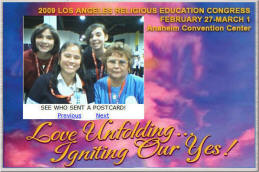 CARDINAL CHAT TRANSCRIPTS
On Friday morning at Congress,
Cardinal Roger Mahony conducted two online chat sessions from the Tech Center in the Exhibit Hall. First, in a private chat with 12 seventh- and eighth-grade students from St. Elisabeth School in Van Nuys, Calif. Then the Cardinal switched to an open, nationwide chat, hosted by ChurchWerks and moderated by Ellie Hidalgo. This was the Cardinal's 13th annual chat from Congress, and only his fourth on-site with a school.
See the transcript from the Cardinal's student chat at
archive.recongress.org/chat2009s.htm
Left something behind at Congress?
Each year after our Religious Education Congress event there are a great many unclaimed items -- glasses, bags, books, jackets -- that end up in our Lost and Found.
Please contact the Congress Office with what you seem to be missing, and we'll see if it's among our Lost and Found items. You can find contact information online on our
Lost and Found
page.
For Facebook Members Only: See what the Young Adult Ministry (YAM) has been up to at Congress. This year, Jessica Coblentz invited people to the Office of Religious Education (ORE) booth on Friday where they could record a video of what they enjoy about Congress -- a favorite speaker, favorite liturgy, anything that you'd like to share about Congress.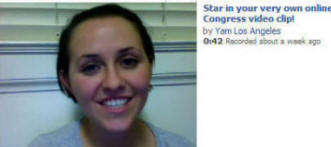 See the photos, audio, and videos that have been posted about Congress present (and Congresses past) at
http://archive.recongress.org/reviews.htm#PHOTOS
.
See what's been reported about Congress
on our Congress Reviews page. Links to reviews -- especially by The Tidings, newspaper of the Los Angeles Archdiocese -- postings, photos and videos about the Religious Education Congress can be found on our site at
archive.recongress.org/reviews.htm
. And let us know about any we've missed!
You may sign up or opt out at any time with the link below. Sign-up
here
to be added to the Congress Emailing List.