Logo Announced for RECongress 2020

Our theme for the 2020 Los Angeles Religious Education Congress Adult Days (Friday through Sunday, February 21-23) is "Live Mercy – Be Holy" (with translations in Spanish and Vietnamese). The logo has now been revealed, and artist Valerie MacRae shares about her work. Watch for our coming RECongress Emailings on announcements of our Youth Day, speakers and workshops and hotel information. And keep an eye on our site — archive.recongress.org — for coming information about RECongress 2020.
---
Pass along this emailing or our link — archive.recongress.org — to share with friends, and encourage them to sign up for the Emailings to receive the latest information about RECongress 2020. If you do not care to receive future updates, you can find removal information at the bottom of this message.
Artist's Reflection on the Logo

Artist Valerie MacRae reflects on designing the RECongress 2020 logo:
The logo began with broken pieces of overlapping color and texture — rusted metal, rough burlap and scratched copper joined with pieces of a heart. The four irregular quadrants of shapes came together allowing the heart to take shape. A cross formed with a red sphere at its center symbolizes the core of our being — God. God's light radiates out in rays of gold.
Kintsugi, the Japanese art of repairing broken vessels with gold, was imitated by the gold leaf around the side of the heart and in the rays of light. It suggests that if we allow the light of God's love to mend our brokenness we will be even stronger because of our once-broken pieces. We will move forward encountering each other with heartfelt kindness and generosity of spirit, sharing our unique talents to ensure the sun will rise on a better world.
Read her full reflection online here »
Speaker Spotlight: Fr. Ronald Rolheiser, OMI
Over the three days, RECongress 2020 will offer nearly 300 workshops presented by nearly 200 speakers. Topics range from personal growth to music to spiritual topics — in English, Spanish and Vietnamese. Each Emailing we will spotlight one of our speakers:

Fr. Ronald Rolheiser, OMI, a Roman Catholic priest and member of the Missionary Oblates of Mary Immaculate, is President of the Oblate School of Theology in San Antonio, Texas. His books have been translated into many languages, and his weekly column is carried by more than 80 publications worldwide. Formerly, Fr. Rolheiser taught at Newman Theological College in Edmonton, Alberta, Canada, and served as Provincial Superior of his Oblate Province and on the General Council for the Oblates in Rome.
THE PENULTIMATE INVITATION TO HOLINESS – PRACTICING MERCY AS JESUS PRACTICED IT
Be merciful as your heavenly Father is merciful: That's quite an initiation! It's also the invitation that lies at the essence of all religion and all religious practice worthy of the name. It's what, ultimately, makes for holiness. How is God merciful? How do we incarnate that? More importantly, how might the practice of biblical mercy help heal our bitter divisions with society and the Church today?
THE REAL OBSTACLE TO HOLINESS – OUR PATHOLOGICALLY COMPLEX NATURE
Spirituality tends to blame our struggles for holiness on original sin, on concupiscence, and then blame Adam and Eve. A closer examination, however, of both Scripture and Christian tradition places the roots of our struggles not in what's wrong with us, but in what's right with us. We are born with divine fire inside our souls and that fire does not find easy peace in this world. Our own over-charged nature is the real reason why we struggle "to will the one thing."
Special Hotel Rates for Attendees

The Religious Education Congress has contracted with certain hotels in the area of the Convention Center that offer a variety of pricing and room types that should meet everyone's needs. Please pay special attention to the amenities offered — some properties offer free breakfast options and several hotels offer suites that can house up to 6 people — which can add even greater value to your stay. We look forward to your presence with us at RECongress. To get the quoted rates, sure to mention that you are attending the 2020 Religious Education Congress and ask for the REC or Religious Education Congress Block Group Rate.
Here is Your 'Personal' Invitation to Volunteer
Our Los Angeles Religious Education Congress could not function without the hundreds of volunteers who give of their time. If you would like to find out more about becoming a volunteer for our next RECongress, please consider this your "personal invitation." We have a need for volunteers for both Youth Day and our Adult Days, including Adult Days Workshop Volunteers (English, Spanish and Vietnamese), Eucharistic Ministers for the two Sunday Closing Liturgies in the Arena, and musicians for the RECongress Choir. All new volunteers should plan to attend a Volunteer Meeting held on Tuesday evening, January 21, 2020.
Find additional Volunteer information here »
Just for Southern Californians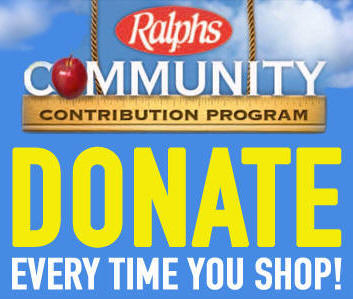 Ralphs Grocery Company, a major supermarket chain in the Southern California area, supports schools, churches and other non-profit organizations with annual contributions. Here is an easy way to help the Los Angeles Religious Education Congress, a member of Ralphs Community Contributions Program. Simply by using your Ralphs rewards Card a portion of eligible purchases are contributed to the RECongress.
We encourage all Ralphs shoppers to sign up for the free Ralphs rewards Card and register their card with the Community Contributions Program. It's the easiest way to contribute to the RECongress.

Name: Archdiocese of Los Angeles - Religious Education
Organization Number: KV939

Find step-by-step instructions and information online and
See more about the Ralphs program »

Looking Back 40 Years ... at 1980
From the 1980 Religious Education Congress Program Book, with the theme "Family Together in His Love" held March 6-9, 1980 at the Anaheim Convention Center.
Do you recall any of the staff members from the Office of Religious Education (CCD) back in 1980?

Director: Msgr. John F. Barry
Associate Directors:
| | |
| --- | --- |
| Fr. Lloyd A. Torgerson | Fr. David Sork |
Consultants:
Sr. Aileen Bradley, C.H.F.

Sr. Maura Byron, S.S.L.

Sr. Eloise Cooney, O.P.

Sr. Teresa Doherty, R.S.C.

Sr. Gemma Fisher, S.N.J.M.

Sr. M. Irene Flanagan, C.S.J.

Sr. Antoinette Gissler, P.B.V.M.

Sr. Jean Heavey, R.S.H.M.

Sr. Suzanne Jabro, C.S.J.

Sr. Bernadette Kane, S.H.F.

Sr. Eva Marie Lumas, S.S.S.

Sr. Georgeann O'Brien, C.S.J.

Sr. Elizabeth O'Keefe, R.S.H.M.

Mrs. Jo Rotunno

Sr. Maria Hilaria Sedano, S.A.C.

Sr. Diane Smith, C.S.J.

Sr. Alina Spincemaille, I.C.M.

Miss Maria Valenzuela
Secretaries:
Miss Lucrecia Cuadra

Mrs. Helen Fields

Mrs. Joanne Guenther

Mrs. Jackie Gueringer

Mrs. Helen Kemeny

Mrs. Louise Llorens

Mrs. Bert Siberz
Our Web Site — RECongress.org
You can find all Congress information and updates online. Our upcoming RECongress Emailings will feature some Congress Spotlights, and we will be adding speaker and hotel information online. Check our site for updates and announcements.
RECongress Emailing
Be sure to sign-up for our twice-a-month Emailings about the latest updates and information about the Religious Education Congress. You may opt out from our Congress Emailing at any time from the "Manage Your Subscription" link below.

Find past Emailings at archive.recongress.org/emailing.htm
© 2019 Los Angeles Religious Education Congress
RECongress 2020

RECongress Dates
February 20 (Youth Day) &
February 21-23, 2020
Adult Days Theme
"Live Mercy – Be Holy" / "Vive la misericordia y la santidad" / "Sống Nhân Từ - Hãy Nên Thánh"
2020 Theme Reflection
See what the new ORE Director said about the 2020 RECongress theme.
Read the Reflection »
Location
Anaheim Convention Center
800 West Katella Ave.
Anaheim, Calif. 92802
(just south of Disneyland and Disney California Adventure).
See a Yahoo Map »
Registration
The key to registration is the Registration Guidebook. If you attended RECongress 2019, you will automatically be mailed a Guidebook (available in October).
Order a Guidebook »
Congress Milestones
1956 - first two-day CCD Institute (500 teachers in attendance)

1967 - first three-day "Southern California Confraternity Congress" (7,000 in attendance)

1970 - CCD Congress moves from Los Angeles to Anaheim Convention Center

1973 - first "Religious Education Congress" as CCD office renamed to Office of Religious Education
See the REC Milestones »