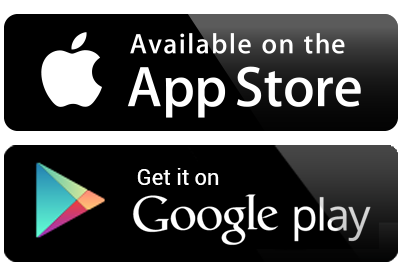 Download the RECongress 2018 app now!
You can now download our 2018 Los Angeles Religious Education Congress app — which covers both Youth Day and the adult days of Congress! Available on both iOS and Android platforms, it is your guide to this year's Religious Education Congress. Find it on the App Store (iPhones and iPads) and on the Play Store (for Android smartphone and tablets). Features include:
— View Sessions by Track or Full Schedule
— Manage personal session schedule
— View Speakers and Exhibitor Listings
— Access hotels maps and an interactive Exhibit Hall map
— Interact using your social media accounts (Twitter, Facebook,
etc.)
— Access documents and other event information
Download instructions for the Congress app »
---
Registration, self-ticket print and help windows are available in the Registration Area with Program Pick-up located in the Prefunction Lobby at the Anaheim Convention Center between Hall A and Hall B. Hours during the Congress weekend are:
Thursday, March 15: 5:30 pm to 8:00 pm
Friday, March 16: 7:00 am to 3:00 pm
Saturday, March 17: 7:30 am to 2:30 pm
Sunday, March 18: 8:00 am to 11:00 am
---
Pass along this emailing or our link — archive.recongress.org — to share with friends and encourage them to sign up for the Emailings to receive the latest information about RECongress. If you do not care to receive future updates, you can find removal information at the bottom of this message.
Have Congress questions? First, try our Help page here.

---
Future Dates
Get the dates on your calendar now! Dates for the 2018 Los Angeles Religious Education Congress are:
• March 21, 2018 (Youth Day) &
• March 22-24, 2018 (adult days)
Congress Trivia: More than half of the last 53 RECongress events have been held in February. RECongress has been held in these months (and these number of times): January (3), February (29), March (19) and April (2).
Last day for discounted ticket offer

Hurry, today, March 12 is the last day to order specially priced Disneyland resort eTickets. This eTicket offer is only available online at mydisneygroup.com/ZMRC18A and ends today at 9:00 pm PST. (Tickets are valid through Wednesday, March 21, 2018.)
See other Congress Updates here »
Registration help at Congress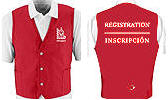 If you discover you need help on-site at Congress, be on the lookout for our staff wearing a red vest. There are several on the registration crew who are there to help you find the right line, help solve your registration questions, and help you register. You can find them wearing the bright red vest with the word "Registration" on the back. These people will be walking about in the Registration Area (between Hall B and Hall C).
See the Congress help page »
"Where are my tickets?"
We receive this question every day: "I'm worried that I have not received my Congress tickets." If you're wondering why your tickets haven't arrived soon after registering online, here's the answer: We only do three batches of mailings. Both Youth Day packets and Congress tickets are mailed at the end of January, in early February and again at the end of February. Registrations after February 26 will only receive a barcode by email that you need to bring with you to Anaheim and use the self-print kiosks to print your tickets. Anyone who registered by mid-February and who has not received their tickets, should go to the registration help desk at Congress.
NOTE: You can find the daily times for Congress tickets and Program book pick-up above.
See the Congress updates page »
Watch RECongress Live! online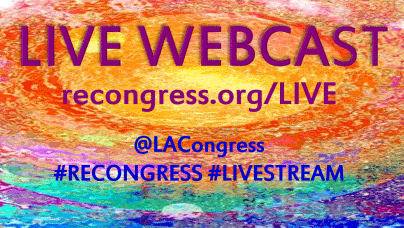 This year, watch our two live streaming channels of Arena (English) and Hall B (Spanish) events live from Congress on the Internet. Find the schedule of our live events from Congress 2018 on RECongress.org/Live. Watch beginning with Youth Day on Thursday and running all the way through Sunday's Closing Liturgy ... and even beyond with our posted videos. And don't forget to post comments on our Facebook page (www.facebook.com/RECongress) and follow us on Twitter. (www.twitter.com/LACongress)
Go to the RECongress YouTube Channel »
You don't need to wait for the Program Book
Be ready for your trip to Anaheim. You can now view the online version of the Program Book that attendees receive when they arrive for Congress 2018.


WHAT YOU'LL FIND:
— New ACC North map
— Spotlight on events at Congress
— Workshop locations and maps
— Daily event schedules
— Exhibitor and Categories listings
— Restaurant guide and map
— Audio Recording Form
Preview the 2018 Program Book »
Sign up for archdiocesan news
Want to know what's happening in the Los Angeles Archdiocese? Subscribe to their weekly e-newsletter. The ACC Newsbriefs is a free, weekly newsletter sent to your email address each Friday with information on upcoming workshops and events sponsored by departments of the Archdiocesan Catholic Center, with links to archdiocesan web pages for more information and registration. It also includes information on other events throughout the Archdiocese. Over 1,300 people currently receive the ACC Newsbriefs each week. Please note that we only use your email address to send you the ACC Newsbriefs. We do not share your information. Anyone with an e-mail address is welcome to subscribe. To subscribe, click the link here and provide your name, your phone number (in case they have any questions), and your email address.
Scooter / Wheelchair Rentals
If you have any questions or concerns regarding your ability to attend or enjoy RECongress due to handicap access or mobility concerns. RECongress' Mobility Team will be available to help with wheelchair transport, special seating and any access issues within Congress. You can find the Mobility Team located just outside Congress Headquarters (AR-1), in the Arena Lobby area.

NOTE: The Convention Center does not provide wheelchairs. You may contact Alpha Drugs Pharmacy at either of their two locations in Anaheim: 1240 S. Magnolia, (714) 220-0373; or 515 S. Beach Blvd., (714) 821-8959.

OC Medical has scooters and wheelchairs for rent to attendees during RECongress. Contact them to reserve equipment at 755 N. Euclid Street in Anaheim, (800) 593-4942 FAX (714) 956-4692. Store hours are Monday through Friday from 9 am-6 pm, Saturday from 10 am-2 pm. Online at www.ocmedicalsupply.com.
See the Congress Updates page »
Some Congress Reminders
Live Streaming in Hall B - click here
Don't forget, as an alternative to dealing with the Arena crowd, you can watch Friday's Opening Event (8:30-9:30 am) with a live stream in Hall B.

Download the Speaker Handouts now - click here
We encourage you to check online if any of your workshop speakers have handouts, print them out and bring them with you to Congress. You might also find that the PDF downloads are available for viewing on your smart phone.
Friday Evening Conversation with Maria Shriver - click here
Friday, March 16, 7:30 pm – Convention North 154
An evening with acclaimed journalist and New York Times best-selling author Maria Shriver. A book signing will follow.

Saturday Morning Praise & Keynote - click here
Please remember the new format — and time — for our Saturday Morning Praise & Keynote. Our English Keynote with Dr. Carolyn Woo begins at 7:50 am in the Arena; our Spanish Keynote with María Clara Lucchetti Bingemer begins at 7:50 am in Hall B.
Saturday Morning with Archbishop Gomez - click here
Saturday, March 17, 10:15 am – Performance Stage, Hall A
Congress Speaker Julianne Stanz will moderate the Front Row with Archbishop José Gomez event live at the Performance Stage in Hall A and also online via Facebook.
Registration & Program Books Online - click here
Our 2018 Registration Guidebook and even our 2018 Congress Program Book — the one given away at Congress — are now available online in PDF (requires the free Adobe Reader) and also the iPaper format (requires no software download).
FREE RECongress ePostcard - click here
Sunday, March 18, 9 am - 2 pm - Tech Center, Hall A
Don't forget your free electronic postcard. Take a souvenir picture at Congress 2018 to email home and to your friends! Only available on Sunday and only at the Technology Center, located in the center of Hall A under the "Computer Demonstration" banner.

Show Your Badge & Save Program - click here
Congress attendees can receive entertainment and dining discounts during Congress with the "Show Your Badge & Save" program. Dining discounts are currently available at IHOP, Joe's Crab Shack, Oggi's, Roy's Restaurant, The Fifth, and Downtown Disney restaurants including Naples, Ralph Brennan's and Tortilla Jo's.

Chair Massage at Congress
On Friday and Saturday (10 am-4:30 pm) and again on Sunday (10 am-2:30 pm) in the Hall A Prefuntion Area you can take a break from the bustle of Congress with a chair massage. The cost is $1 per minute.

A.A. Meetings
Join a lunchtime meeting with other Alcoholics Anonymous (A.A.) men and women. This is an open meeting for anyone working a 12-Step program, or anyone interested in 12-Step recovery. The meeting room is location on the Marriott's lower level, in the San Diego room.

Anaheim Protesters
If there are protesters at Congress, please do not engage in conversation with them. Ignoring them is the best way of responding. We have developed a plan with Convention Center staff to handle any potential protests.

Ralphs Rewards Program - click here
Don't forget to register for the Community Contributions Program with your free Ralphs rewards Card. It's the easiest way to benefit RECongress all year long.
© 2018 Los Angeles Religious Education Congress
RECongress App

Downloading the app is easy! Find the 3 easy ways to download our 2018 Los Angeles Religious Education Congress mobile app here.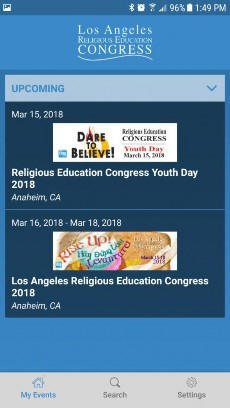 RECongress 2018

RECongress Dates
March 15 (Youth Day) &
March 16-18, 2018

2018 Congress Theme
"Rise Up!" / "¡Levántate!" / "Hãy Đứng Lên!"
Location
Anaheim Convention Center
800 West Katella Ave.
Anaheim, Calif. 92802
(just south of Disneyland and Disney California Adventure).
See a Yahoo Map »
Have Questions?
View our RECongress help page to see the most frequently asked questions and their answers.
See our FAQ page »
Important Dates
Jan 19 - Last day to request refunds

Jan 26 - Registration fees increased

Feb 23 - Last day to pre-order custom Youth Day
T-shirts
Mar 1 - Last day to register by mail

Mar 2 - Last day to order Youth Day T-shirts to still receive by mail

Mar 12 - Last day of special Disney ticket offer
See our Updates page »
Congress Milestones
1956 - First two-day CCD Institute (500 teachers in attendance)

1967 - First three-day "Southern California Confraternity Congress " (7,000 in attendance)

1970 - CCD Congress moves from Los Angeles to Anaheim Convention Center

1973 - First "Religious Education Congress" as CCD office renamed to Office of Religious Education
See the REC Milestones »