Register online for RECongress 2018
If you missed the news, you can now register online for the 2018 Los Angeles Religious Education Congress. You can register as an individual or as a group (a group is just 2 or more, all paying with one credit card). for both Youth Day and the adult Congress days. But don't wait too long. Register this month to get the sessions you want before fees increase next month. (Prices go up January 26.) Have questions? First, try our Help page here.

---
Pass along this emailing or our link — archive.recongress.org — to share with friends, and encourage them to sign up for the Emailings to receive the latest information about RECongress 2018. If you do not care to receive future updates, you can find removal information at the bottom of this message.
Youth Day Feature: Katie McGrady
Youth Day 2018 features an Arena Keynote, Session and Liturgy along with a choice of two workshops from among 13 speakers. Each Emailing we will spotlight one of those speakers:

Katie Prejean McGrady is a theology teacher at St. Louis Catholic High School and Youth Director at Our Lady Queen of Heaven Church in Lake Charles, La. She is author of "Room 24: Adventures of a New Evangelist" and, since 2007, she has been traveling throughout North America and across Canada using her original blend of humor and storytelling to speak at events ranging from small sessions to national conferences.
Arena Keynote: Daring Faith
March 15, 2017 - AM and PM sessions
Why did St. Peter step out of the boat and try to walk on water? Why did a woman sick for 12 years reach out to touch Jesus' cloak? Why did St. Paul endure being sent to prison time after time, but kept preaching the Gospel? Why did St. Teresa of Calcutta begin a new religious order focused on service to the poor and sick? Why did they, and so many others, live their faith in such radical and powerful ways? Why did you come to Youth Day? These holy men and women dared to believe, and their belief prompted them to live with a daring faith. We too are invited to live a daring faith – to step out of the boat, to reach out to be healed, to proclaim the Gospel, and to radically serve others, even when it hurts.
Find our Youth Day page here »
Congress Speaker Feature: Becky Eldredge
Over the three days, Congress 2018 will offer 334 workshops presented by 185 speakers. Topics range from personal growth to music to spiritual topics — in English, Spanish and Vietnamese. Each Emailing we spotlight one of our speakers:

Becky Eldredge is an Ignatian-trained spiritual director, retreat facilitator and author of the book, "Busy Lives & Restless Souls." With two decades of ministry experience, she has led young adult retreats, parish missions, Ignatian preached retreats, and days of reflection for adults. Eldredge has presented at the Spiritual Director's International Conference, the Ignatian Spirituality Conference, and has appeared as a panelist at the U.S. Conference of Catholic Bishops' Convocation of Catholic Leaders.

Friday, March 16, 3:00-4:30 pm - Session 3-11
Praying Our Lives: A Remedy for Restlessness (*)
Do you ever feel like something is missing in life? Do you ever feel like you are on a hamster wheel trying to keep up with life's rapid pace? Do you wonder how will I find rest in the busyness of life? Do you seek a deeper meaning and purpose for your life? If so, this talk is for you. Learn how God speaks to us through our restlessness and yearning for more. Learn practical ways to pray your life to help calm the restlessness within and find rest, love, healing, meaning and joy.
Sunday, March 18, 1:00-2:30 pm - Session 8-07
Weary and Waiting: Nurturing Hope During Transitions (*)
Have you ever found yourself in a situation where it is hard to hold onto hope? At times life's journey feels like stepping out into total darkness. Anyone who has faced a time of serious transition knows how this can feel. Hope is the candle of faith that scatters the darkness and sees us through the Paschal Mystery. Becky Eldredge, an Ignatian-trained spiritual director and retreat leader, shows you how to nurture hope, to explore your deepest desires when the way forward seems unclear so that you can find the path you were meant to follow and become the person you were created to be.
See our other speakers here »
Liturgy Spotlight: Care of the Earth
FRIDAY, MARCH 16, 5:15 pm - Arena

Care of the Earth in the Perspective of the Filipino Culture
Cardinal Luis Tagle, presider
Music by Ricky Manalo and Clarissa Martinez

Continuing our prayer and reflection from Pope Francis' encyclical, Laudato Sí, Congress is offering a Mass with a focus on caring for our common home. This year, members of the Filipino community will be sharing their pastoral response in liturgy. Since we will be in Lent, part of the response will focus on calling to mind the sins we have committed against nature and against our neighbors as well as a commitment to deepen our awareness of God's action in all of creation. How do we help the earth "Rise Up"? How do we inspire our brothers and sisters in light of the Gospel to rise up and care for our common home?
See the listing of Congress Liturgies here »
RECongress Spotlight: Performance Stage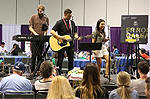 MUSIC PERFORMANCE STAGE in Hall A
Several of the performing artists at Congress have scheduled time to appear at the Performance Stage in Hall A. The stage showcases 20-minute sets of live music and is located in the southeast area of Exhibit Hall A. Check the posted schedule onsite for appearance times.
Special Hotel rates for attendees

We have contracted special rates for RECongress attendees at some of the nearby hotels to the Anaheim Convention Center. You can find our updated listing online. To get the quoted rates, contact the hotel directly and be sure to mention that you are attending the 2018 Religious Education Congress and ask for the REC or Religious Education Congress Block Group Rate.
Find the Hotel listing here »
Discounted Disney tickets

Religious Education Congress attendees may purchase specially priced Disneyland resort eTickets. There is special pricing for Twilight Convention tickets (after 4 pm), 1-day 1-park, multi-day and park hopper tickets. This eTicket offer is only available online at http://mydisneygroup.com/ZMRC18A.
See other Congress Updates here »
Just for Southern Californians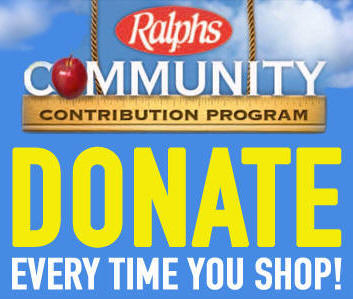 Ralphs Grocery Company, the Southern California supermarket chain, has a program to help non-profit organizations with annual contributions. We invite you to re-register your Ralphs Rewards Card again this year to benefit the RECongress. The current term began September 1 and runs through August 31, 2018. This is an annual program that must be renewed each year. You may register online or by calling (800) 443-4438.

Sign up for the free Ralphs rewards Card and register your card with the Community Contributions Program. It's never been easier to contribute to the RECongress.
Name: Archdiocese of Los Angeles - Religious Education
Organization Number: 90658

Find step-by-step instructions and information online and
Go to the RECongress Ralphs page »
A Look Back: RECongress 2008
SATURDAY, MARCH 1, 2008
Session 4-14:
"One with the Risen Lord: A Spirituality of Ministry"
The Lenten journey finds its completion in Easter – a season that proposes a spirituality of ministry for the church, newly born from Christ on the cross. Beginning with the proclamation of Christ's Resurrection, we learn about seeing the Risen Lord but also believing without seeing. We learn what it means to know and heed the Shepherd's voice. By way of reflection and a new collection of songs, Bob Hurd and Anawim will explore this spirituality of ministry opened up by the season's readings. This workshop will help catechists, liturgists, musicians, lectors, those working with Christian Initiation, and all worshipers prepare for the Easter Season.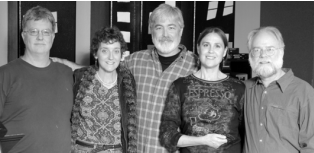 Appearing left to right: Dominic MacAller, Marie Hodgson, John Gilb, Barbara Bridge and Bob Hurd.

Bob Hurd has served as a teacher, composer, and liturgist in various pastoral and academic settings. He currently teaches in the Graduate Pastoral Ministries Program at Santa Clara University in California. His music appears in a number of hymnals in this country as well as abroad. Over a 10-year period, Hurd and Anawim recorded some of this country's most popular and widely used worship music. The members of Anawim include Dominic and Kathleen MacAller, Marie Hodgson, John Gilb, Barbara Bridge, Jim Drollinger, all of whom serve as music ministers in the archdioceses of Los Angeles and Portland, Ore.
See the Guidebook from RECongress 2008 »
Our Web Site — RECongress.org
You can find all Congress information and updates online. Our upcoming RECongress Emailings will feature some Congress Spotlights, and you can find the latest listing of speakers, entertainers, Liturgies and more online. Check our site for updates and announcements.
RECongress Emailing
Be sure to sign-up for our twice-a-month Emailings (around the 1st and 15th) about the latest updates and information about Congress 2018. You may opt out from our Congress Emailing at any time from the "Manage Your Subscription" link below.

Find past Emailings at archive.recongress.org/emailing.htm
© 2017 Los Angeles Religious Education Congress
RECongress 2018

RECongress Dates
March 15 (Youth Day) &
March 16-18, 2018

2018 Congress Theme
"Rise Up!" / "¡Levántate!" / "Hãy Đứng Lên!"
Location
Anaheim Convention Center
800 West Katella Ave.
Anaheim, Calif. 92802
(just south of Disneyland and Disney California Adventure).
See a Yahoo Map »
Have Questions?
View our RECongress help page to see the most frequently asked questions and their answers.
See our FAQ page »
Important Dates
Jan 19 - Last day to request refunds
Jan 23 - Last day to mail in registrations
Jan 26 - Registration fees increase after this date
Feb 23 - Last day to register by mail
See our Updates page »
Registration
The key to registration is the Registration Guidebook. If you attended RECongress 2017, you will automatically be mailed a Guidebook (available in October). If you need one, you may order one here.
Order a Guidebook »
Congress Milestones
1956 - first two-day CCD Institute (500 teachers in attendance)
1967 - first three-day "Southern California Confraternity Congress " (7,000 in attendance)
1970 - CCD Congress moves from Los Angeles to Anaheim Convention Center
1973 - first "Religious Education Congress" as CCD office renamed to Office of Religious Education
See the REC Milestones »