Hear the Youth Day 2013 Theme Song
Our 2013 Los Angeles Religious Education Congress is nearly here, and we have already reached capacity for Youth Day 2013! Though Youth Day registration is now closed, you can still register for Congress! February 7 is the last day to register by mail and February 14 is the last day to register online. After the deadlines, just save your registration form and bring it with you to register on site at Congress.

In celebration of what is now only 20 days away, you can listen to the 2013 Youth Day Theme Song, "Your Love," by the Jacob & Matthew Band, published by World Library Publications. Use the link to download a free mp3 download. (The FREE download is available until February 21, 2013.)

Youth Day 2013 Theme Song
Jacob and Matthew Band
"Your Love" (mp3)
from "Your Love"
(World Library Publications)
More On This Album

This Emaling has information about ticket mailing, the Program Book, what's new at Congress 2013 Youth Day, and much more. Pass along this emailing or our link — archive.recongress.org — to share with friends and encourage them to sign up for our Congress Emailing for updates. If you do not care to receive future updates, you can find removal information at the bottom of this message.

¡Para información en español, clic aquí!




WHAT IS CONGRESS?
The Religious Education Congress, sponsored by the Archdiocese of Los Angeles Office of Religious Education, is the nation's largest annual gathering of Roman Catholics! Our last RECongress, held in March 2012, brought together nearly 40,000 people during the four-day weekend! We had registrants from across the country and as far away as Ireland and Australia.

DATES
The 2013 Los Angeles Religious Education Congress dates are:
• February 21, 2013 (Youth Day)
•
February 22-24, 2013
Location
Congress is held at the Anaheim Convention Center, located at 800 West Katella Ave. in Anaheim, Calif. (just across from Disneyland and Disney California Adventure).
Fee
The registration fee for Congress is $75 per person ($65 by January 4).
Registration
The Registration Guidebook contains all workshop and speaker descriptions, entertainment and liturgy options, and all events during Congress. There are two Registration Forms per book. If you attended RECongress 2012, you will automatically be mailed a Registration Guidebook. If you need a Guidebook, please order one here.
WHERE ARE MY TICKETS?!
Tickets for Youth Day and Congress began being mailed (in order of registration number) on January 14. You can check our Congress 2013 Updates page for the expected schedule for mailing of Congress tickets for the remainder of time prior to Congress. Let us know if your tickets don't arrive. For those who have asked to pick up tickets at Congress, our Will Call window at Congress is available on site at the Convention Center at the Registration Booth located in the Prefunction Lobby. Hours will be on Thursday, February 21 from 6:30 pm to 8:30 pm, Friday and Saturday beginning at 7:30 am, and Sunday beginning at 8:00 am.
SNEAK A PEEK AT THE PROGRAM BOOK


Be ready for Congress ahead of time: See the online version of the Program Book that attendees receive when they arrive at Congress 2013. Get a little extra time to plan out your weekend by downloading the Program Book. Available in PDF and iPaper formats.
WHAT YOU'LL FIND:
(Or view the page online)
— Spotlighting events at Congress (Spotlight online)
— Tech Center schedule (Tech Center online)
— Speaker Signing schedule (online)
— Exhibitor listing and Categories listing
— Restaurant guide and map
— Audio Recording Form (Recording page online)
YOUNG ADULTS AT CONGRESS


Have you ever been to the Los Angeles Religious Education Congress? No? Why not make this the year to go! With 40,000 in attendance, it's the largest annual gathering of Catholics in the world! Got questions? We've got answers!
I'm not a religious educator. Why should I go? Congress is not just for educators, but for anyone wanting to learn more about their faith and deepen their relationship with Christ. There are over 300 workshops on a wide range of topics, from relationships to prayer, from Scripture to humor, along with amazing liturgies and worship services full of inspiring music.
What's there for young adults? Aside from a number of workshops of interest to young adults, there is a young adult liturgy Saturday evening, with Msgr. Kevin Kostelnik presiding and The Jacob & Matthew Band and Danielle Rose providing the music. The liturgy is followed by a young adult dance where over 400 young adults gather to meet and move into the night.
Who's gonna be there? Congress always draws the best of the best. Just to drop a few names, this year's lineup includes Matthew Kelly, Fr. Greg Boyle, Donna Pena, Fr. Jim Martin, John Allen, Sr. Anne Bryan Smollin, Tony Melendez, Mark Hart, and many, many more!
Where? When? How much? How do I sign up? Congress will be February 22-24 at the Anaheim Convention Center. Registration is only $75! Register online at archive.recongress.org. The website has all the other info you might need. We'll see you in Anaheim!
HALL B SESSIONS
Now that registrations show which are our most popular sessions, we can now announce our most popular Arena/Hall B workshops (Arena sessions are in English; Hall B sessions are in Spanish). Find our listing of Arena speakers online. All Arena and Hall B sessions are recorded, indicated by asterisk (*).
SESSION
SPEAKER
WORKSHOP (* = recorded)
1-52

Rev. José Román Flecha
Fe, palabra e imagen (*)
2-51

Dr. Eduardo Chávez Sánchez
Santa María de Guadalupe: Modelo de evangelización perfectamente inculturada (*)
3-52

Marta García Fernández
Biblia: Siete herramientas para leerte (*)
4-52

Rev. Virgilio Elizondo
La tierra de Jesus: Una peregrinación espiritual (*)

Dr. Timothy Matovina
5-55

Rev. Michael Kennedy
Sanando heridas de la vida (*)

Javier Stauring
6-51

Luis Benavides
Cómo entender a los niños y jóvenes de hoy (*)
Asamblea
Domingo
8:30am

Luis Benavides
¡El Señor es mi pastor, qué me puede faltar! (*)
7-57

Dr. John Yzaguirre
¿Es posible tener unidad cunado somos tan diferentes? (*)
8-51

Rev. Ruben Bellante
Ser catequista hoy ¿un proyecto sobrehumano? (*)
Our Congress 2013 updates page includes last-minute information about speakers, and is also the place where you can download the notes from those Arena/Hall B speakers who have handouts.
SPEAKER FEATURE: FRANK DiLALLO


Frank DiLallo is currently the Prevention/Intervention Schools Consultant for the Diocese of Toledo, Ohio, which serves 78 Catholic schools — pre-K through 12th grade — in 19 counties. He conducts numerous educator trainings, assemblies for students and parents, with over 30 years' experience in education and counseling. DiLallo is a frequent local, regional and national speaker on the topic of bullying prevention and has published the "Peace Be with You – Christ Centered Bullying Solution" and the "Peace2U – Three Phase Bullying Solution" materials.

"Bullying: A Catholic Response for Educators"
Friday, February 22, 2013
1:00 - 2:30 pm - Session 2-09
This workshop will explore a practical overview of the highly complex bullying dynamic and a unique Catholic response to the problem. Frank DiLallo will introduce the first-ever Scripture- and evidenced-based curriculum for Catholic school educators. Learn how to create a compassionate formation program grounded in Scripture, ethics and theology, including well-researched bullying prevention theory. Steeped in Gospel guidelines, educators and parish leaders will be equipped with practical faith-based applications and skill sets for effective classroom implementation. Come learn about this new Christ-centered approach to eliminating bullying.

"Bullying: Help for Parents"
Sunday, February 24, 2013
10:00 - 11:30 am - Session 7-07
Have you ever faced a parent who emotionally reacts to your efforts to respond to bullying behaviors involving their child? This workshop will explore 10 ways contentious parents inadvertently exacerbate the bullying problem by undermining the effective counter strategies we can employ. Come increase your toolbox options by learning how to build rapport with difficult parents, help parents understand what bullying is and is not, learn five ways to build parent trust surrounding your responses to bullying behaviors, learn 10 practical tips to share with families on how to bully-proof their child(ren), and find meaningful ways to connect the sacraments and Gospel values to your bullying prevention efforts.

See all the Congress 2013 Speakers

CONGRESS LITURGY SPOTLIGHT


Healing: Renewing All of Creation
Friday, February 22, 2013, 5:15 pm
Hilton California Ballroom
Rev. Richard Leonard, presider
On Friday evening, one of the 14 Eucharistic Liturgies at Congress will be focused on healing. The music will be led by Jeanne Cotter and Tony Alonso. Our presider, Fr. Richard Leonard, is a Jesuit that comes to us from the Australian Province.

Divine Byzantine
Saturday, February 23, 2013, 5:15 pm
Marriott Grand Ballroom
Most Rev. Gerald Dino, presider
One of Saturday evening's liturgies will be Divine Byzantine, with music lead by the Byzantine Community. Bishop Gerald Dino, the celebrant, heads the Metropolitan Archeparchy of Pittsburgh, a Ruthenian Catholic Church of the Byzantine based in Phoenix, Arizona. The eparchy encompasses the western states of Alaska, Arizona, California, Colorado, Hawaii, Idaho, Montana, Nevada, New Mexico, Oregon, Utah, Washington and Wyoming.

See the Liturgies at Congress 2013

Congress Tote Bag — This year at Congress, all attendees will receive a souvenir bag containing your Program Book. Note: If you already have your tickets with name badge, you can bypass the Registration area and proceed to the Program Book Pick-Up line to receive your Congress bag "and swag"! We thank Catholic Cemeteries for providing the Congress participant bags this year.

USB Flash Drive — Also this year, Loyola Press has sponsored the flash drives given out at the Office of Religious Education booth, located near the center of Hall A.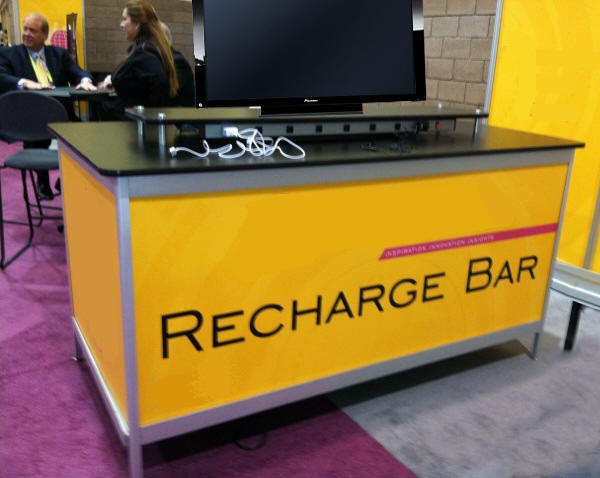 Charging Station — A new feature this year at Congress is a portable device charging station. Bring your charger! The Charging Station is located on the southeast side of the Exhibit Hall (Hall A), near the Book Signing tables. (This photo is a concept example, ours may appear different.)

We also thank:
LITURGICAL PRESS for providing the Congress lanyards and the Roman Missals at all Congress liturgies.
CRIBARI VINEYARDS for their contribution of all altar wine at Congress 2013..
LITURGY TRAINING PUBLICATIONS for gifting 15 Congress participants with
registration scholarships in memory of frequent Congress speaker Bob Piercy.
SPECIAL CONGRESS OFFER


Advance purchase of specially priced Disneyland resort tickets are available to Religious Education Congress attendees! Special pricing for Twilight tickets (after 4 pm), 1-day 1-park & multi-day tickets and park hoppers are available. Click on the graphic or here to order. This offer is only available online through Wednesday, February 20, 2013. Tickets are valid from Wednesday, February 20 to Tuesday, March 5, 2013.

Note: These discounted tickets are for use ONLY for RECongress attendees and their companions during their stay. Tickets cannot be purchased for the purpose of or with the intent of being resold.
See the RECongress Updates Page
HOTELS


Consider staying in town for Congress. You can check our list of RECongress-contracted hotels for special rates for Congress attendees. Note: Some hotels have early-February deadlines. You can find the listing of hotels, and our interactive map of these hotels, on our Web site. When making reservations, be sure to ask for the Religious Education Congress rate.
See the RECongress Hotels page
GET YOUR FREE MP3 DOWNLOAD!

<CSC Digital Media is the official recording company for Congress, providing selected sessions on Audio CDs and now, downloadable MP3s. For trying the service, they are offering one FREE MP3 download recording from the 2012 Religious Education Congress audio recordings. Simply visit www.cscrecording.com, select your sessions and redeem your free download using Coupon Code REC2012 when checking out. (Coupon is good for the download of one session per customer and expires February 28, 2013.)
See the RECongress Recording page
JUST FOR SOUTHERN CALIFORNIANS


Ralphs Grocery Company, a major supermarket chain in the Southern California area, supports schools, churches and other non-profit organizations with annual contributions. The Los Angeles Religious Education Congress is a member of Ralphs Community Contributions Program. Simply by using your Ralphs rewards Card a portion of eligible purchases are contributed to the RECongress. (Note: This is an annual program that must be renewed each year. The current term is September 1, 2012 through August 31, 2013.)

We encourage all Ralphs shoppers to sign up for the free Ralphs rewards Card and register their card with the Community Contributions Program. It's easy! Every time you shop for groceries and scan your card at Ralphs, RECongress will automatically earn up to 5% of all eligible purchases per enrolled card. Sign up now! It's never been easier to contribute to the RECongress.

Organization Name: Archdiocese of Los Angeles - Religious Education
Organization Number: 90658

Find step-by-step instructions and information online.


RECONGRESS.ORG
You can find all Congress information and updates online. There are links to speakers, workshops, topics and specially priced tickets for the Disney Parks. Check our site for the latest updates and announcements.

EMAILING
Be sure to Sign-up for this twice-a-month Emailing about Congress updates and events. You may opt out from the Congress Emailing at any time from the link below.