Congress 2011
Mar. 17 (Youth Day) & March 18-20, 2011

2011 Theme
"Hold Firm ... Trust!"
Mantente Firme ... ¡Confía!"

Congress 2012
Mar. 22 (Youth Day) & March 23-25, 2012


See the latest updates on our Updates Page


Online at archive.recongress.org


Email us at
congress
@la-archdiocese.org

Featured Advertisers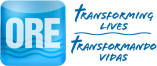 Office of Religious Education
Archdiocese of Los Angeles
Much thought and hundreds of hours have gone into planning Congress 2011. And we want to know your experiences. So please take our survey after Congress.

Use the form that you will receive in your Program Book at Congress to evaluate and take notes of your Congress experience. However, instead of turning in that form, we prefer that you fill out the online version of the form. at archive.recongress.org/survey.

Our online form will be available beginning on Friday. It will save us the hours required to enter all the information manually so we can achieve our totals more quickly.

---

Pass along this emailing or our link — archive.recongress.org — to share with friends and encourage them to sign up for our Congress Emailing for updates. If you do not care to receive future updates, you can find removal information at the bottom of this message.

¡Para información en español, clic aquí!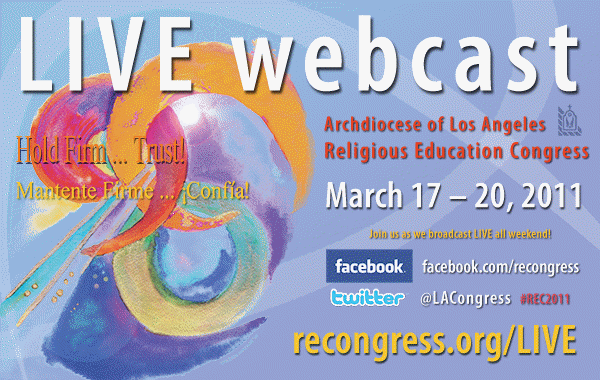 RECONGRESS LIVE!
Last year we presented the first-ever "live" webcast from Congress! And it's back this year — with even more expanded coverage. Know someone who can't make it to Congress? Invite them to experience a slice of Congress on their own at archive.recongress.org/LIVE. Live streaming
from the Anaheim Convention Center Arena begins on Youth Day, Thursday, March 17 at 8:30 am PDT and continues through the Closing Liturgy on Sunday afternoon.
Find the latest webcast schedule online at archive.recongress.org/LIVE
---
Can't wait for Congress? You don't have to wait! You can see videos from last year online on our YouTube/RECongress page. Also found on RECongress Live.

REMEMBER TO BRING YOUR OLD CELL PHONE
Last year we witnessed two of the largest natural disasters in recent memory in Haiti and Pakistan. And through the generous participation of Congress 2010 attendees in our Cell Phone Recycling Initiative, we have been able to donate $1,800 to Catholic Relief Services' emergency assistance to Haiti. Again this year we are partnering with GetGreenToGetGreen.com to collect phones to benefit Haiti and Pakistan. Bring your old cell phones — working or not — with you to Congress. More than 130 million cell phones are thrown away every year. Don't throw away electronics that should be recycled. Do your part to recycle your old cell phone — and help us help Haiti and Pakistan in the process.
EMAILING CORRECTION
Our last Congress Emailing had a bad link with the online speaker handouts. Some of the Arena and Hall B speakers have provided handouts for their workshops. This option is for speakers assigned to the biggest rooms where the capacity is too large to provide everyone handouts. These links are also available on our Speakers Page.
1-55
Del ministerio al misterio(*)
- Rev. Domingo Rodríguez Zambrana
Bajar apuntes
3-55
¿Es mi grupo un grupo sano?(*)
- Sr. Glenda Hernandez
Bajar apuntes
4-53
Soy Catequista La espiritualidad de la vocación
- Victor Valenzuela
Bajar apuntes
5-51
La catequesis con niños pequeños(*)
- Luis Benavides
Bajar apuntes
8-01
Gratitude as a Spiritual Pathway
- Dr. Wilkie Au
Download Handout
EMAILING
Find this and past Congress Emailings online at our Emailings page at archive.recongress.org/Emailing
Be sure to Sign-up for the Congress Emailing List. You may opt out from this Emailing at any time from the link below.
---
Find us on Facebook at www.facebook.com/RECongress
Follow us on Twitter at LACongress. Hash tag #REC2011