Youth Day Keynote & Theme Song announced
Justin Fatica of Hard as Nails Ministry has been announced as the Youth Day Keynote. And if you're planning on attending Youth Day, be sure to register soon. Youth Day is filling quickly, and usually closes BEFORE its scheduled February 25 registration close.

Our RECongress Emailings highlight some of the events going on at Congress 2011 — including added events and a spotlight on some of the speakers and musical artists coming to Congress. Be sure to check our Web site for speakers, hotel and exhibitor updates.

---

Pass along this emailing or our link — archive.recongress.org — to share with friends and encourage them to sign up for our Congress Emailing for updates. If you do not care to receive future updates, you can find removal information at the bottom of this message.

¡Para información en español, clic aquí!




DATES
The 2011 Los Angeles Religious Education Congress dates are:
• March 17, 2011 (Youth Day)
• March 18-20, 2011 (adult days)
Location
Congress is held at the Anaheim Convention Center, located at 800 West Katella Ave. in Anaheim, Calif. (just across from Disneyland and Disney's California Adventure). See a Yahoo Map
Fees
Fees increase after this weekend. The fee for Youth Day is $20 per person. The fee for Congress, with separate registration form and fee, is $60 per person. Rates are scheduled to increase after February 4, 2011.
Registration
You can register for Youth Day and Congress days online by credit card. For those paying by check, you can use the forms in the Registration Guidebook. The Guidebook contains all workshop and speaker descriptions and one Youth Day form and two individual Congress Registration Forms per book. If you need a Guidebook, you can view one or order one online.

YOUTH DAY KEYNOTE ANNOUNCED!
Justin Fatica
Justin Fatica of Hard as Nails Ministry will be Keynote at Youth Day 2011.
At 17, Justin Fatica did not know what he was going to do with his life, but he believed that God had something big planned for him. Justin decided to take risks in pursuit of his mission. He knew that if he made mistakes he would press forward and try harder until every person he met knew that he was loved by God and appreciated.

In 1997, Justin graduated from Cathedral Prep High School for boys, not with the best grades, but with a big heart. He went to Seton Hall University and graduated with an Elementary Education and Philosophy degree in 2001. He received his Masters in Education in 2003.

Justin has spent the last 10 years ministering to young people as a teacher, high school campus minister, and co-founder/director of the Nationally Acclaimed "Hard as Nails Ministries". He has helped develop youth movements all around the world, and he has become a true innovator for youth culture. In December of 2007 he was featured in the HBO documentary "Hard as Nails" and in 2008 released his book titled "Hard as Nails."
Information can be found online at www.JustinFatica.net

---
NOTE: Youth Day closes this month. Make sure you register soon, as we are nearing capacity for the day.
---
REMEMBER: You can still pre-order (non-customized) Youth Day T-shirts. To receive your shirts by mail, you must order before February 18. Pre-orders after February 18 can be picked up on Youth Day at the Seraph7 booth in the main Arena Lobby. March 7 is the deadline for all pre-orders. Go to www.seraph7.com for more details
YOUTH DAY THEME SONG ANNOUNCED
Listen to the new Youth Day 2011 Theme song on the Youth Day web site, archive.recongress.org/YD. The theme song, "Everyone's Invited/Son Todos Invitados," is written by Pedro Rubalcava and available from our friends at spiritandsong.com.
"Everyone's Invited/Son Todos Invitados"
Everyone's invited, everyone is welcome
To the heavenly banquet to the Father's Kingdom.
Open up your hearts and minds and pay attention,
God will bless your lives in ways you never imagined...

Pedro Rubalcava is a nationally known clinician and performer with expertise in various musical styles. He has been directing liturgical music groups for more than 20 years. For the past 16 years, he has been working in professional pastoral ministry in various areas, including liturgy and music, evangelization, youth and young adult ministry, catechetical ministry and RCIA. Pedro received national recognition in 1990 when Amanecer, his bilingual music collection, was nominated for a Grammy award in the Best Mexican/American Performance category. Currently, Pedro is the director of Hispanic ministries for OCP. He also serves on the executive board of the Instituto Nacional Hispano de Liturgia as the Northwest representative. He lives in Boring, Oregon, with his wife, Kristin, and their two children.

Correction: The Jacob and Matthew Band is composing the Congress Theme Song, not the Youth Day theme as mentioned in the Congress Emailing of Feb 1st.
CONFESSIONS IN SACRED SPACE
Friday through Sunday – Convention 304
Sacred Space returns once again to its home on the third level of the Convention Center, with extended hours on Saturday. In addition to Eucharistic Adoration in the Chapel, a labyrinth (pictured), art and meditative music, our Sacred Space offers the Sacrament of Reconciliation.
Confession times at Congress in Sacred Space are on Friday and Saturday from 11:30 am to 1:00 pm and from 2:30 pm until 3:30 pm. Note: There are no confessions on Sunday.
See the Congress 2011 Schedule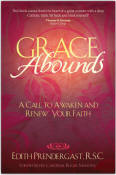 BOOK RELEASE AT CONGRESS
"Grace Abounds: A Call to Awaken and Renew Your Faith"
by Sr. Edith Prendergast, RSC with a foreword by Cardinal Roger Mahony

"Sr. Edith's stellar and passionate keynotes, gathered beautifully here, will inspire and educate us for years to come!"
Rev. Richard Rohr, OFM, Founding Director
Center for Action and Contemplation
In this collection of rallying keynotes from the annual Los Angeles Religious Education Congress, Sr. Edith Prendergast, RSC, Director of the Archdiocese's Office of Religious Education, issues a clarion call to both conversion and renewal...
You can find more and pre-Congress ordering information online.

BROADCAST BOOTH AT CONGRESS
Adjacent to the Office of Religious Education booth will be our Broadcast Booth. Get in on the action as we interview presenters, artists, exhibitors and more, all from the floor of Exhibit Hall A! LIVE coverage begins on Friday morning and continues throughout the entire weekend. Check archive.recongress.org/LIVE in the coming weeks for a schedule of events.
Go to archive.recongress.org/LIVE
CONGRESS SCHEDULE REMINDERS
On-site Registration
If you invite someone to Congress, they can register on site any of the three days. Hours are:
Friday and Saturday: 8:00 am - 3:00 pm
Sunday: 8:00 am - noon
Location: Prefunction Lobby

Exhibit Hall
The Exhibit Hall is a perk of registration to Congress and available ONLY to those registered. Hours at Congress are:
Friday and Saturday: 8:00 am - 5:00 pm
Sunday: 8:00 am - 3:00 pm
Location: Convention Hall A

Multicultural Exhibit
On the second floor Prefunction area you can find our Multicultural Exhibits, representing the diverse ethnic communities in the Los Angeles Archdiocese. Table display hours:
Friday and Saturday: 9:00 am - 5:00 pm
Sunday: 9:00 am - 2:30 pm
Location: 2nd Floor Prefunction Lobby
Sacred Space
Sacred Space is located on the third level of the Convention Center, with extended hours on Saturday. Sacred Space is open:|
Friday: 10:00 am - 3:00 pm
Saturday: 10:00 am - 9:00 pm
Sunday: 10:00 am - 1:00 pm
Location: Convention Center 304, 3rd floor
JustFaith Dinner
Jack Jezreel of JustFaith Ministries will be speaking at the JustFaith Graduate Reception and Dinner will be held Saturday, March 19, 2011 from 6:00pm to 9:30pm at the Anaheim Convention Center. To learn more about this event, please visit www.archdiocese.la/ojp for the registration form or call the Office of Justice and Peace JustFaith representative Tony Fadale at 310-542-9696 or e-mail a.fadale@verizon.net.

WIN AN IPAD AT CONGRESS
Come chat with the Office of Religious Education staff at our ORE Booth in Exhibit Hall A. It is a place for the ORE staff to meet those who serve our archdiocese catechetically. The booth will provide a comfortable environment to talk with folks from around the Archdiocese about catechesis. We want to meet those in the ministry of catechesis and to find ways to resource people more efficiently. Our brochure wall with our ministries will help you find the post-Congress events that you can participate in! Let us know how we can better serve your communities in the Archdiocese of Los Angeles with our catechetical events and trainings.
And be sure to sign up for information at our booth throughout the weekend AND enter to win an iPad! The winner will be contacted and announced on our Facebook page, our Twitter feed and in our Congress Emailing!
VOLUNTEER MEETING REMINDER
Congress could not function without the hundreds of volunteers who give of their time during Congress. Volunteer positions include: Assistants (ticket takers/greeters), the Chairperson (coordinator) and Master of Ceremonies (the "MC" who introduces the speaker and makes announcements).
All pre-registered volunteers are required to attend the Volunteer Meeting that will be held next week on February 22 at 7 pm at St. Vincent School Hall, 2333 S Figueroa St, Los Angeles, CA 90007 (between 23rd St. and Adams Blvd.)

HOTELS
Most of the hotels that have contracted with Congress only guarantee special rates through this month. Consider staying locally to enjoy the full experience of Congress. Check our Hotel listing to find information about rates. And our Interactive Hotel Map shows hotel locations and rates. Make your hotel reservations as soon as possible. When making reservations, be sure to ask for the Religious Education Congress rate.

BRING YOUR OLD CELL PHONE TO CONGRESS
Last year we witnessed two of the largest natural disasters in recent memory in Haiti and Pakistan. And through the generous participation of Congress 2010 attendees in our Cell Phone Recycling Initiative, we have been able to donate $1,800 to Catholic Relief Services' emergency assistance to Haiti. Again this year we are partnering with GetGreenToGetGreen.com to collect phones to benefit Haiti and Pakistan. Bring your old cell phones — working or not — with you to Congress. More than 130 million cell phones are thrown away every year. Don't throw away electronics that should be recycled. Do your part to recycle your old cell phone — and help us help Haiti and Pakistan in the process.

JUST FOR SOUTHERN CALIFORNIANS
Ralphs Grocery Company, a major supermarket chain in the Southern California area, supports schools, churches and other non-profit organizations with annual contributions. The Los Angeles Religious Education Congress is a member of Ralphs Community Contributions Program. Simply by using your Ralphs rewardss Card a portion of eligible purchases are contributed to the RECongress. (Note: This is an annual program that must be renewed each year. The current term is September 1, 2010 through August 31, 2011.)
Even if you were part of this program last year, you will need to update your account again this year. We encourage all Ralphs shoppers to sign up for the free Ralphs rewards Card and register their card with the Community Contributions Program. It's easy! Every time you shop for groceries and scan your card at Ralphs, RECongress will automatically earn up to 5% of all eligible purchases per enrolled card. Sign up now! It's never been easier to contribute to the RECongress.
Organization Name:: Archdiocese of Los Angeles - Religious Education
Address: 3424 Wilshire Blvd., 3rd Floor, Los Angeles, CA
Organization Number: 90658
Find step-by-step instructions and information online.
RECONGRESS.ORG
You can find all Congress information and updates online. We have begun to add our Exhibitors list for Congress 2011 and are constantly updating on our Congress 2011 Updates page. Check our site for updates and announcements.
EMAILING
Find this and past Congress Emailings online at our Emailings page at archive.recongress.org/Emailing
Be sure to Sign-up for the Congress Emailing List. You may opt out from this Emailing at any time from the link below.
---
Find us on Facebook at www.facebook.com/RECongress