Our Next Congress Dates
March 18, 2010 (Youth Day) &
March 19-21, 2010

Sharing thanks ... and photos!
Congress literally could not function without the hundreds of volunteers who give of their time. to make our event happen. From those on planning committees with months of work to those Ministers of the Cup who stepped in the last-minute to help out at the Arena liturgy -- we thank you all. You can find some of these "behind the scenes" people in the photo links for Volunteers and Behind the Scenes off our
2009 RECongress Photos
page.
This is our last emailing for Congress 2009. We'll be back with Congress 2010 information in September. Be sure you're on the Emailing list!


DATES FOR CONGRESS 2010
Our dates for our next Los Angeles Religious Education Congress are:
• March 18, 2010 (Youth Day)
• March 19-21, 2010 (Congress days)

LOCATION
Congress is held at the Anaheim Convention Center, located at 800 West Katella Ave. in Anaheim, Calif. (just across from Disneyland and Disney's California Adventure).
ONLINE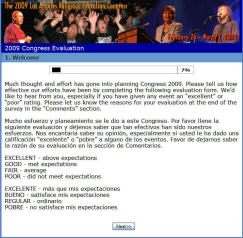 SURVEY REMINDER: Survey available only until Tuesday, March 24.
For those who attended Congress and haven't submitted your survey yet, please take a few minutes and complete our online evaluation. There is a great deal of thought and effort that has gone into planning the RECongress, and we'd like to know how effective our efforts have been. We'd like to hear from you, especially if you would rate any event as "excellent" or "poor." Please let us know the reasons for your evaluation at the end of the survey in the box labeled "Suggestions for improvement."
For those who filled out the paper version of the form: if possible, we ask that you also please take the online survey. We can tally our information much sooner using the online method. By taking the online version of the survey, you greatly aid our staff. Please take the Congress Evaluation.

See who came to
Congress!
This year for Congress 2009, we have registrants representing every state in the nation -- except four: Arkansas, Maine, New Hampshire, and Vermont. You can find details on number of registrations by state and country, as well as the top cities in California for registrations on our Congress statistics page, online at
archive.recongress.org/2009/stats.htm
| | |
| --- | --- |
| REGISTRANTS | |
| Guidebooks Mailed (2008 Attendees) | 22,752 |
| Youth Day Chaperones | 2,843 |
| Youth Day Youths | 12,400 |
| Youth Day Total | 15,243 |
| Congress Pre-registrations by mail | 11,369 |
| Online Pre-registrations | 8,390 |
| On-site Registrations | 1,252 |
| Congress Registrations | 21,011 |
| EXHIBITORS | |
| Companies | 237 |
| Representatives | 1,676 |
| WORKSHOPS | |
| Speakers | 179 |
| Languages | 4 |
| Congress Sessions | 281 |
| Youth Day Sessions | 24 |
| Volunteers | 461 |
| Others | 117 |
| TOTAL REGISTERED | 38,687 |
See the number of people who came from YOUR city! You can find details on the number of registrations by city and state on our city statistics page at http://archive.recongress.org/2009/city.htm
If you're still thinking about that Congress session you missed
or wish you could have shared a talk with a friend, it's not too late! There were 244 Congress workshops recorded by CSC Digital Media, and are available on Audio CDs. You can order any of these sessions from this year online at
archive.recongress.org/tapes
. Also, from that page you can order cassette tapes and Audio CDs from past years as well.
ALL our Youth Day and Congress
photos are now online
on the RECongress Web site. You can find them off our
2009 Photos page
.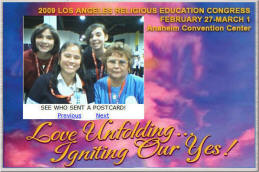 And watch for our Flickr Group to share YOUR photos from Congress!
See what's been reported about Congress
on our Congress Reviews page. Links to reviews -- especially by The Tidings, newspaper of the Los Angeles Archdiocese -- postings, photos and videos about the Religious Education Congress can be found on our site at
archive.recongress.org/reviews.htm
. And let us know about any we've missed!
We still have "left overs!"
Each year after our Religious Education Congress event there are a great many unclaimed items -- glasses, bags, books, jackets -- that end up in our Lost and Found. Please contact the Congress Office with what you seem to be missing, and we'll see if it's among our Lost and Found items. You can find contact information online on our
Lost and Found
page.
You may sign up or opt out at any time with the link below. Sign-up
here
to be added to the Congress Emailing List.