Archbishop Jan Schotte, who will address the Religious Education Congress next weekend, spoke in Los Angeles two years ago as secretary of the Pontifical Commission for Peace and Justice.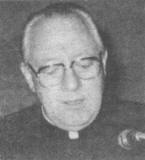 "If peace movements want to have a future they will have to give themselves to the promotion of peace in the widest sense and not merely to peace as the absence of war, or to peace as disarmament, or to peace as the elimination of one type of armament, but peace as a positive expression of justice, of solidarity among individuals and among nations," he told an August, 1983 gathering at St. Paul parish.
"I do not think the struggle for peace can be carried on apart from a complete and responsible analysis of all aspects of contemporary values, economic, political and military," then Father Schotte said at the talk sponsored by the Archbishop's Commission on Peace and Justice.
"Any intervention in favor of peace that prescinds from this analysis risks becoming a manipulation of imagination or emotion," he said.
"The promotion of peace should be made without becoming victim to a polarized position placing the responsibility for peace only in the institution, in the establishment, in those who assume responsibility for the daily exercise of political, economic or industrial power.
"Such a polarization presents an obstacle to individual men and women to discover that the truth about the terror of war, of the arms race, and global poverty and injustice is equally the truth about each one of us," said Archbishop Schotte
Archbishop Schotte, general secretary of the Synod of Bishops, will concelebrate the Youth Day Mass at 11 a.m. Thursday, Feb. 13, and speak to the youths about the Synod and the Second Vatican Council.
The same afternoon at 1:30 p.m. Archbishop Schotte will give a presentation to Southern California priests at the Anaheim Convention Center. He will speak in Los Angeles to religious women of the archdiocese at 7:30 p.m. that evening.
He will conduct workshops at the Religious Education Congress Saturday, Feb. 15, at 10 a.m. and Sunday, Feb. 16, at 1 p.m.
He will concelebrate the closing Mass at. 5:15 p.m. Sunday.
Copyright 2005 The Tidings -- February 7, 1986


---