RECongress 2021


RECongress Dates
Thursday through Sunday,
February 18-21, 2021


2021 RECongress Theme


Proclaim the Promise! /
¡Proclama la Promesa! /
Tuyên Xưng Lời Giao Ước!

2021 RECongress Pricing
The registration fee for the four days of RECongress -- Thursday, Feb. 18 through Sunday, Feb. 21 -- is $35.

2021 Location
Since 1970, you have had to travel to the Anaheim Convention Center to attend RECongress. Now that our upcoming event will be virtual, you can attend right from home or work!




What is RECongress?
Begun as an Institute in 1956, our first event was held at Mount Carmel High School in Los Angeles. There were some 500 teachers and catechists in attendance at the two-day conference. Our last gathering brought together 30,000 over a four-day event.




Director's Welcome
See the welcome by Sr. Rosalia Meza, Director of the Office of Religious Education.
Find it here »




Theme Reflection
Read a reflection on the theme and the artwork created by artist Val MacRae.
Read it here »




REC Milestones
1956 - first two-day CCD Institute (500 teachers in attendance)

1967 - the first three-day "Southern California Confraternity Congress " held with 7,000 in attendance

1970 - CCD Congress moves from Los Angeles to Anaheim Convention Center

1971 - First Youth Rally held on Friday, March 26, which would become Youth Day today

1973 - first "Religious Education Congress" as CCD office renamed to Office of Religious Education

2021 - RECongress goes virtual




RECongress Emails
Be sure to sign-up for our Emailings about Congress. You may opt out from our Congress Emailing at any time from the "Manage Your Subscription" link below.

REC 2021 Virtual Exhibit Hall

Our virtual Exhibit Hall at the 2021 Los Angeles Religious Education Congress will be open for you 24/7! Many have told us that they want longer Exhibit Hall hours. We heard you! Just as you would walk the halls of our Exhibit Hall during our in-person event, you are invited to "walk" the virtual hall. Visiting the exhibit booths will enable you to view various resources and products that can enrich and support you in your ministry and personal spiritual growth. You can "chat" with a company representative or set up a time to "chat" later. Some companies will provide Zoom schedules and links to have more in-depth conversations. As always, the Exhibit Hall will be an exciting place to be, and our many exhibitors can't wait to have you visit.

Register for RECongress 2021

Register today for the 2021 RECongress experience. You can view the schedule here or download the printable schedule here. Our virtual event begins on Thursday, February 18 and concludes on Sunday, February 21.

For a registration fee of $35, you will experience:
• Keynote Presenters
• Dynamic Workshops
• Entertainment
• Sacred Space
• Intercultural Prayer Experience
• Youth Track on Friday and Saturday from 2:30-5 pm

You must be registered no later than 8 am PST on Sunday, February 21, 2021. Registered participants will have access to all event content through March 21, 2021. Register online now at recongress.org/registration

Our 2021 Youth Track

This year, our Youth Day is a little different. For the 50th anniversary and with the gift of technology, we have made Youth Day available as a Youth Track during the weekend. Our Youth Coordinating Team has embraced the theme, Proclaim the Promise! They want to share with YOU God's Covenant in the Chaos. We invite you to join us for the Opening Event on Thursday at 6 pm. You can access the schedule here to learn more about what the weekend has to offer.

The Youth Track will be an interactive experience, including:

Social Media Challenges
Witness Talks
A Keynote Speaker for Each Day
Skits
Prayer Experiences
Featuring Our Youth Choir!

Plus, you will be able to access ALL recorded workshops for the one registration fee of $35! Register now at www.RECongress.org


Spotlight: Indigenous Prayer Service

Indigenous and First Peoples Prayer Service and Reflection -- Join members of various nations and tribes in this experience of prayer and reflection in the spirit of the Gospel of Creation as illumined in Ladauto Si'.

This event (in English) will be live from 8 am - 9 am on Friday, February 19, and also viewable thereafter.


Some of our RECongress Speakers

Bishop Robert Barron
(workshop presenter in English)
Auxiliary Bishop – Archdiocese of Los Angeles; founder of Word on Fire Catholic Ministries






Linda Dakin-Grimm
(workshop presenter in English)
2020-2021 Harvard Advanced Leadership Fellow; lawyer, author, speaker






Thomas Reese, SJ
(workshop presenter in English)
Senior Analyst, Religion News Service






John Rinaldo
(workshop presenter in English)
Adjunct Professor at Santa Clara University






Mons. Lucio Adrian Ruiz
(workshop presenter in Spanish)
Secretariat for Communications - Vatican






M. Susana Santana
(workshop presenter in Spanish)
Executive Deputy Director - Society of St. Vincent de Paul, Los Angeles






Julianne Stanz
(workshop presenter in English)
Director of Parish Life & Evangelization, Diocese of Green Bay; Loyola Press Speaker Corps Member





Georgina Vides
(workshop presenter in Spanish)
Parish Leadership Strategies-Office of Life, Justice and Peace, Archdiocese of Los Angeles
Find our listing of RECongress Speakers here »
A Look Back ...
at CCD Congress 1981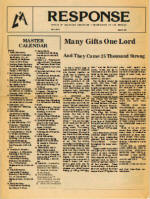 Taken from Response, a publication of the Office of Religious Education about the 1981 Religious Education Congress held February 12-15, 1981 with the theme, " Many Gifts -- One Lord"

And They Came 25,000 Strong.... It was a record high of approximately 10,000 who flocked together on Youth Day to broaden the smile of Msgr. Lloyd Torgerson, as his young people gathered in the Convention Center. The feelings of these youths were electrifying as they attended their workshops and the closing liturgy. I overheard the comment: "The look on Cardinal Manning's face was beautiful as he left the Arena." He had reached out and touched every heart of every Youth seated in the vast Arena with his homily titled "Yes, No and Amen-NOT MAYBE, but Amen."

"You are the light the world and the salt of the earth,'' he told the young crowd. "You should always walk in the light of God's presence. We want to say Yes to God, that nothing ever going to quench that light of grace that's inside us; The No button campaign is catching on all over the United States, this button being worn by both girls and boys makes the statement that being able to say No preserves the dignity, the sanctity, the holiness of our own peers. It doesn't mean you can't have a good time, say No to anything that's going to cheapen you, offend human dignity or offend Almighty God; '' and his third point Amen, ''when you go to Communion and the priest holds up the host, you look at it and say, 'AMEN,' I believe it, I accept it.''

The Cardinal closed his homily with this, "YES, NO, AMEN. What a beautiful gift your generation is to your peers, to the Church and to the heavenly Father. God loves you so much.''

Concelebrating the Youth Day Liturgy with Cardinal Manning were Bishop Jose de Jesus Madera of Fresno, Bishop Manuel Moreno, Auxiliary of Los Angeles, and Orange Dioceses.
You may view the 1981 publication here »