First Glance at Virtual RECongress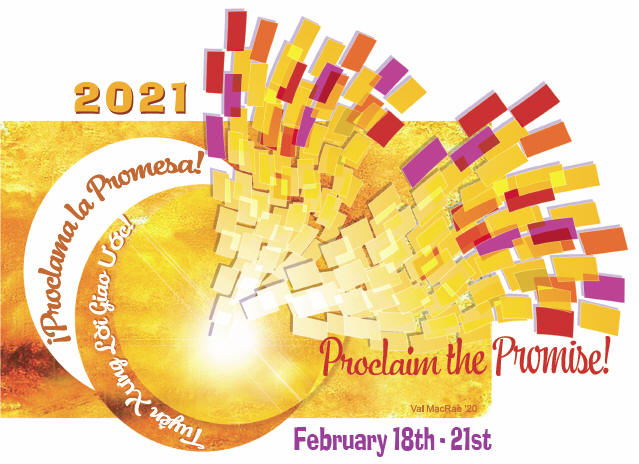 RECongress 2021 begins on Thursday, February 18 and concludes on Sunday, February 21, 2021.
For a registration fee of $35, you will experience:
• Keynote Presenters
• Dynamic Workshops
• Entertainment
• Sacred Space
• Intercultural Prayer
Experience
• Youth Track on Friday and Saturday from 2:30-5 pm
Youth Day Turns 50!
For the last 49 years, Youth Day has kicked off the RECongress weekend, gathering over 13,000 teens together to connect and share their faith. This year, teens will have the opportunity to be part of the entire virtual weekend!
Teens from around the Los Angeles Archdiocese and beyond have embraced the theme – Proclaim the Promise! – and encourage us all to remember that God's covenant remains even through the chaos. The youth have been working very hard to create a space for young people by young people. They are inspired to share their faith with YOU!
We look forward to welcoming high school-aged youth to our 2021 virtual Los Angeles Religious Education Congress.

Primer vistazo RECongress 2021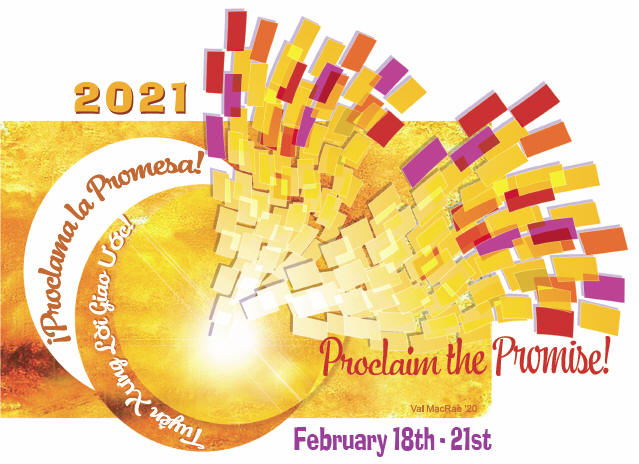 RECongress 2021 comienza el jueves 18 de febrero y termina el domingo 21 de febrero de 2021.
Una cuota de registro de $35 te dará acceso a:
• Presentadores principales
• Talleres dinámicos
• Entretenimiento
• Espacio sagrado
• Una experiencia de
oración intercultural
• El programa para jóvenes el viernes y sábado de 2-5 pm.
¡El Día de Juventud cumple 50 años!
Durante los últimos 49 años, el Día de la Juventud ha comenzado el fin de semana del RECongress, reuniendo a más de 13,000 adolescentes para que se encuentren y compartan su fe. ¡Este año, los adolescentes tendrán la oportunidad de ser parte de todo el fin de semana virtual!
Jóvenes de todas partes de la Arquidiócesis de Los Ángeles han adoptado el tema – ¡Proclama la Promesa! – y nos inspiran a todos a recordar que la alianza de Dios permanece incluso durante el caos. Los jóvenes han estado trabajando muy duro para crear un espacio que sea para los jóvenes y creado por los jóvenes. ¡Están motivados a compartir su fe CONTIGO!
Esperamos darles la bienvenida a los jóvenes en edad de high school a nuestro Congreso virtual de Educación Religiosa de Los Ángeles 2021. Saluda a algunos de nuestros conferencistas del RECongress 2021

Meet Some of Our 2021 Speakers

Katherine Angulo
(workshop presenter in Spanish)
Katherine is the Program Director of the Thriving in Ministry Initiative at the McGrath Institute for Church Life at the University of Notre Dame in Indiana.



Rev. Gregory Boyle, SJ
(workshop presenter in English)
Fr. Greg is founder and Director of Homeboy Industries, the world's largest gang-intervention and rehabilitation program based in Los Angeles, and former Pastor of Dolores Mission Church in Los Angeles.

Maggie Craig
(workshop presenter in the Youth Track)
Maggie is a full-time Catholic speaker and retreat leader.

Donna A. Heckler
(workshop presenter in English)
Donna is a global marketing executive, Catholic speaker, author and strategist.

Sr. Bich Quyen Thi Ly
(workshop presenter in Vietnamese)
Sr. Thi Ly serves as a member of the General Council for the Congregation of Sisters of Our Lady of the Missions in Rome, Italy.

Hosffman Ospino, PhD
(workshop presenter in Spanish)
Dr. Ospino is Professor of Pastoral Theology and Religious Education at Boston College's School of Theology and Ministry, and serves as Director of Graduate Programs in Hispanic Ministry.