RECongress Speaker Workshops Announced
Speakers are now assigned to sessions for the 2019 Los Angeles Religious Education Congress. You can find updates to our online pages for our Speakers, their Topics, and find Workshops by session. Now you can start to map out which speakers to see and when. NOTE: Our online registration will begin in early January.
Watch for our coming RECongress Emailings on announcements of our Youth Day and our Adult Days. There is separate registration and pricing for each. The regular registration pricing for Youth is $40 (with special discount pricing of $35 extended through February 28, 2019). The registration pricing for the adult days of RECongress is $85 (special discount pricing of $75 extended through February 28, 2019).

And keep an eye on our site — archive.recongress.org — for coming information about RECongress 2019.
---

LIMITED OFFER: Here's an opportunity to advertise in the Program Book, which is distributed to all attendees of the RECongress adult days. Have your ad appear in this "must have" companion that contains times and locations of all workshops and events, exhibitor booth locations and category listings. It also includes maps of the Convention Center and surrounding hotels used for workshops and events, as well as a restaurant guide and Anaheim area map. Download the Program Book advertising order form here.

---
Pass along this emailing or our link — archive.recongress.org — to share with friends, and encourage them to sign up for the Emailings to receive the latest information about RECongress 2019. If you do not care to receive future updates, you can find removal information at the bottom of this message.
Sneak a peek at the Registration Guidebook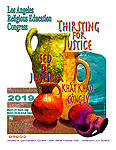 The key to RECongress is the Registration Guidebook, which will be mailed out in January. BUT, you don't have to wait for the mail. You can view the Guidebook NOW and in a variety of ways:
PDF: The 2019 RECongress Registration Guidebook is available online as a PDF (Adobe's Portable Document Format. You may choose to download the complete Registration Guidebook or any of the sections HERE.
Web Page: View every workshop period (English and Spanish) as a separate web page HERE.
iPaper: The Guidebook is available HERE in iPaper format, a web-based version that requires no software download.
Paper: Still prefer the paper version of the Guidebook and didn't attend RECongress last year? Order one HERE.
RECongress Disney store is now open
Religious Education Congress attendees may click here to purchase specially priced Disneyland resort eTickets. There is special pricing for Twilight Convention tickets (after 4 pm), 1-day 1-park, multi-day and park hopper tickets. This eTicket store opened last week and is only available online at http://mydisneygroup.com/ZMRC18A.
Youth Day Speaker: John Angotti
Youth Day 2019 is Thursday, March 21, and in each of our RECongress Emailings we feature one of our 15 speakers of the day:

John Angotti travels the world presenting concerts, workshops, retreats, missions and worship. Angotti is a frequent presenter at diocesan and regional conferences in the United States and abroad, including all the major national youth conferences and World Youth Days in Sydney (2008) and Madrid (2011). He is also Director of Music and Liturgy at St. Philip Church in Franklin, Tenn. He is an accomplished composer, with numerous music collections under the World Library Publications label. John Angotti Music Mission (JAMM) debuted his original musical, "Job: The NOW Testament"t in 2013. His articles have appeared in Today's Liturgy and Pastoral Music Magazine among others.
ONE RACE: A DIALOGUE TO DEFEAT RACISM
This is a workshop that will break open the reality that racism occurs because we don't know each other. Through music and dialogue, John Angotti along with hip hop producer James Dukes from Unapologetic Records will use real situations of racism today and how we can learn from each other to unite and celebrate our differences.
See registration info about Youth Day here »
Speakers Spotlight: Bishop O'Connell Panel
Over the three days, RECongress 2019 will offer 278 workshops presented by 186 speakers. Topics range from personal growth to music to spiritual topics — in English, Spanish and Vietnamese. Each Emailing we will spotlight our speakers. This session features a panel of speakers:
2-18: WHY IS IMMIGRATION SO IMPORTANT TO THE CHURCH?
Immigration plays a significant role in the life of churches around the world. In certain parts of the United States, near borders or in areas where refugees are being brought in from dangerous parts of the world, the Catholic Church is leading the effort to help families in need. While not everyone agrees with our country's policy on immigration, there are people on both sides of the debate who agree that the laws are flawed and our system is broken. Come listen to this panel of experts as they discuss why migration is a global issue, how the Church is responding, and what we can do as a community to help change our laws.

Bishop David O'Connell was ordained at All Hallows College in Dublin, Ireland, for the Los Angeles Archdiocese, where he has served for over 36 years. He has been associate pastor and pastor in the Archdiocese, most of those years serving in South Central Los Angeles. Bishop O'Connell served on the Archdiocesan Finance Council and on the Board of Together in Mission, the archdiocese's annual appeal. He now serves the Archdiocese as Auxiliary Bishop of the San Gabriel Valley Region.


Linda Dakin-Grimm practices law in California, New York and Washington, D.C., and has successfully handled numerous jury and bench trials, appeals and arbitrations. Since 2016 she has concentrated her practice on pro bono matters in immigration proceedings with children and has organized a group of interpreters/mentors to assist them. Dakin-Grimm speaks on faith and immigration-related issues in schools and parishes throughout Los Angeles and at legal conferences across the United States, in Bermuda and London.



Based in Monterrey, Mexico, Dr. Luis Eduardo Zavala de Alba iis Director of Casa Monarca, which offers humanitarian aid for migrants. He has been a Visiting Scholar at numerous universities including the Autonomous University of Barcelona in Spain, the University of Essex in England, and the Carr Center for Human Rights Policy at Harvard University's Kennedy School of Government. Dr. Zavala is a Visiting Professor at Yale University and academic advisor and consultant to many human rights organizations, including "Community of Democracies," an international panel of experts.
RECongress Spotlight: Performance Stage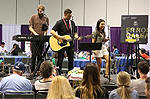 Friday thru Sunday – Convention Hall A
Several of the performing artists at RECongress have scheduled time to appear at the Performance Stage in Hall A. The stage showcases 20-minute sets of live music and is located in the southeast area of Exhibit Hall A. Check the posted schedule onsite for appearance times.
See other RECongress Spotlights here »
Spotlight: Saturday Lunchtime Entertainment
Saturday, March 23, 11:45 am - 12:30 pm
-- ACC North Hall (upper level)
| | | | |
| --- | --- | --- | --- |
| | | | |
| John Burland | Andrew Chinn | Michael Mangan | James Wahl |
"Kids at Heart"
Come and share lunch and sing at the "kids' table" with children's composers John Burland, Michael Mangan, Andrew Chinn and James Wahl. These four have dedicated much of their adult lives composing for, and singing with, children, helping them to learn of their faith and celebrate with all their heart. An afternoon of joyful song, including songs of justice -- featuring students from local Catholic elementary schools. For the young .. and the young at heart!
Find other RECongress Entertainment here »
Liturgy Spotlight: For Those in Captivity
Within the Catholic Archdiocese of Los Angeles, liturgy is celebrated every Sunday in no fewer than 40 different languages. We have worked diligently to inculturate the liturgies at Congress to accurately and authentically reflect the church of Los Angeles.


Friday, March 22, 2019 • 5:15 pm
Mass for Those Held in Captivity
Presider: Rev. Bryan Massingale (photo)
Music by ValLimar Jansen
Jesus told his disciples that he came to free all from sin and death. The numbers of people who live in some form of captivity today are staggering. The First Reading from this day's Mass inspired the theme, where we hear in the Book of Genesis that Joseph's own brothers sold him into slavery. How many ways are people held captive? Our minds turn toward those enslaved by human trafficking and addictions, political prisoners and those oppressed by corrupt systems and organized crime. Ultimately, we are led to reflect on our own lives and see how we might still be captive to sin and death and through the celebration of the Eucharist to turn our lives over to the one who promises us "life, and life in abundance."
Anaheim Hotel Tips

With you in mind, the Religious Education Congress has contracted with certain hotels in the area of the Convention Center that offer a variety of pricing and room types that should meet everyone's needs. Please pay special attention to the amenities offered — some properties offer free breakfast options and several hotels offer suites that can house up to 6 people — which can add even greater value to your stay. We look forward to your presence with us at the Religious Education Congress 2019.
Just for Southern Californians
Local shoppers can easily support the Religious Education Congress just by shopping at Ralphs and Food4Less grocery stores. When you link your Rewards card in the Community Contributions program, a portion of eligible purchases are contributed to the RECongress. Sign up online (instructions below) or by calling (800) 443-4438. Each September begins a new term. Even if you have been a part of the program before, you must re-register in this new term.
If you already have a registered Rewards card (This means that you have already entered your email address and assigned yourself a password):
1. Log in to www.ralphs.com
2. Click Sign In
3. Enter your email address and password
4. Select My Account under Welcome, Valued Customer
5. Click on Community Rewards on the left
6. In the Search box, type "KV939" or "Archdiocese of Los Angeles
- Religious Education"
7. Remember to click on the circle next to the name
8. Click on Enroll to finish your enrollment process.
Find step-by-step instructions and information online.
Looking Back 30 Years ... at 1989
From the Program book at the 1969 Religious Education Congress held April 20-23, 1989.

Fountain Square Fools
Rev. J. Michael Sparough, S.J., Christopher Murphy, Chris Potter, and Tria Thompson
Fr. Sparough is artistic director and founder of the company. When not "fooling" around he is an associate pastor at St. Xavier Church in Cincinnati, Ohio. Tria Thompson is a psychotherapist with specialization in movement therapy. Chris Potter is a former youth minister and is currently studying American Sign Language. Chris Murphy is a graduate of Columbia Law School and is a clerk with a federal judge in Toledo, Ohio. Each year they perform for close to 100,000 adults and young people across the country in parishes, elementary and high schools, as well as universities. In addition, they have presented at conferences, youth rallies and conventions.
PARTNERS IN THE MYSTERY OF REDEMPTION??? (2G) Through storytelling, song, dance, mime, and theatre games, the Fountain Square Fools will explore issues of the current draft of the Bishop's Pastoral on Women in the Church.
View the 1989 Program book »
A Snap from ... 1969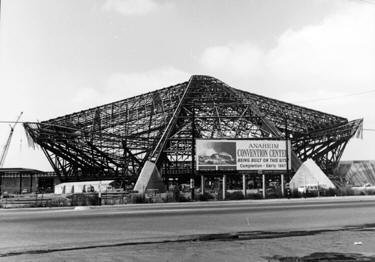 Looking south from Katella Ave, the steel skeleton of the Anaheim Convention Center Arena defines its unique shape that transitions from the elliptical form of the main floor to the circular form of the dome roof rising into the air.
See the early days of the Religious Education Congress »
Our Web Site — RECongress.org
You can find all RECongress information and updates online. Our upcoming Emailings will feature some Congress Spotlights, and we will be adding our speaker and hotel information online. Check our site for updates and announcements.
RECongress Emailing
Be sure to sign-up for our twice-a-month Emailings about the latest updates and information about the Religious Education Congress. You may opt out from our Congress Emailing at any time from the "Manage Your Subscription" link below.

Find past Emailings at archive.recongress.org/emailing.htm
© 2019 Los Angeles Religious Education Congress
RECongress 2019

RECongress Dates
March 21 (Youth Day) &
March 22-24 (Adult Days)
Location
Anaheim Convention Center
800 West Katella Ave.
Anaheim, Calif. 92802
(just south of Disneyland and Disney California Adventure).
See a Yahoo Map »
Registration
The key to registration is the Registration Guidebook. If you attended RECongress 2019, you will automatically be mailed a Guidebook (early January).
Order a Guidebook »
RECongress Milestones
1956 - first two-day CCD Institute (500 teachers in attendance)

1967 - first three-day "Southern California Confraternity Congress" (7,000 in attendance)

1970 - CCD Congress moves from Los Angeles to Anaheim Convention Center

1973 - first "Religious Education Congress" as CCD office is renamed to Office of Religious Education
See the REC Milestones »