RECongress Speaker Workshops Announced
Information on our speakers for the 2019 Los Angeles Religious Education Congress is nearly complete. We are now working on assigning speakers to their rooms. While assignments are being made, you can find updates on our web site: Find the new links for Speakers, Speaker Topics and Entertainment online at archive.recongress.org. And for those traveling to Anaheim for the weekend, remember to ask for the special rates at some of the nearby hotels. See our tips for making your stay the best possible.

Watch for our coming RECongress Emailings on announcements of our Youth Day and the adult days. There is separate registration and pricing for each. The regular registration pricing for Youth Day is $40 (with special discount pricing of $35 extended through February 28, 2019). The registration pricing for the adult days of RECongress is $85 (special discount pricing of $75 extended through February 28, 2019).


---
Pass along this emailing or our link — archive.recongress.org — to share with friends, and encourage them to sign up for the Emailings to receive the latest information about RECongress 2019. If you do not care to receive future updates, you can find removal information at the bottom of this message.
Youth Day 2019 Programming Locations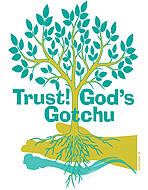 All Youth Day programming will take place either in the Arena or ACC North (the new Convention Center expansion). This means that workshops, Sacred Space, Youth Day exhibits, and all other activities will be held on the first or second floor of ACC North.

Keeping all workshops in close proximity to one another will help ensure that your group will have time to select another workshop in the event that your preferred workshop selection is full. This will also allow groups the chance to focus more on the events of the day and worry less about having to move their group across the Convention Center.

Lunch options will continue to be accessible throughout the Convention Center and on the Grand Plaza.
Find Youth Day information here »
Youth Day Speaker: Joe Melendrez
Youth Day 2019 is Thursday, March 21, and in each of our RECongress Emailings we feature one of our 15 speakers of the day:

The Catholic performer who is "Latino, relevant, relatable, and deep," Joe Melendrez is a speaker, musical performer, MC and retreat leader who currently serves as Assistant Director of Campus Ministry at Chaminade College Preparatory in West Hills, Calif. He has presented at numerous national and diocesan youth conferences across the United States in addition to World Youth Days in Brazil and Spain and the God is Good Festival in Germany. His CDs include "Kingdom Come" and "Fully Alive" along with his latest digital release, "Chosen."
FEEL THE POWER: EXPERIENCE GOD IN MUSIC
It is said that music expresses that which cannot be shared through words. Music is powerful, it can change a person's mood, attitude and energy. Why did God give us music? What is its purpose? How can we use music to glorify God? In this session, we will feel the power of God in music! Get ready to reflect, pray, dance and praise Jesus with every breath we take and every sound we make!
See registration info about Youth Day here »
Speaker Spotlight: John Allen Jr.
Over the three days, RECongress 2019 will offer 279 workshops presented by 194 speakers. Topics range from personal growth to music to spiritual topics — in English, Spanish and Vietnamese. Each Emailing we will spotlight one of our speakers:

John Allen Jr. is President and Editor of Crux, an independent Catholic news site in partnership with the Knights of Columbus, De Sales Media, and the Los Angeles Archdiocese. He is Senior Vatican Analyst for CNN and a popular speaker both in the United States and abroad. He previously served as Associate Editor of the Boston Globe and as Senior Correspondent for the National Catholic Reporter. Allen is author of 12 books and numerous articles worldwide. He divides his time between Rome and his home in Denver, Colo.
THIRSTING FOR JUSTICE: GLOBAL PERSPECTIVES ON CLERGY ABUSE IN THE CHURCH
Charles Dickens famously described the French Revolution as the "best of times, the worst of times." Catholi­cism too seems to be experiencing a revolutionary moment fueled by the clerical sexual abuse scandals. After the explosion of the sex abuse crisis in 2002 in the United States and the bishops' response with new policies, things seemed to improve. However, in the next decade, other hotspots around the world exploded. Again, 2019 has "turned up the heat" considerably on the story, this time with an emphasis on bishop accountability. Perhaps what this underscores is that our Catholic story is almost always a mix of the sublime and the outrageous.
SIGN OF THE TIMES: A REVIEW OF THE WORLDWIDE CATHOLIC LANDSCAPE
John Allen, veteran observer of the Vatican and the global Catholic scene, takes a 360-degree look at the highlights and lowlights of Catholic news in the past 12 months, tracing the major news headlines of the last year and teasing out what they mean in terms of big-picture conclusions, movements and ideas in Catholicism that seem to be gaining traction as he outlines important stories to watch in the coming year. This session is for Catholics who want a keen sense of what's happening in their Church, not just in the United States, but in Rome and around the world.
Spotlight: Sacred Illuminations 2019
Saturday, March 23, 8:30 pm

An annual feature at RECongress is Sacred Illuminations, a mystical choreography of light and sound. Incorporating her newest liturgical and fine art photography and reflections, Sr. Rose Marie Tulacz, SND will bring us to encounter in a deeper way, the love and power of the Father's love, transforming us through the reality of our daily lives.
See other RECongress Spotlights here »
Liturgy Spotlight: Byzantine Divine Liturgy
Within the Catholic Archdiocese of Los Angeles, liturgy is celebrated every Sunday in no fewer than 40 different languages. We have worked diligently to inculturate the liturgies at Congress to accurately and authentically reflect the church of Los Angeles.

Friday, March 22, 2019 • 5:15 pm
Byzantine Divine Liturgy
Bishop Gerald Nicholas Dino, presider
Music by the Byzantine Community
We are delighted to once again invite our Byzantine brothers and sisters to share their Divine Liturgy with the participants of the Religious Education Congress. This is a great opportunity to grow in understanding through experiencing this Eastern Rite. The Liturgy will be celebrated by Bishop Gerald Dino, the retired Bishop of Holy Protection of Mary of Phoenix (Ruthenian rite) in Arizona.
Find the listing of Congress Liturgies here »
Anaheim Hotel Tips

With you in mind, the Religious Education Congress has contracted with certain hotels in the area of the Convention Center that offer a variety of pricing and room types that should meet everyone's needs. Please pay special attention to the amenities offered — some properties offer free breakfast options and several hotels offer suites that can house up to 6 people — which can add even greater value to your stay. We look forward to your presence with us at the Religious Education Congress 2019.
Just for Southern Californians
Local shoppers can easily support the Religious Education Congress just by shopping at Ralphs and Food4Less grocery stores. When you link your Rewards card in the Community Contributions program, a portion of eligible purchases are contributed to the RECongress. Sign up online (instructions below) or by calling (800) 443-4438. Each September begins a new term. Even if you have been a part of the program before, you must re-register in this new term.

If you already have a registered Rewards card (This means that you have already entered your email address and assigned yourself a password):
1. Log in to www.ralphs.com
2. Click Sign In
3. Enter your email address and password
4. Select My Account under Welcome, Valued Customer
5. Click on Community Rewards on the left
6. In the Search box, type "KV939" or "Archdiocese of Los Angeles - Religious Education"
7. Remember to click on the circle next to the name
8. Click on Enroll to finish your enrollment process.
Find step-by-step instructions and information online.
Looking Back 30 Years ... at 1979

From the Program book at the 1979 Religious Education Congress held February 1-4, 1979, with the theme, "He Calls Us Each By Name."

GENERAL ASSEMBLIES
Carey Landry & Carol Jean Kinghorn
Carey Landry has been involved with music all his life and has been writing music for worship and religious education since 1967. In 1972 he began to collaborate with Carol Jean Kinghorn. Her teaching dynamics came to be the foundation for the "Hi God Program." Together Carey and Carol Jean have ministered to catechists, teachers, clergy, music ministers and people in the Church throughout the U.S. and Canada.

MUSIC IN TEACHABLE MOMENTS WITH CHILDREN (7J)
How to truly integrate music into our Religious Education classes, with practical examples of how to use music in teachable moments. Exposure to the music of the young people's glory and praise," "Hi God 3," and new music that children love to sing.

MUSIC IN THE PRAYER OF CHILDREN (SK)
Music that helps to develop a sense of prayer in the lives of children. Music for prayer moments with children, with examples of para-liturgies and classroom celebrations. Exposure to the prayerful music of the young people's glory and praise," "Hi God 3," and music recently developed.
A Snap from ... 1984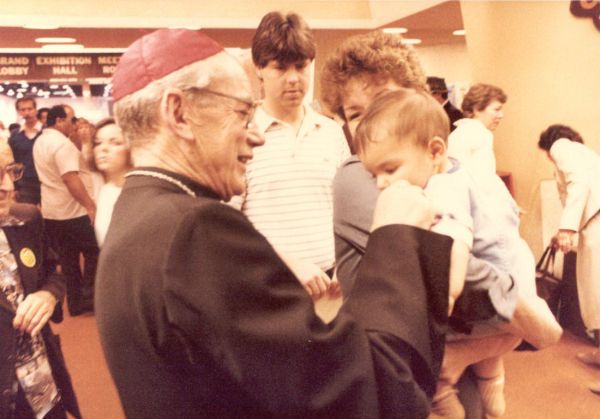 Los Angeles Cardinal Timothy Manning (born 1909, died 1989) meeting attendees at the 1984 Religious Education Congress, held March 22-25 with the theme, "The Lord is With Us" | "El Señor está con Nosotros."
Our Web Site — RECongress.org
You can find all RECongress information and updates online. Our upcoming Emailings will feature some Congress Spotlights, and we will be adding our speaker and hotel information online. Check our site for updates and announcements.
RECongress Emailing
Be sure to sign-up for our twice-a-month Emailings about the latest updates and information about the Religious Education Congress. You may opt out from our Congress Emailing at any time from the "Manage Your Subscription" link below.

Find past Emailings at archive.recongress.org/emailing.htm
© 2019 Los Angeles Religious Education Congress
RECongress 2019

RECongress Dates
March 21 (Youth Day) &
March 22-24 (Adult Days)
Location
Anaheim Convention Center
800 West Katella Ave.
Anaheim, Calif. 92802
(just south of Disneyland and Disney California Adventure).
See a Yahoo Map »
Registration
The key to registration is the Registration Guidebook. If you attended RECongress 2019, you will automatically be mailed a Guidebook (available early December).
Order a Guidebook »
RECongress Milestones
1956 - first two-day CCD Institute (500 teachers in attendance)

1967 - first three-day "Southern California Confraternity Congress" (7,000 in attendance)

1970 - CCD Congress moves from Los Angeles to Anaheim Convention Center

1973 - first "Religious Education Congress" as CCD office is renamed to Office of Religious Education
See the REC Milestones »