RECongress 2017


RECongress Dates
February 23 (Youth Day) &
February 24-26, 2017


2017 Congress Theme
"Embrace Trust"
Go to RECongress site »

2017 Theme Reflections
You can find a reflection on the Congress 2017 theme online. And, new this year, we have also posted a reflection on the theme for Youth Day 2017.
Read the Reflections »

What is Congress?
Begun as an Institute in 1956, our first event was held at Mount Carmel High School on Hoover Street in Los Angeles. There were some 500 teachers and catechists in attendance at the two-day conference, listening to speakers and gaining experience from other teachers. Read about the Congress Milestones here.

Find us online:

Registration is now online!



You can now register online for the 2017 Los Angeles Religious Education Congress. The Guidebook (either online or in print) is your key to registering for Congress, with all workshop and speaker descriptions, entertainment and liturgy options, and all events during Congress. Guidebook are still being mailed.

HOW TO REGISTER:

1) Have your your workshops selected
Please have your Congress workshop choices ready before you begin your online registration process. You can find online session descriptions here. (Online registration is live; if you mail in your registration please select a first and a second choice of workshop for each period you plan to attend.)

2) Have your credit card ready
The registration fee for Youth Day 2017 is $30; Congress registration is $70 (rates go up after January 13, 2017)

3) Click to register
Youth Day individual registration – use this link
Youth Day group registration – use this link
RECongress individual registration – use this link
RECongress group registration – use this link

Pass along this emailing or our link — archive.recongress.org — to share with friends and encourage them to sign up for the Emailings to receive the latest information about RECongress. If you do not care to receive future updates, you can find removal information at the bottom of this message.

Para información en español, clic aquí! »

Location
Congress is held annually at the Anaheim Convention Center, located at 800 West Katella Ave. in Anaheim, Calif. (just south of Disneyland and Disney California Adventure).

Registration Guidebook Is Online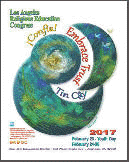 You don't need to wait for your copy to arrive in the mail. The 2017 Registration Guidebook is available in four formats:
PDF: The Registration Guidebook is available online as one PDF file and also divided up into smaller sections that are faster to download. (You will need the free Adobe Reader installed on your computer to view PDF documents.)
iPaper: The Guidebook is available in iPaper format, a web-based versionrequires no software download and is of the book.
Web: View every workshop period (English and Spanish) as a separate web page.
Paper: Still prefer the paper version of the Guidebook? If you attended Congress last year, you will automatically be mailed a Registration Guidebook. (Or order one here.)
View the Guidebook online »

Official Youth Day T-Shirts
Attention Group Leaders: Order your official Youth Day T-shirts in advance from Seraph7 Clothing. Youth Day T-shirts are available for custom and group pre-orders. Customize your Youth Day shirt with your youth ministry or parish name on the back for only $3 more. All orders with payment must be received by January 27, 2017 for direct shipping.

Special pre-order discount pricing (valid through January 27,2017)
T-shirts are $13* ($15 at Youth Day)
Hooded Sweatshirts are $25* ($30, limited quantity at Youth Day)
Adult Sizes S,M,L,XL,2XL,3XL,4XL
*2XL- 4XL sizes are $2 extra for T-shirts and $5 extra for hooded sweatshirts

Place orders online at www.seraph7.com or email them directly at seraph7clothing@gmail.com with any questions.
Go to the Youth Day page »

Special Hotel Rates For Attendees


Some nearby hotels to the Anaheim Convention Center have contracted special rate offerings for RECongress attendees. To get the quoted rates, be sure to inform the hotel that you are attending the 2017 Religious Education Congress and ask for the REC or Religious Education Congress Block Group Rate. Note: Be sure to make your reservations directly with the listed hotel properties.
See the Hotel Listing here »

Discount Disney Resort Tickets


Religious Education Congress attendees can purchase specially priced Disneyland resort eTickets, including Twilight Convention tickets (after 4 pm), 1-day 1-park, multi-day and park hopper tickets. The eTickets are valid from Friday, February 18, 2017 through Tuesday, February 28, 2017. This offer is only available online and is not available at the Park. Order your specially priced Disney tickets online at mydisneygroup.com/recongress2017.
Read about the Disney Ticket offer »

RECongress Emailing
Be sure to sign-up for our twice-a-month Emailing about Congress updates and events. You may opt out from our Congress Emailing at any time from the "Manage Your Subscription" link below. Our Emailings for Congress 2017 are scheduled through April 2017.