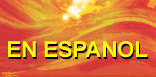 RECongress 2014
March 13 (Youth Day) & March 14-16, 2014
2014 Theme
"Hope: A World Afire" / "Esperanza que Enciende al Mundo"
Youth Day Theme
"Never Alone, Forever Accepted"
• Dates
• Emailing

Online at archive.recongress.org


Email us at
congress
@la-archdiocese.org

Office of Religious Education - Archdiocese of Los Angeles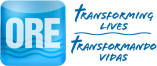 Friend us, find us, watch us, share us...



The 2014 Los Angeles Religious Education Congress begins this week, with Youth Day on Thursday! If you are attending this year, this Emailing is full of tips and information. If you're not joining us on site this year, be sure to join us online at archive.recongress.org/LIVE!

Remember, though Youth Day is closed, registration for Congress doesn't close. You can still register online and you will receive a barcode by email. Take that barcode to Congress and scan it to receive your tickets on site during Registration Hours (check for times).

You are receiving this RECongress Emailing from your interest or your registration for Congress. Pass along this emailing or our link — archive.recongress.orgg — to receive the latest information about Congress 2014 and encourage your friends to sign up for our Congress Emailing for updates. If you do not care to receive future updates, you can find removal information at the bottom of this message.

¡Para información en español, clic aquí!




GET THE CONGRESS APP!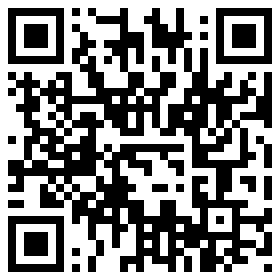 We're excited to offer a mobile event guide to Congress attendees that features speaker information, session schedules and much more! Best of all, it is accessible from all devices with an Internet browser — smartphones, tablets and desktops. Note: You will need to enter your personal schedule, since the app is not directly connected to the registration system. Access the RECongress app through the QR Code or directly at archla.org/congressapp.

DATES
The 2014 Los Angeles Religious Education Congress dates are:
• March 13, 2014 (Youth Day)
•
March 14-16, 2014
FUTURE DATES
Our scheduled 2015 Los Angeles Religious Education Congress dates are:
• March 12, 2015 (Youth Day)
• March 13-15, 2015
Location
Congress is held annually at the Anaheim Convention Center, located at 800 West Katella Ave. in Anaheim, Calif. (just south of Disneyland and Disney California Adventure). See a Yahoo Map
Fees
Registration for Congress is a flat-rate $80 per person. You can attend one session or stay for three days of workshops, concerts, liturgies and much more.
Registration
You can pre-register for Congress online by credit card or you can register at Congress on site (by cash, check or credit card). And be sure to provide your email address when registering. EVERYONE who has provided a working email will receive confirmation and a barcode to print their tickets at Congress.
Exhibit Hours
One of the perks of Congress are the Exhibits in Hall A, showcasing over 200 companies ranging from religious art to music, and from publishing houses to educational institutions, in addition to our own represented Archdiocesan ministries. Hours are:
Friday: 8:00 am - 5:00 pm
Saturday: 8:00 am - 5:00 pm
Sunday: 8:00 am - 3:00 pm
YOUTH DAY 2014 APP

Download the Youth Day app for iPhone and iPod Touch at AppStore.com/YouthDay2014! It will automatically update itself every year when new versions are released. With this app you can stay up-to-date with all Youth Day speakers, musicians and performers by following them on Twitter, viewing their websites and even finding them on Facebook.
YOUTH DAY IS SOCIAL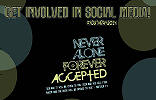 We invite you to connect with us on Social Media. You can post, tweet, share, like and/or create videos. We look forward to connecting with you online! Click here to find out how.
Facebook: LAYouthDay
Twitter: @LAYouth Day
Vine: #YouthDay2014
Instagram: #YouthDay2014
YOUTH DAY T-SHIRTS


Official Youth Day T-shirts will be on sale at the Seraph7 booth in the main lobby of the Convention Center Arena. T-shirts: $15
Sweatshirts: $30 (in limited quantities)
Adult sizes: S, M, L, XL, 2XL, 3XL
Info at www.seraph7.com or seraph7clothing@gmail.com
CONGRESS TICKET OFFER ENDS WEDNESDAY


Wednesday, March 12, 2014 is the last day Religious Education Congress attendees can purchase specially priced Disneyland resort tickets. You can buy Twilight (after 4 pm) Convention tickets, 1-day tickets and multi-day park hoppers. This online offer is only available at www.disneyconventionear.com/ZMRC14A. Tickets are only valid Friday, March 7 through Tuesday, March 18, 2014.
CONGRESS TICKETS
"I didn't receive my tickets!" is most common call we are receiving these days. Let us know if you don't receive your tickets in the mail (some have been returned), if we don't have them in our Will Call, we can email you a barcode to print your tickets at Congress. Ticket Pick-Up is available on site at the Convention Center at the Registration area located in the Prefunction Lobby of Hall B. Hours will be on Thursday, March 13 from 5:30 pm to 8:30 pm, Friday from 7:00 am to 3 pm, Saturday from 7:30 am to 3 pm, and Sunday from 8:00 to 11 am.
See Congress Ticket information
CHARGING STATIONS AT CONGRESS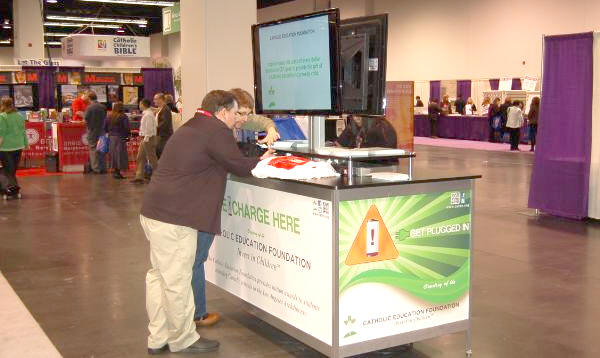 This year, Congress will offer two charging stations for portable devices. Plug your charger into the Charging Station to recharge your portables. The Charging Stations will be located in the Arena Lobby just outside of Hall A and on the southeast side of the Exhibit Hall (Hall A), near the Book Signing tables. We thank the U.S. Conference of Catholic Bishops (USCCB) for sponsoring the two portable device charging stations at Congress. Don't forget to bring your chargers!
See the Congress 2014 Updates page
DOWNLOAD THE PROGRAM BOOK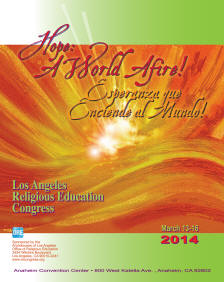 Be ready for Congress: See the online version of the Program Book that attendees receive when they arrive at Congress 2013. Get a little extra time to plan out your weekend by downloading the Program Book. Available in PDF and iPaper formats.
WHAT YOU'LL FIND:
— Spotlight on events at Congress
— Tech Center schedule
— Speaker Signing schedule
— Exhibitor listing and Categories listing
— Restaurant guide and map
— Audio Recording Form

Take Note! Our Congress survey is found in the center of the printed Program Book. Use the book to take note of your Congress experiences and share them with us on our online survey form during or after Congress — at archive.recongress.org/survey.

Preview the Congress Program Book Online


Twitter - www.twitter.com/LACongress @LACongress #REC2014
Facebook - www.facebook.com/RECongress SPEAKER BOOK SIGNING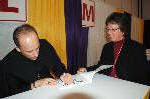 Authors and performing artists appearing at Congress have scheduled times to sign their books and CDs at the Signing Area. After every period there are scheduled times for speaker signings — including Keynote Fr. Robert Barron on Saturday. The Signing Area is located in the southeast corner of Hall A. Check the posted schedule for any updates to table number or appearance times.

See the Speaker Signing Schedule

SCOOTER / WHEELCHAIR RENTALS
If you have any questions or concerns regarding your ability to attend or enjoy RECongress due to handicap access or mobility concerns, please feel free to contact Rob Williams at RECmobility@recongress.org. RECongress' Mobility Team will be available to help with wheelchair transport, special seating and any access issues within Congress. At Congress you can find the Mobility Team located just outside Congress Headquarters (AR-1), in the Arena Lobby area.

NOTE: The Convention Center does not provide wheelchairs. You may contact Alpha Drugs Pharmacy at either of their two locations in Anaheim: 1240 S. Magnolia, (714) 220-0373; or 515 S. Beach Blvd., (714) 821-8959.

OC Medical has scooters and wheelchairs for rent to attendees during the Religious Education Congress. Contact them to reserve equipment at 755 N. Euclid Street in Anaheim, (800) 593-4942 FAX (714) 956-4692. Store hours are Monday through Friday from 9 am-6 pm, Saturday from 10 am-2 pm. Online at www.ocmedicalsupply.com.

See the Congress 2014 Updates page

12 TIPS TO 'SURVIVE' CONGRESS
Once again we bring you regular Congress attendee and blogger Claude Muncey's "Tips for Surviving RECongress":

If you're not already familiar with it, the RECongress is probably the largest regularly scheduled gathering of Catholics in North America. It is held at the Anaheim Convention Center across the street from Disneyland. Thursday is Youth Day, which attracts around 15,000 high schoolers, and Friday through Sunday is the Congress itself which is attended by anywhere from 15,000 to 20,000 teachers, catechists, musicians and other Catholics in ministry from all over the country. There are dozens of conference sessions each day with Masses and other events in the evenings. Here are a dozen handy tips for surviving the Religious Education Congress:
— Dress for comfort
— Take your entire registration packet
— Bring a pack to carry
— Lose the car
— Shop early
— Plan ahead
— Chill out
Find all the Congress 'Survival' Tips and their descriptions on our web site.

Read the Congress 'Survival' Tips


Rev. Richard N. Fragomeni will not be able to attend Congress. His workshops:
Session 2-08: "Divinization: The invitation of the Eucharist to Communion of Life and Love with God" (*) will be presented by Dr. Paul Ford; and
Session 4-07: "Be Dazzled by the Light of Faith: A Practical Look at the Encyclical of Pope Francis" (*) will be presented by Fr. Jim Clarke.

Other speaker changes:
YOUTH DAY:
Session "K"- Dealing With Stress – Jesse Manibusan will replace Judy McDonald

CONGRESS:
Session 1-02: "The New Evangelization" (*) – Fr. David Loftus will replace
Fr. Pat Brennan
Session 1-22: HIV/AIDS: A Continuing Challenge to the Church and the World
(*) – Fr. Chris Ponnet will replace Msgr. Robert Vitillo
Session 3-09: "Do You See What I See? A Catechist's Perspective" (*)
– Nancy Bird will replace Saundra Kennedy
Session 5-06: "Communio (*) – Bill Huebsch will replace Fr. Pat Brennan
Session 6-22: HIV Prevention Based on the Dignity of the Human Person:
Effective and Faithful Responses (*) – Dr. Elizabeth Crabb
Breen, will replace Msgr. Robert Vitillo
Session 7-14: "Motivator, Model, Minister…Catechist, Who Do You Say You
Are?" (*) – Joe Paprocki will replace Saundra Kennedy
Session 1-54: "La luz de la teología feminista en la historia" (*)
– Olivia Cornejo will replace Sr. Teresa Forcades
Session 5-53: "¿Actúa Dios en el mundo? El factor providencia" (*)
– Lupita Vital Cruz will replace Sr. Teresa Forcades

See the Congress 2014 Updates page


AUDIO RECORDING
Many of the Congress workshop sessions are audio recorded with speaker permission. Audio CDs are available at Congress for purchase at the CSC Digital Media booth, located at the east wall in Exhibit Hall A. Downloadable MP3s will be made available after Congress. You can order on site, from the order page in the Program Book or online -- during Congress and after,

Go to the Congress Recordings page

FREE SOUVENIR ePOSTCARDS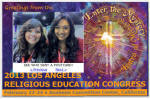 Along with our Congress-logoed souvenir pens, pins and magnets, you can also claim a free souvenir ePostcard. Take a picture at Congress and email it home and/or to your friends. The ePostcards are only available on Sunday and only at the Technology Center, located at the center of Hall A under the "Computer Demonstration" banner and adjacent to the Office of Religious Education's booth.

Live Streaming in Hall B
As an alternative to the Arena, you can now watch Friday's Opening Event (8:30-9:30 am) broadcast live in Hall B.

Convention Center Parking
Day parking is available in the Convention Center parking structures at the rate of $12 per day, with no in-and-out privileges.

Scooter / Wheelchair Rentals
OC Medical has scooters and wheelchairs for rent to attendees during the Religious Education Congress. Contact them at (800) 593-4942 or online at www.ocmedicalsupply.com.

Disney Resort Tickets - purchase by March 12
Specially priced Disneyland resort tickets are only available online through this Wednesday, March 12, 9 pm PDT at www.disneyconventionear.com/ZMRC14A. Tickets are valid Friday, March 7 through Tuesday, March 18, 2014.

Registration & Program Books Online

- click here
Our 2014 Registration Guidebook and even our 2014 Congress Program Book — the one given away at Congress — are now available online in PDF (requires the free Adobe Reader) and in iPaper format (requires no software download).

Hotels

- click here
RECongress has contracted with local hotels to offer special rates for attendees. When making hotel reservations, be sure to ask for the Religious Education Congress rate. Check online for our most current listing of hotels.

Airport Shuttle - click here
Prime Time Shuttle is offering Congress attendees special online convention discounts for transportation to and from Southern California airport or cruise ship terminals. Information can be found on their special Congress event page.

Unwind at Congress
On Friday and Saturday (10 am-4:30 pm) and again on Sunday (10 am-2:30 pm) in the Hall A Prefuntion Area you can take a break from the bustle of Congress with a chair massage. The cost is $1 per minute.

A.A. Meetings
Join a lunchtime meeting (Friday through Sunday) with other Alcoholics Anonymous (A.A.) men and women to share experiences, strengths and hopes with mutual support for recovery from alcoholism. (The meeting room is location in the Marriott's lower level San Diego room.)

Lost and Found
There is a Lost & Found desk located outside of Congress Headquarters,
located in Convention AR 1, near the south end of the Arena.

Message Center
The Message Center, located in the Prefunction area, can receive incoming messages. Call (714) 765-8883 or (714) 765-8884 to leave a message, or you can leave a note on the Message Board.
Friday: 10:00 am - 6:00 pm
Saturday: 9:00 am - 6:00 pm
Sunday: 9:00 am - 3:00 pm

Ralphs Rewards Program

- click here
Don't forget to sign up at your Southern California Ralphs store for the free Ralphs rewards Card and register the card with the Community Contributions Program.

RECONGRESS.ORG
You can find all Congress information and updates online. We have posted all the speakers and workshops, along with ways to find workshops by topic. Check our site for updates and announcements.

EMAILING
Be sure to sign-up for this twice-a-month Emailing about Congress updates and events. You may opt out from the Congress Emailing at any time from the link below. Our Emailings for Congress 2014 are scheduled only through April 2014.