Registration Guidebook in the mail!
The Registration Guidebook for the 2013 Los Angeles Religious Education Congress is in the mail. But you can see it online first! The Guidebook is your key to register for Congress with a listing of all speakers and their workshop descriptions. So start your planning now to attend Congress 2013.

Pass along this emailing or our link — archive.recongress.org — to share with friends and encourage them to sign up for our Congress Emailing for updates. If you do not care to receive future updates, you can find removal information at the bottom of this message.

¡Para información en español, clic aquí!



WHAT IS CONGRESS?
The Religious Education Congress, sponsored by the Archdiocese of Los Angeles Office of Religious Education, is the nation's largest annual gathering of Roman Catholics! Our last RECongress, held in March 2012, brought together nearly 40,000 people during the four-day weekend! We had registrants from across the country and as far away as Ireland and Australia.

DATES
The 2013 Los Angeles Religious Education Congress dates are:
• February 21, 2013 (Youth Day)
•
February 22-24, 2013
Location
Congress is held at the Anaheim Convention Center, located at 800 West Katella Ave. in Anaheim, Calif. (just across from Disneyland and Disney California Adventure). See a Google Map
Fee
The registration fee for Congress is $65 per person. Youth Day has a separate registration and $25 per person fee.
Registration
The Registration Guidebook contains all workshop and speaker descriptions, entertainment and liturgy options, and all events during Congress. There are two Registration Forms per book. If you attended RECongress 2012, you will automatically be mailed a Registration Guidebook. If you need a Guidebook, please order one online.
YOUTH DAY ARENA SPEAKER


Rev. R. Tony Ricard, MTh, MDiv
Youth Day, February 21, 2013
Arena Session (morning and afternoon)
"Firm in Faith: I Say Yes, My Lord"
God calls each of us to link our lives with Him as we face the struggles and challenges of our days. Through the waters of baptism and the strength of Eucharist, we are given the necessary tools to stand fi rm in our faith. "Put on the armor provided by God, so that you are able to stand firm against the power of darkness," says Ephesians 6:7. This fun and interactive workshop will help you to say "Yes, My Lord" to the call to be faithful disciples.
Fr. Tony Ricard, a priest of the New Orleans Archdiocese, currently serves as Director of Campus Ministry and Development Director for St. Augustine High School in New Orleans. He is also Director of Knight Time Ministries and Chief Editor for Two Knights Publishing Co. Fr. Ricard is a native of New Orleans and a former public school teacher. He has authored many books and has given keynote addresses, retreats, revivals and youth talks across the nation and has preached in 20 countries.
PREPARE TO REGISTER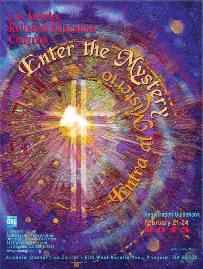 You will need to know your Congress workshop choices before you begin your registration process. You can find online session descriptions here. We recommend that you select a first and a second choice of workshop for each period you plan to attend.

The Guidebook is available online in 3 different formats:
PDF: You may choose to download the complete Registration Guidebook or, for those with slower or connections, the Guidebook has been broken up into smaller sections. (You will need Adobe Reader installed on your computer to view PDF documents; make sure you have the latest version.)

iPaper: The Guidebook is also available in iPaper format, which requires NO software to download.
Web Pages: You may also view each workshop period (English and Spanish) as individual Web pages.
Congress registration is $65 per person (by January 4, 2013).
View the Registration Guidebook
SPEAKER FEATURE: DR. MADONNA WOJTASZEK-HEALY

Dr. Madonna Wojtaszek-Healy is a seasoned catechist and Catholic schoolteacher, who teaches at St. Mary Immaculate Parish School in Plainfield, Ill. Her own children have Attention Deficit Hyperactivity Disorder (ADHD) and Asperger's syndrome, so she has insight into behavior management and faith formation … and a wry sense of humor. She has spoken at national principals and special needs conferences, as well as diocesan gatherings. Her book is titled the "The ABC's of ADD for Catechists."
Friday, February 22, 2013
10:00 - 11:30 am - Session 1-28
"Everyone's Called to God's Table, Even the Ones Who Can't Sit Still in Their Seats"
An understanding of Attention Deficit Disorder (ADD) and the children diagnosed with this condition will help teachers and catechists evangelize them and their families more effectively. Dr. Wojtaszek-Healy will share insights to manage behaviors and enjoy the gifts these children have.
Saturday, February 23, 2013
1:00 - 2:30 pm - Session 5-27
"God Called Me to Dance, Even if I'm Out of Step"
Full inclusion of people with disabilities in the life of the Church benefits us all. Children with autism spectrum disorders can pose behavioral problems in classroom and catechetical settings. Dr. Wojtaszek-Healy will share insights and strategies for evangelizing these children and their families.
See all Congress 2013 Speakers
HOTELS


RECongress has contracted with local hotels to offer special rates for Congress attendees. Check online for our most current listing of hotels, and now we have an interactive viewable map of these hotels. We suggest making hotel reservations as soon as possible. When making reservations, be sure to ask for the Religious Education Congress rate. You can find information about contracted hotels on our web site.
SPECIAL CONGRESS OFFER


Watch our coming Congress Emailings for an offer for specially priced Disneyland Resort Tickets for Congress attendees. There will be special pricing on evening passes and on single- and multi-day passes and hoppers for Disneyland and Disney California Adventure.
GET YOUR FREE MP3 DOWNLOAD!

CSC Digital Media is the official recording company for Congress, providing selected sessions on Audio CDs and now, downloadable MP3s. For trying the service, they are offering one FREE MP3 download recording from the 2012 Religious Education Congress audio recordings. Simply visit www.cscrecording.com, select your sessions and redeem your free download using Coupon Code REC2012 when checking out. (Coupon is good for the download of one session per customer and expires February 28, 2013.)
See the RECongress Recording page
JUST FOR SOUTHERN CALIFORNIANS


Ralphs Grocery Company, a major supermarket chain in the Southern California area, supports schools, churches and other non-profit organizations with annual contributions. The Los Angeles Religious Education Congress is a member of Ralphs Community Contributions Program. Simply by using your Ralphs rewards Card a portion of eligible purchases are contributed to the RECongress. (Note: This is an annual program that must be renewed each year. The current term is September 1, 2012 through August 31, 2013.)
If you were part of the program last year, we thank you, but everyone needs to re-enroll each year. We encourage all Ralphs shoppers to sign up for the free Ralphs rewards Card and register their card with the Community Contributions Program. It's easy! Every time you shop for groceries and scan your card at Ralphs, RECongress will automatically earn up to 5% of all eligible purchases per enrolled card. Sign up now! It's never been easier to contribute to the RECongress.
Organization Name: Archdiocese of Los Angeles - Religious Education
Organization Number: 90658
Find step-by-step instructions and information online.
RECONGRESS.ORG
You can find all Congress information and updates online. We will soon be adding Congress Spotlights and are constantly updating speaker and hotel information. Check our site for updates and announcements.
EMAILING
Be sure to Sign-up for this twice-a-month Emailing about Congress updates and events. You may opt out from the Congress Emailing at any time from the link below.