Preview the Program Book & Theme Songs!
The Congress Program Book (the one handed out at Congress) is now available online. Get a preview of the book and pre-plan your Congress weekend. Also, hear the newly released Youth Day and Congress theme songs on our Songs page.

Our RECongress Emailings highlight some of the events going on at Congress 2011. Be sure to check our Web site for speakers, hotel and exhibitor updates. Pass along this emailing or our link — archive.recongress.org — to share with friends and encourage them to sign up for our Congress Emailing for updates. If you do not care to receive future updates, you can find removal information at the bottom of this message.

¡Para información en español, clic aquí!

DATES
The 2011 Los Angeles Religious Education Congress dates are:
• March 17, 2011 (Youth Day)
• March 18-20, 2011 (adult days)
Mark Your 2012 Calendar
Scheduled dates for Congress 2012 are:
• March 22, 2012 (Youth Day)
• March 23-25, 2012
Location
Congress is held at the Anaheim Convention Center, located at 800 West Katella Ave. in Anaheim, Calif. (just across from Disneyland and Disney's California Adventure). See a Yahoo Map
Fee
The fee for Congress is $70 per person. Youth Day has reached capacity and is closed. Note: There is no on-site registration for Youth Day.
Registration
Online registration for Congress ends March 9. If you have not registered by then WAIT and register on site at Congress.
Justin Fatica of Hard as Nails Ministry will be the Youth Day Keynote in the Convention Center Arena. Justin has a new book out for young people called "Win it All" and you can find information at www.hanm.org.
Joe Melendrez, creator of "Rosary Rap." will be the Keynote in Convention Hall B. Melendrez' debut album "Rosary Rap" has been followed by his current release, "SERENITY NOW MiXTAPE!"
---
Youth Day Theme
Listen to a preview of the Youth Day 2011 Theme song online at archive.recongress.org/YD. The theme song, "Everyone's Invited/Son Todos Invitados," is written by Pedro Rubalcava and made available from our friends at spiritandsong.com.
---
Youth Day Tees

REMEMBER: You can still pre-order (non-customized) Youth Day T-shirts through next Monday — March 7 is the deadline. Orders can be picked up on Youth Day at the Seraph7 booth in the main Arena Lobby.
Youth Day T-shirts will be available on site.
T-Shirts: $17, Sweatshirts: $40
Available in sizes: S, M, L, XL, 2XL
(Youth sizes, 3X, and sweatshirts are also available in limited supply.) Go to www.seraph7.com for additional details.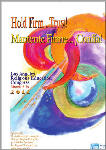 PROGRAM BOOK NOW ONLINE
We recently received this email ...
I will be attending Congress this year with 8 members of our parish staff from Denver, Colorado. We have attended over several years and are very excited to be coming again this year. Will the program booklet that we normally receive at Congress (with the room maps, etc.) be available as a PDF download? This is so helpful with the registration booklet, and I was wondering if there would be a way to get the conference booklet itself closer to arrival? Most of us have 3G network, or will be able to access wireless at our hotels, but if we could get it before getting on the plane — even better!
Apparently not everyone knows that both the Registration Guidebook and the Program Book are available in PDF as soon as they are completed — and before they are in print. Now take a "sneak peek" of the online version of the Program book and get a little extra time to plan out your weekend. The Program Book is available in two formats: a PDF version requires Adobe Reader; and an iPaper version, which requires no software download.

What you'll find in the Program Book ...
— Spotlight on events at Congress
— Tech Center schedule
— Exhibitor listing and Exhibitor Categories listing
— Restaurant guide and contact information
— Workshop Audio Recording Form
Don't miss our Congress logo-ed souvenirs this year! In addition to our annual offering of pens, pins and magnets, there will be a keychain with light and a letter opener enclosed with neon Post-It flags.

In addition, every Congress attendee receives a free Congress bag (shown here), courtesy of Liturgical Press, who is also sponsoring the Art Exhibit at Congress 2011. Also, thank you to Catholic Book Publishing Corp. for providing the lanyards at Congress 2011, and to Guadalupe Radio for providing the USB flash drives for use at the ORE booth.

See the Congress 2011 Updates page


"WHERE ARE MY TICKETS?"


This may be the most asked question we've been answering. Followed closely by: "Can I change the workshop I received?" You can find Congress ticket mailing information — as well as other Youth Day and Congress updates — on our 2011 Updates Page.

If you're not happy with the Congress tickets you receive, you have the following options:

1. You may just use the tickets you receive; or
2. You may exchange your tickets (beginning noon on Friday) at the Ticket
Exchange window located at the Registration Booth; or
3. Bring the ticket you were assigned to the workshop you would like to
attend. Once all properly ticketed attendees are admitted, then the
workshop is opened up to other ticket holders — if there is available
seating.

NOTE: Your ticket is always good for an Arena (English workshop) or Hall B (Spanish workshop) seat, which is always the most popular workshop from each period.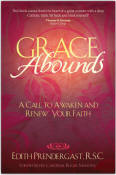 CONGRESS BOOK RELEASE
"Grace Abounds: A Call to Awaken and Renew Your Faith"
a book by Sr. Edith Prendergast, RSC with a foreword by Cardinal Roger Mahony.

"Sr. Edith's stellar and passionate keynotes, gathered beautifully here, will inspire and educate us for years to come!"
Rev. Richard Rohr, OFM, Founding Director
Center for Action and Contemplation
In this collection of rallying keynotes from the annual Los Angeles Religious Education Congress, Sr. Edith Prendergast, RSC, Director of the Archdiocese's Office of Religious Education, issues a clarion call to both conversion and renewal...
You can find more and pre-Congress ordering information online.
Ordering info on the Updates Page

TECH CENTER SCHEDULE
Near the center of Exhibit Hall A, under the "Computer Demonstration" hanging banner, is the Technology Center. The Tech Center highlights online services and Internet resources of interest to Congress attendees. Drop by throughout the weekend to check the schedule of demonstrations featuring 12 of our Congress Exhibitors.
The events at the Tech Center get underway Friday morning when Los Angeles Archbishop Jose Gomez conducts a private, online chat with students from St. Thomas the Apostle School in Los Angeles. And don't miss getting your free souvenir ePostcard (pictured) on Sunday! Have a photo taken of yourself or a group in a Congress 2011 frame to email home ... or to your friends! Only available Sunday at the Tech Center.
Check the schedule for Friday and Saturday appearances by:
Ave Maria Press
Catholic Teacher Resources
Gradelink
ImageTrend
LicenSingOnline.org
Little i Apps
Logos Management Software
Outside da Box
ParishSOFT
St. Camillus
St. Vincent Pallotti Center
Word on Fire
CONGRESS REMINDERS

Airport Shuttle Service
See the Prime Time Shuttle offer for Congress attendees. Book online to receive special convention discounts on transportation to and from Southern California airports or cruise ship terminal. Check online for reservations and quotes.
On-site Registration
Anyone who hasn't registered by mail by March 4 (or online by March 9) can register any of the three days of Congress. Hours are:
Thursday, March 17: 6:30 pm - 8:30 pm
Friday and Saturday: 8:00 am - 3:00 pm
Sunday: 8:00 am - noon
Location: Prefunction Lobby

Exhibit Hall
The Exhibit Hall is available ONLY to those registered for Congress. Hours at Congress are:
Friday and Saturday: 8:00 am - 5:00 pm
Sunday: 8:00 am - 3:00 pm
Location: Convention Hall A

Workshop Handouts


Some Arena and Hall B speakers have provided handouts ahead of time. Check our Updates page for the downloadable PDF handouts.
1-55: Del ministerio al misterio(*) - Rev. Domingo Rodríguez Zambrana
3-55: ¿Es mi grupo un grupo sano?(*) - Sr. Glenda Hernandez
4-53 Soy Catequista La espiritualidad de la vocación - Victor Valenzuela
5-51: La catequesis con niños pequeños(*) - Luis Benavides
6-53: Felicidad del camino(*) - José-Román Flecha Andres
8-01: Gratitude as a Spiritual Pathway - Dr. Wilkie Au
AA Meeting
Friday through Sunday (Lunchtime) – Marriott San Diego
Join with other Alcoholics Anonymous (AA) men and women to share experiences, strengths and hopes with mutual support for recovery from alcoholism. (Located in the Marriott's lower level meeting room.)
Attendees Staying at the Marriott
Self-parking rates at the Anaheim Marriott Hotel are over $20 per day. However, Congress has contracted a special $12 per day rate. Be sure to ask for the special Congress-contracted rate.
JustFaith Dinner
Jack Jezreel of JustFaith Ministries will be speaking at the JustFaith Graduate Reception and Dinner will be held Saturday, March 19, from 6:00 pm to 9:30 pm at the Anaheim Convention Center. To learn more about this event, please visit www.archdiocese.la/ojp for the registration form or call the Office of Justice and Peace JustFaith representative Tony Fadale at (310) 542-9696 or e-mail a.fadale@verizon.net.

WIN AN

IPAD AT CONGRESS
Be sure to drop in at the Office of Religious Education booth, located near the center of Exhibit Hall A. Chat with coordinators and staff from the office. Find ways to resource people more efficiently. Our brochure wall with our ministries will help you find the post-Congress events that you can participate in! Let us know how we can better serve your communities in the Archdiocese of Los Angeles with our catechetical events and trainings.

Also be sure to enter the drawing to be eligible to win an iPad! Also, drop by for information on how to get a free USB flash drive!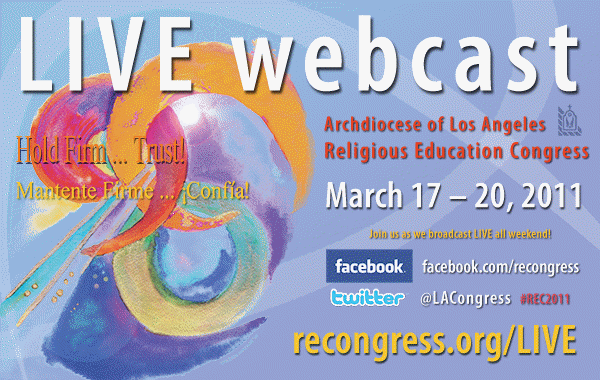 RECONGRESS LIVE!
Last year we presented the first-ever "live" webcast from Congress! And we're back this year — with even more expanded coverage. Know someone who can't make it to Congress? Invite them to experience the outpouring of grace and enthusiasm on archive.recongress.org/LIVE. We begin our live streaming from the Anaheim Convention Center Arena on Youth Day, Thursday, March 17, 2011, at 8:30 am PST.
See the RECongress.org/LIVE Schedule

BRING YOUR OLD CELL PHONE TO CONGRESS
Last year we witnessed two of the largest natural disasters in recent memory in Haiti and Pakistan. And through the generous participation of Congress 2010 attendees in our Cell Phone Recycling Initiative, we have been able to donate $1,800 to Catholic Relief Services' emergency assistance to Haiti. Again this year we are partnering with GetGreenToGetGreen.com to collect phones to benefit Haiti and Pakistan. Bring your old cell phones — working or not — with you to Congress. More than 130 million cell phones are thrown away every year. Don't throw away electronics that should be recycled. Do your part to recycle your old cell phone — and help us help Haiti and Pakistan in the process.

JUST FOR SOUTHERN CALIFORNIANS
Ralphs Grocery Company, a major supermarket chain in the Southern California area, supports schools, churches and other non-profit organizations with annual contributions. The Los Angeles Religious Education Congress is a member of Ralphs Community Contributions Program. Simply by using your Ralphs rewardss Card a portion of eligible purchases are contributed to the RECongress. (Note: This is an annual program that must be renewed each year. The current term is September 1, 2010 through August 31, 2011.)
Even if you were part of this program last year, you will need to update your account again this year. We encourage all Ralphs shoppers to sign up for the free Ralphs rewards Card and register their card with the Community Contributions Program. It's easy! Every time you shop for groceries and scan your card at Ralphs, RECongress will automatically earn up to 5% of all eligible purchases per enrolled card. Sign up now! It's never been easier to contribute to the RECongress.
Organization Name:: Archdiocese of Los Angeles - Religious Education
Address: 3424 Wilshire Blvd., 3rd Floor, Los Angeles, CA
Organization Number: 90658
Find step-by-step instructions and information online.
RECONGRESS.ORG
You can find all Congress information and updates online. We have begun to add our Exhibitors list for Congress 2011 and are constantly updating on our Congress 2011 Updates page. Check our site for updates and announcements.
EMAILING
Find this and past Congress Emailings online at our Emailings page at archive.recongress.org/Emailing
Be sure to Sign-up for the Congress Emailing List. You may opt out from this Emailing at any time from the link below.
---
Find us on Facebook at www.facebook.com/RECongress