Congress is just a week away! And the weather looks to be in the 80s for RECongress. See our last-minute information, and those new to Congress shouldn't miss Congress attendee Claude Muncey's Dozen Handy Tips for Surviving RECongress.

Our RECongress Emailings highlight some of the events going on at Congress 2011 — including added events and a spotlight on some of the speakers and musical artists coming to Congress. Be sure to check our Web site for speakers, hotel and exhibitor updates.

---

Pass along this emailing or our link — archive.recongress.org — to share with friends and encourage them to sign up for our Congress Emailing for updates. If you do not care to receive future updates, you can find removal information at the bottom of this message.

¡Para información en español, clic aquí!




DATES
The 2011 Los Angeles Religious Education Congress dates are:
• March 17, 2011 (Youth Day)
• March 18-20, 2011 (adult days)
Mark Your 2012 Calendar
Scheduled dates for Congress 2012 are:
• March 22, 2012 (Youth Day)
• March 23-25, 2012
Location
Congress is held at the Anaheim Convention Center, located at 800 West Katella Ave. in Anaheim, Calif. (just across from Disneyland and Disney's California Adventure). See a Yahoo Map
Registration
It's not too late to register. Though online registration is closed, don't mail your registration -- just bring it with you to Congress. You can register on site at the Convention Center at the Registration Booth located in the Prefunction Lobby. Hours will be on Thursday, March 17 from 6:30 p.m. to 8:30 p.m. and Friday through Sunday, beginning at 8 a.m.
YOUTH DAY NOTES
Listen to a preview of the Youth Day 2011 Theme song online at archive.recongress.org/YD. The theme song, "Everyone's Invited/Son Todos Invitados," is written by Pedro Rubalcava and made available from our friends at spiritandsong.com.
---
There are many groups looking for tickets for Youth Day 2011. If you have extra tickets please email Mike Norman or call (213) 637-7674 and we might be able to help you sell your extra tickets. We have a large waiting list of people that would really like to attend.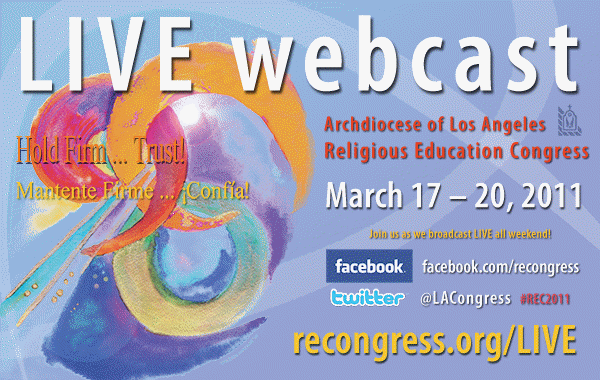 RECongress.org/LIVE
Last year we presented the first-ever "live" webcast from Congress! And we're back this year — with even more expanded coverage. Know someone who can't make it to Congress? Invite them to experience the outpouring of grace and enthusiasm on archive.recongress.org/LIVE. We begin our live streaming from the Anaheim Convention Center Arena -- this year on Thursday, March 17, 2011, for Youth Day, beginning at 8:30 am PST.
---
See some of our past moments on our YouTube/RECongress channel. Among the all the videos, you'll find:
LIVE Interview with Fr. Tony Ricard
RECongress LIVE host Alex Venegas sits down with Fr. Tony Ricard from KnightTime Ministries and Our Lady Star of the Sea in New Orleans, Louisiana, for a candid interview. Fr. Tony discusses his call to the priesthood, this "big box" called the universal Catholic Church and how, even in the midst of Hurricane Katrina, God continued to show Incredible Abundance to the people of New Orleans.
RECongress
LIVE host Alex Venegas talks with Catholic composers Donna Pena & John Angotti just after the Opening Rite & Welcome. Donna wrote the Congress 2010 theme song: "Incredible Abundance" and John wrote the Youth Day 2010 theme song: "I'm Just Sayin".

ATTENDEES FROM AROUND THE WORLD
in addition to the over 20,000 registered for Congress from throughout the United States, there are an additional 497 registered for Congress — all from foreign countries. As of March 11, we have these numbers registered:
Canada - 377
Australia - 25
England - 20
Ireland - 14
New - Zealand - 5
Pakistan - 5
Northern - Ireland - 4
Singapore - 4
Argentina - 3
France - 2
Philippines - 1

And on our Statistics page you can find our Top 1% of U.S. cities represented, the numbers registered by state, and our interactive map showing the numbers per state. And be sure to check how many are coming from your city!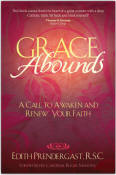 BOOK RELEASE AT CONGRESS
"Grace Abounds: A Call to Awaken and Renew Your Faith"
by Sr. Edith Prendergast, RSC with a foreword by Cardinal Roger Mahony

Sr. Edith Prendergast's new book — a collection of her Congress keynotes over the years — will be released at this year's Congress and is available through Ave Maria Press (booths 475, 477, 479, 574, 576, 578 in Hall A). The royalties form the sale of "Grace Abounds" will contribute to the Religious Education Congress Endowment Fund that supports the ongoing formation and education of lay ministers.

Sr. Edith will be signing her book at the Book Signing area in Hall A on:
Friday, March 18 at 11:30 am
Saturday, March 19 at 2:30 pm
Sunday, March 20 at 2:30 pm

See the Author Signing Schedule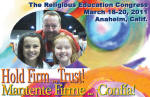 TECH CENTER SCHEDULE
The Los Angeles Religious Education Congress Technology Center highlights educational DVD and CD software, online services and Internet resources that would be of interest to our Congress attendees. The Tech Center is located near the center of Exhibit Hall A, under the "Computer Demonstration" banner. Join us throughout the weekend to see the line-up of featured exhibitors' latest online products and resources. AND SUNDAY ONLY: Drop by to get your free, personalized Congress souvenir ePostcard.
BROADCAST BOOTH AT CONGRESS
Adjacent to the Office of Religious Education booth will be our Broadcast Booth. Get in on the action as we interview presenters, artists, exhibitors and more, all from the floor of Exhibit Hall A! LIVE coverage begins on Thursday morning and continues throughout the entire weekend. Check our schedule at archive.recongress.org/LIVE!
Go to archive.recongress.org/LIVE

WIN AN IPAD AT CONGRESS
The first 200 people to visit the Office of Religious Education will receive a free thumb drive, courtesy of Guadalupe Radio. Booth visitors will also have an opportunity to win an iPad, iPod or Nano! These are the first, second, and third prizes for a drawing at the ORE booth (#430). Just drop by and register to receive information from our office (EVEN if you already receive the information). Just come by the booth in the middle of the exhibit hall. And don't just come by for the raffle, please stop to see us and hang out in our fun and relaxing area. The winner will be contacted and announced on our Facebook page, our Twitter feed and in our Congress Emailing!

RECONGRESS REMINDERS
CONGRESS TICKETS
Didn't receive your Congress tickets in the mail? We have had quite a few tickets returned to us in the mail (wrong address, wrong ZIP Code, etc.). Check

our Will Call window at the Registration area at Congress. Ticket Pick-Up is available on site at the Convention Center at the Registration Booth located in the Prefunction Lobby. Hours will be on Thursday, March 17 from 6:30 p.m. to 8:30 p.m. and any day of Congress beginning at 8 a.m.
PROGRAM BOOK AVAILABLE ONLINE -
link
Take a "sneak peek" at the Congress Program Book -- the one given away at Congressare available in PDF as soon as they are available. So there is a week or two of "Sneak Peeks" of the Program book before Congress.
CONVENTION CENTER PARKING
Day parking is available in the Convention Center parking structures at the rate of $12 per day, with no in-and-out privileges.
AIRPORT SHUTTLE - link
Prime Time Shuttle is offering Congress attendees special online convention discounts for transportation to and from Southern California airport or cruise ship terminals.
UNWIND AT CONGRESS
Hall A Prefuntion Area
Friday and Saturday – 10 am - 4:30 pm
Sunday – 10 am - 2:30 pm
Renew your spirit and take a break from the bustle of Congress with a chair massages that relieves tension and relaxes the mind. The cost is $1 per minute.
A.A. MEETINGS
Friday through Sunday (lunchtime) – Marriott San Diego room
Join with other Alcoholics Anonymous (A.A.) men and women to share experiences, strengths and hopes with mutual support for recovery from alcoholism. (The meeting room is location in the Marriott's lower level.)
SPEAKER HANDOUTS ONLINE - link
Some of the Arena and Hall B speakers have provided handouts for their workshops. This option is for speakers assigned to the biggest rooms where the capacity is too large to provide everyone handouts. There is a link to the following handouts on our Speakers Page:
1-55: Del ministerio al misterio(*) - Rev. Domingo Rodríguez Zambrana
3-55: ¿Es mi grupo un grupo sano?(*) - Sr. Glenda Hernandez
5-51: La catequesis con niños pequeños(*) - Luis Benavides
6-53: Felicidad del camino(*) - José-Román Flecha Andres
8-01: Gratitude as a Spiritual Pathway - Dr. Wilkie Au
"SHOW YOUR BADGE" DISCOUNTS - link
Use your Congress badge for the "Show Your Badge & Save" program for special promotional offers and discounts available exclusively for Congress attendees at participating restaurants, retailers and attractions. Find online restaurant listings and dining reservations as well as discounted Disneyland tickets.
GARDENWALK INFORMATION - link
The Anaheim GardenWalk offers additional shopping opportunites, restaurants, a bowling lounge and movie theaters just a block away from the Convention Center (321 W. Katella Avenue, phone 714.635.7410).
JUSTFAITH DINNER
Jack Jezreel of JustFaith Ministries will be speaking at the JustFaith Graduate Reception and Dinner will be held Saturday, March 19 from 6 to 9:30 p.m. at the Anaheim Convention Center. To learn more about this event, please visit www.archdiocese.la/ojp for the registration form or call the Office of Justice and Peace JustFaith representative Tony Fadale at 310-542-9696 or e-mail a.fadale@verizon.net.
TIPS TO SURVIVE CONGRESS!
If you're not already familiar with it, the RECongress is the largest annual gathering of Catholics in North America. It is held at the Anaheim Convention Center across the street from Disneyland. Thursday is Youth Day, which attracts around 15,000 high schoolers, and Friday through Sunday is the Congress itself which is attended by anywhere from 15,000 to 20,000 teachers, catechists, musicians and other Catholics in ministry from all over the country. There are dozens of conference sessions each day with Masses and other events in the evenings. Here are a few of the dozen handy tips for surviving the Religious Education Congress.
— Dress for comfort
— Take your entire registration packet
— Bring a pack to carry
— Lose the car
— Shop early
— Plan ahead
— Chill out
Find all the Tips and their descriptions on our web site.

REMEMBER YOUR (OLD) CELL PHONES!
Last year we witnessed two of the largest natural disasters in recent memory in Haiti and Pakistan. And through the generous participation of Congress 2010 attendees in our Cell Phone Recycling Initiative, we have been able to donate $1,800 to Catholic Relief Services' emergency assistance to Haiti. Again this year we are partnering with GetGreenToGetGreen.com to collect phones to benefit Haiti and Pakistan. Bring your old cell phones — working or not — with you to Congress. More than 130 million cell phones are thrown away every year. Don't throw away electronics that should be recycled. Do your part to recycle your old cell phone — and help us help Haiti and Pakistan in the process.

JUST FOR SOUTHERN CALIFORNIANS
Ralphs Grocery Company, a major supermarket chain in the Southern California area, supports schools, churches and other non-profit organizations with annual contributions. The Los Angeles Religious Education Congress is a member of Ralphs Community Contributions Program. Simply by using your Ralphs rewards Card a portion of eligible purchases are contributed to the RECongress. (Note: This is an annual program that must be renewed each year. The current term is September 1, 2010 through August 31, 2011.)
Even if you were part of this program last year, you will need to update your account again this year. We encourage all Ralphs shoppers to sign up for the free Ralphs rewards Card and register their card with the Community Contributions Program. It's easy! Every time you shop for groceries and scan your card at Ralphs, RECongress will automatically earn up to 5% of all eligible purchases per enrolled card. Sign up now! It's never been easier to contribute to the RECongress.
Organization Name: Archdiocese of Los Angeles - Religious Education
Address: 3424 Wilshire Blvd., 3rd Floor, Los Angeles, CA
Organization Number: 90658
Find step-by-step instructions and information online.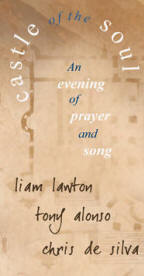 POST-CONGRESS CONCERT
St. Teresa of Avila wrote that our soul is like a castle created out of a precious jewel with many interesting rooms. At Congress Liam Lawton, Tony Alonso and Chris de Silva will present the "Contemplative Prayer Experience: Castle of the Soul" (Session 5-02), and "Exploring Castle of the Soul" (Session 7-03). Join them after Congress for Castle of the Soul: an evening of prayer and song, at St. Brendan Church, 310 S Van Ness Ave, Los Angeles, CA 90020, (323) 936-4656. Admission is $10.

This evening of prayer and song is an exploration of contemplative life in a contemporary setting. It seeks to help us find a quiet place, in the midst of our busy life, where God can make a home in us.
Read the Tips to Survive Congress
RECONGRESS.ORG
You can find all Congress information and updates online. We have begun to add our Exhibitors list for Congress 2011 and are constantly updating on our Congress 2011 Updates page. Check our site for updates and announcements.
EMAILING
Find this and past Congress Emailings online at our Emailings page at archive.recongress.org/Emailing
Be sure to Sign-up for the Congress Emailing List. You may opt out from this Emailing at any time from the link below.
---
Find us on Facebook at www.facebook.com/RECongress