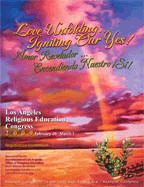 If you didn't attend this past Congress, be sure to order your Congress 2009 Registration
Guidebook here
---
Online registration for RECongress is now available!

Remember! The first 5,000 Congress registrants are "guaranteed" their first choices. Be among the first to register. And you can do that now ... online with a credit card! Start planning and
Register for RECongress 2009
.
Pass along this emailing or our link --
archive.recongress.org
-- to share with friends and encourage them to sign up for our Congress Emailing for updates. If you do not care to receive future updates, you can find removal information at the bottom of this message.
---
Though the Registration Guidebook for Congress 2009 won't be mailed until the end of October, you don't have to wait!
You can get a look at the Guidebook now! The 2009
Guidebook
is available online in PDF form and as web pages with workshops listings for all eight periods -- both in English and Spanish. Find the
Congress 2009 Workshops & Links
online.
DATES
The 2009 Los Angeles Religious Education Congress dates are:
• February 26, 2009 (Youth Day)
• February 27 - March 1, 2009 (Congress days)
LOCATION
Congress is held at the Anaheim Convention Center, located at 800 West Katella Ave. in Anaheim, Calif. (just across from Disneyland and Disney's California Adventure).
See a Yahoo Map

FEE
The registration fee for Congress is $60. ($70 after January 5, 2009 deadline.)
2 WAYS TO REGISTER

ONLINE:
• First, pick your sessions -- You may either Download the Registration Guidebook (in
sections or the complete Guidebook in PDF form) or check each period's listings on our
web site (Congress 2009 Workshops & Links) to see workshop offerings for those you
would like to attend.
• Find your interests -- You can also find a listing of speakers/topics/titles/languages
on our 2009 Topics page.
• Plan out a first and second choices -- Choose a first and a second choice (in case of a
full or canceled workshop) for each period you wish to attend
• You can use our new Workshop Planner (PDF: 2 pgs., 115k)
• Register -- When ready, click the red "Register" button off our home page or go
directly to archive.recongress.org/register.htm to register by credit card.

BY MAIL:
• Order your Guidebook -- If you're new to Congress, order a copy of the Registration
Guidebook. The Guidebook provides information about Congress as well as all workshop
descriptions and two Registration Forms. (NOTE: Those who registered last year will
automatically receive their Guidebook in early November.)
• Choose your sessions -- Use the daily events pages and workshops descriptions to
select a first and second workshop choice (in case of a full or canceled workshop) for
each of the eight periods you wish to attend.
• Fill out the Registration Form -- The Registration Form is on the inside back cover
of the Guidebook. Mail it in along with payment ($60 per person before January 5,
2009).
All tickets will be mailed after February 5, 2009.

Registration for Youth Day -- February 26, 2009 -- is a separate process. Youth Day is geared specifically for those in the 9th-12th grades. One adult Chaperone is required for each group of 10 students (maximum), all attending the same workshop. There also needs to be one extra Chaperone for all your groups and we suggest that you add the additional name to your first group registered.
The registration fee for Youth Day 2009 is $20 per person ($25 per person after January 5, 2009).
Most of our Congress delegates stay in the surrounding area hotels. We have contracted with certain hotels for Congress 2009 that will offer special rates for attendees. We suggest making hotel reservations as soon as possible. A few hotels have already sold out of their Congress rates (though they might have rooms available at higher rates). When making reservations, you must ask for the Religious Education Congress rate.
You can find the updated listing of contracted hotels at
archive.recongress.org/hotels
This year the Los Angeles Religious Education Congress offers:
-- 282 Congress Workshops
-- 220 English Workshops
-- 52 Spanish Workshops
-- 8 Vietnamese Workshops
-- 2 Korean Workshops (on Friday)
-- 24 Youth Day Workshops
On Sunday, David Wells will present the English Address -- "Smoke Signals of Hope in Burnt-out People" -- and Fr. Antonio Ginel Viela will present the Spanish Address -- "Te mostraré una tierra y seré tucompañero, tu futuro."

You can find a complete and updated listing of speakers for RECongress 2009 online at archive.recongress.org/2009/speakers.htm


Attention Ralphs shoppers! Ralphs, a major supermarket chain in the Southern California area, has a program to help support non-profit organizations with annual contributions. The Los Angeles Religious Education Congress is now a member of Ralphs Community Contributions Program. Simply by using an enrolled Ralphs rewards Card, a portion of eligible purchases are contributed to the RECongress. (The new card replaces the previous Ralphs Club Card.)

We encourage all Ralphs shoppers to sign up for a Ralphs rewards Card -- it's free to join! Once you've registered your card with the Community Contributions Program, every time you shop for groceries and swipe your card at Ralphs, RECongress will automatically earn up to 5% of all eligible purchases per enrolled card. The current term runs from September 1, 2008 until August 2009.
You can find information
Ralphs rewards Card
and how to register your card online at
archive.recongress.org/ralphs
.
Check out some of the new events for Congress 2009:

SPOTLIGHT
-- See our online
RECongress Spotlight
of events planned for this year, ranging from Thursday's Youth Day to Friday's Catholic Filmmakers' Showcase, from Sacred Space to Sacred Illuminations.
WORKSHOP PLANNER
-- Help plan your Congress workshops with our new
Workshop Planner
(PDF: 2 pgs., 115k). It will help you sort your first, second and third choices, and print it out for a record or your choices.
OUTDOOR STAGE --
In addition to the main stages of the Arena and Hall B, there will be an new Outdoor Stage, located on the northeast side of the Convention Center. The first of the schedule entertainment has been announced:
Friday, February 27 -- 11:45 am - 12:30 pm
Vietnamese Folk Dance Troupe/Lasallian Youth with Bro. Fortunat Phong
You can find updated information on our web site --
archive.recongress.org
-- and specific updates about this year's Congress on our
Congress 2009 Updates
page.
Keep checking our web site for updated information -- and some special
offers that are only available online at
archive.recongress.org
.
Watch for coming information on:
• Special ticket pricing for Disneyland Theme Parks
• Anaheim/Orange County information and maps
• Information about the new Anaheim GardenWalk
• "Show Your Badge & Save" program for special discount offers.
These will be announced in our November Emailing and online at
http://archive.recongress.org.