NOTE: SITE UNAVAILABLE
Our RECongress web site server was down unexpectedly for several hours on Sunday. We apologize for any inconvenience in reaching the site or in registering online.

In this Emailing



Congress registration fees set to increase!

A reminder if you haven't yet registered for Youth Day or Congress: Fees increase January 5, 2009. With the Christmas holidays fast approaching, don't put off your Congress registration. Also, the first 5,000 Congress registrants are "guaranteed" their first choices. Start planning now and
Register for RECongress 2009
.
Pass along this emailing or our link --
archive.recongress.org
-- to share with friends and encourage them to sign up for our Congress Emailing for updates. If you do not care to receive future updates, you can find removal information at the bottom of this message.
---
DATES
The 2009 Los Angeles Religious Education Congress dates are:
• February 26, 2009 (Youth Day)
• February 27 - March 1, 2009 (Congress days)

LOCATION
Congress is held at the Anaheim Convention Center, located at 800 West Katella Ave. in Anaheim, Calif. (just across from Disneyland and Disney California Adventure).
FEE
The registration fee for Congress 2009 is $60. ($70 after January 5, 2009 deadline.)
The Youth Day registration fee is $20 per person ($25 per person after January 5, 2009). NOTE: That Youth Day fills by the Youth Day Registration Deadline, February 1, 2009, and often fills by the date of the price increase.
Have you registered for Congress yet?
Don't put off too long registering for Congress. Remember that registration rates increase January 5, 2009. Also, those who register soon can be "guaranteed" first choices. Our Congress registration system collects the first 5,000-plus registrations before assigning workshop choices. It actually projects workshop attendance, and only then are speakers assigned to rooms. Meaning, the most popular workshops are assigned to the largest rooms -- which €śguarantees" you will get your first choices.
We're approaching our €śmagic" number of 5,000 registrations, so make sure you register soon -- to €śguarantee" your first choices. Registration for Youth Day and online registration for Congress is available at
archive.recongress.org/register.htm
Youth Day 2009 is Thursday, February 26, 2009. Registration for Youth Day is separate from the adult Congress days. It is specifically geared for those in the 9th-12th grades. The theme for the day is "Step Up to Life." Registration for Youth Day is $20 per person ($25 per person after January 5, 2009).
You can find information, download forms and read about the Youth Day theme at
archive.recongress.org/YD
. NOTE: Youth Day registration closes before the Youth Day registration deadline of February 1, 2009, and usually reaches capacity by mid-January, around the time of the price increase (January 5th).
YOUTH WANTED!
Know a youth who might like to be an MC at Youth Day? Know someone who loves to sing or play an instrument? We are looking for Emcees to introduce speakers for Youth Day and also musicians to sing and play for the Arena Liturgy.
To be MC or musician at Youth Day 2009 you must:
• Be a high school youth (grade 9-12)
• Be willing to make all required rehearsals
• Be willing to take full part in Youth Day 2009
• Be registered with your parish or school for Youth Day!

For more information and to download the registration forms go to our
Youth Day
page.
(The Youth Day Choir deadline is January 5, and the Youth Day MCs deadline is January 9.)
Have your booked your hotel room?
We have contracted with 34 properties around the Anaheim Convention Center area for special pricing for Congress attendees. However, some hotels have already sold out of these Congress blocks. Be sure to ask for the
Religious Education Congress rate
when you book with one of these properties. Note: Once the block has been sold out, there may still be rooms available, but at higher rates. Be sure to make your hotel reservations soon, as some block rates are only guaranteed until January.
You can find the updated listing of contracted hotels at
archive.recongress.org/hotels
Over 200 Exhibitors are set for Congress 2009. This year, Congress will feature 227 exhibitors, ranging from religious art to music, and from publishing houses to educational institutions, in addition to our own represented Archdiocesan ministries.
We are currently updating the list of Exhibitors for Congress 2009. Find the listing of those who have completed their Program Book information on our
2009 Exhibitor page
.
Listen to Congress ... now! Our Congress web site is annually adding to its audio selections and Podcasts about the Religious Education Congress, including opening welcomes from Sr. Edith Prendergast, Director of the Office of Religious Education.
You can find these at
archive.recongress.org/podcasts
A majority of the Congress workshops have been recorded over the years. You can find links to available audio CDs and cassettes from past years at
archive.recongress.org/tapes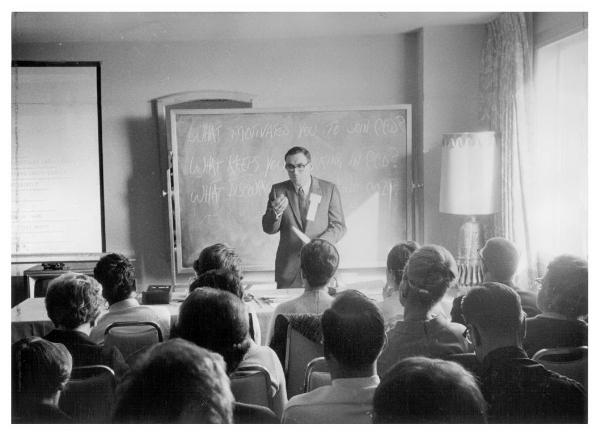 The Congress event has transformed over the years.
What we know today as the Religious Education Congress, first began in 1956 as an "Institute" of the Congregation of Christian Doctrine -- popularly known as CCD. The two-day event was held at Mount Carmel High School on Hoover Street in Los Angeles (which closed in 1976), with about 500 teachers and catechists in attendance.

In 1967, with the cooperation of the Diocese of Monterey-Fresno and the Diocese of San Diego, a three-day €śCongress" was instituted. That first "Southern California Confraternity Congress" was held at the LAX-area International Hotel on January 13-15, 1967.
(Photo: Congress 1969 outgrew the regular meeting spaces of the International Hotel and some workshops were actually held in hotel rooms. Beds and TV sets were moved aside to make room for speakers and catechists. Note the hotel room remnants -- the lamp on the right and the mirror behind the chalkboard!)

A decade later, in the 1970s, with the renaming of the CCD Office to the Office for Religious Education, the event became the €śReligious Education Congress."

Need to print out a flyer about Congress?
You can find a resource of information about Congress 2009 with letter-sized flyers, ads and bulletin announcements that can be printed and posted -- available online at
archive.recongress.org/2009/press.htm
.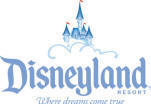 A special offer for Congress attendees.
Only on
archive.recongress.org
can you find a link for specially priced tickets to Disneyland and Disney California Adventure. There is special ticket pricing on evening passes and on single- and multi-day passes for both Disneyland Resort parks.
Look for the Disney castle logo found toward the bottom of our home page at
archive.recongress.org
. Note: These tickets are only available for sale until February 25, 2009.