RECongress 2019 Speakers Announced
Our planning is fully underway for the 2019 Los Angeles Religious Education Congress. And some new changes are coming for Youth Day 2019, on Thursday, March 21. We will be highlighting some of these changes in our coming RECongress Emailings. And for those traveling to Anaheim for the weekend, we have negotiated special rates with some of the local hotels. See our tips for making your stay the best possible.

Watch for our coming RECongress Emailings on announcements of our Youth Day and the adult days. There is separate registration and pricing for each. The regular registration pricing for Youth is $40 (with special discount pricing of $35 extended through February 28, 2019). The registration pricing for the adult days of RECongress is $85 (special discount pricing of $75 extended through February 28, 2019).
And keep an eye on our site — archive.recongress.org — for coming information about RECongress 2019.
---
Pass along this emailing or our link — archive.recongress.org — to share with friends, and encourage them to sign up for the Emailings to receive the latest information about RECongress 2019. If you do not care to receive future updates, you can find removal information at the bottom of this message.
Youth Day 2019 Logo Revealed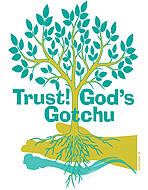 The logo for Youth Day 2019 (Thursday, March 21) has been revealed. Based on this year's theme, "Trust! God's Gotchu," artist Valerie MacRae developed a work based on the theme reflection:
In modern jargon when someone says "I gotchu" it means that they have you covered and that you can lean on them for support. Trust! God's Gotchu offers a message of comfort and hope to young people attending the day. It is a reminder that when we persevere in faithfulness, we will be rewarded. Whatever you are experiencing, whatever struggle or burden -- Trust! God's Gotchu.
See themes from RECongress here »
Youth Day: Changes to Workshops
We have some new changes coming for Youth Day 2019, held Thursday, March 21, and we are highlighting these changes in our coming RECongress Emailings.
As with our established Youth Day schedule, each participant will experience two workshops at Youth Day. These workshops will be presented on a variety of topics by nationally acclaimed experts in the field of Youth Ministry. Workshop rooms will be arranged with theater seating (traditional), round tables or with an open floor plan to allow for greater engagement.

NOTE: Workshops no longer need to be selected at the time of registration. Instead, groups will be able to select workshops on site at Youth Day. This will allow young people the freedom to select workshops and speakers that best suit their needs and interests. Providing that young people are chaperoned at all times, larger groups are welcome to split their group into smaller groups that attend different workshops.
See registration info about Youth Day here »
Speaker Spotlight: Maria Morera Johnson
Over the three days, RECongress 2019 will offer 278 workshops presented by 186 speakers. Topics range from personal growth to music to spiritual topics — in English, Spanish and Vietnamese. Each Emailing we will spotlight one of our speakers:
Super Girls and Halos: In Search of Our Own Heroic Virtue
As we search for role models that resonate with our faith, popular culture provides us with the "seeds of the Gospel." Turning to the saints, we see how grace works in them, and us, to inspire us to achieve our own heroic virtue.


Maria Morera Johnson is an award-winning Catholic author whose books include "Our Lady of Charity: How a Cuban Devotion to Mary Helped Me Grow in Faith and Love," "Super Girls and Halos: My Companions on the Quest for Truth, Justice, and Heroic Virtue" and "My Badass Book of Saints: Courageous Women Who Showed Me How to Live." Morera taught in high schools and colleges before setting out in 2008 speaking at Catholic conferences and leading retreats.
Spotlight: The ACC North Building
RECongress was among the first events to use the new "ACC North" building last year. This year, ACC North and the Arena will house ALL of our Youth Day events. Note that Hall B events have been moved to the ACC North Hall (upper level). RECongress adult days will also be using the building for workshops. Note that there are two floors -- ACC North rooms 151-163 are located on the lower level and ACC North rooms 251-258 are located on the upper level.
See other RECongress Spotlights here »
Liturgy Spotlight: The Cross and Suffering Mass
Within the Catholic Archdiocese of Los Angeles, liturgy is celebrated every Sunday in no fewer than 40 different languages. We have worked diligently to inculturate the liturgies at Congress to accurately and authentically reflect the church of Los Angeles.

Friday, March 22, 2019 • 5:15 pm
The Cross and Suffering In Today's World in the Franciscan Tradition
Daniel P. Horan, OFM, presider
Music by Brother Rufino Zaragoza, OFM

Rev. Daniel P. Horan, OFM, a Franciscan friar is a theologian and columnist at America magazine, has lectured across North America and Europe. He teaches theology and spirituality at the Catholic Theological Union in Chicago; he previously taught at Boston College as well as at Siena College and St. Bonaventure University, both in New York. Fr. Horan is author of numerous academic and popular articles.
Anaheim Hotel Tips

With you in mind, the Religious Education Congress has contracted with certain hotels in the area of the Convention Center that offer a variety of pricing and room types that should meet everyone's needs. Please pay special attention to the amenities offered — some properties offer free breakfast options and several hotels offer suites that can house up to 6 people — which can add even greater value to your stay. We look forward to your presence with us at the Religious Education Congress 2019.
Just for Southern Californians
Local shoppers can easily support the Religious Education Congress just by shopping at Ralphs and Food4Less grocery stores. When you link your Rewards card in the Community Contributions program, a portion of eligible purchases are contributed to the RECongress. Sign up online (instructions below) or by calling (800) 443-4438. Each September begins a new term. Even if you have been a part of the program before, you must re-register in this new term.

If you already have a registered Rewards card (This means that you have already entered your email address and assigned yourself a password):
1. Log in to www.ralphs.com
2. Click Sign In
3. Enter your email address and password
4. Select My Account under Welcome, Valued Customer
5. Click on Community Rewards on the left
6. In the Search box, type "KV939" or "Archdiocese of Los Angeles - Religious Education"
7. Remember to click on the circle next to the name
8. Click on Enroll to finish your enrollment process.
Find step-by-step instructions and information online.
Looking Back 40 Years ... at 1979

From the 1979 Program book:
GENERAL ASSEMBLIES
Saturday, February 3, 8:00 a.m.
Music: Ken Canedo and Friends, St. John's Seminary
Speaker: Dr. John Westerhoff
"THE EDUCATIONAL CHALLENGE OF ADOPTION"
M.C.: Rev. Timothy German, Dept. of Religious Education, Diocese of Orange

Saturday, February 3, 7:30 p.m.
Music: The Dameans
Speaker: Dr. James Dobson
"THE CHRISTIAN FAMILY, ITS FRIENDS AND FOES"
M.C.: Sr. Jane Lewis, S.N.J.M., Education Department, Archdiocese of Los Angeles
A Snap from ... 1989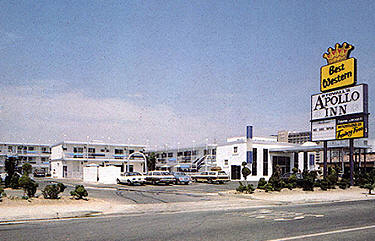 The Apollo Inn was one of the hotels offered for the 1989 Religious Education Congress. Located at 1741 S. West Street in Anaheim, it advertised: "Down to earth rates. On behalf of the Al Stovall family, we take great pride in presenting the Apollo Inn for your comfort and luxury. The inn offers the finest accommodations available with all the convenience of the Space Age."
Our Web Site — RECongress.org
You can find all RECongress information and updates online. Our upcoming Emailings will feature some Congress Spotlights, and we will be adding our speaker and hotel information online. Check our site for updates and announcements.
RECongress Emailing
Be sure to sign-up for our twice-a-month Emailings about the latest updates and information about the Religious Education Congress. You may opt out from our Congress Emailing at any time from the "Manage Your Subscription" link below.

Find past Emailings at archive.recongress.org/emailing.htm
© 2019 Los Angeles Religious Education Congress
RECongress 2019

RECongress Dates
March 21 (Youth Day) &
March 22-24 (adult days)
Location
Anaheim Convention Center
800 West Katella Ave.
Anaheim, Calif. 92802
(just south of Disneyland and Disney California Adventure).
See a Yahoo Map »
Registration
The key to registration is the Registration Guidebook. If you attended RECongress 2019, you will automatically be mailed a Guidebook (around October).
Order a Guidebook »
RECongress Milestones
1956 - first two-day CCD Institute (500 teachers in attendance)

1967 - first three-day "Southern California Confraternity Congress" (7,000 in attendance)

1970 - CCD Congress moves from Los Angeles to Anaheim Convention Center

1973 - first "Religious Education Congress" as CCD office is renamed to Office of Religious Education
See the REC Milestones »