New Youth Day Format at RECongress 2019

Our planning is fully underway for the 2019 Los Angeles Religious Education Congress. And some new changes are coming for Youth Day 2019, on Thursday, March 21. We will be highlighting some of these changes in our coming RECongress Emailings. And for those traveling to Anaheim for the weekend, we have negotiated special rates with some of the local hotels. See our tips for making your stay the best possible.

Watch for our coming RECongress Emailings on announcements of our Youth Day and the adult days. There is separate registration and pricing for each. The regular registration pricing for Youth is $40 (with special discount pricing of $35 extended through February 28, 2019). The registration pricing for the adult days of RECongress is $85 (special discount pricing of $75 extended through February 28, 2019).
And keep an eye on our site — archive.recongress.org — for coming information about RECongress 2019.
---
Pass along this emailing or our link — archive.recongress.org — to share with friends, and encourage them to sign up for the Emailings to receive the latest information about RECongress 2019. If you do not care to receive future updates, you can find removal information at the bottom of this message.
Youth Day: What's New This Year?
This year when registering for Youth Day, groups will be asked to provide basic contact information for their group: parish/school name, group leader contact information, and the names of the Chaperones. Groups will also need to select their preferred Track.

This year, groups will NOT be asked to submit the names of young people. Instead, they will simply purchase a number of youth badges. In keeping with our policy of having 1 adult for every 10 young people, groups will be able to purchase up to 10 youth badges for every Chaperone name they enter. This means a group that has 4 Chaperones will be eligible to purchase up to 40 youth badges. A group with 6 chaperones will be eligible to purchase up to 60 youth badges. Please keep in mind that two Chaperones will be required for the first group of 10 young people..
Find nfo about Youth Day 2019 here »
RECongress Spotlight: ORE Booth
Friday through Sunday – Hall A
Office of Religious Education annually has a Staff Booth located near the center of Exhibit Hall A. Meet the staff members who organize RECongress and serve the catechetical needs throughout the Los Angeles Archdiocese. You are welcome to come with your questions about how to enrich your catechetical programs. There are even scheduled times with the auxiliary bishops of Los Angeles and ORE staff members.
Liturgy Spotlight: Black Perspective Mass

Honoring Our Ancestors in Faith in the Black Perspective
Saturday, March 23, 2019 • 5:15 pm
Bishop Fernand Joseph Cheri III, O.F.M., presider

New Orleans native Bishop Fernand Cheri was originally ordained a priest for the Archdiocese of New Orleans, La. He later joined the Order of Friars Minor and served at several parishes, high schools and two universities. In 2015 he was ordained as Auxiliary Bishop of New Orleans. He is the Episcopal Moderator for the Catholic Campus Ministry Association; the Episcopal Liaison for the Black & Indian Mission Office African American Newsletter; and the convener of the African American Bishops.
Anaheim Hotel Tips

With you in mind, the Religious Education Congress has contracted with certain hotels in the Convention Center area that offer a variety of pricing and room types which should meet everyone's needs. Please pay special attention to the amenities offered — some properties offer free breakfast options and several hotels offer suites that can house up to 6 people — that can add even greater value to your stay. We look forward to your presence with us at the Religious Education Congress 2019.
Find the list of contracted hotels here »
Just for Southern Californians
Local shoppers can easily support the Religious Education Congress just by shopping at Ralphs and Food4Less grocery stores. When you link your Rewards card in the Community Contributions program, a portion of eligible purchases are contributed to the RECongress. Sign up online (instructions below) or by calling (800) 443-4438. Each September begins a new term. Even if you have been a part of the program before, you must re-register in this new term.

If you already have a registered Rewards card (This means that you have already entered your email address and assigned yourself a password):
1. Log in to www.ralphs.com
2. Click Sign In
3. Enter your email address and password
4. Select My Account under Welcome, Valued Customer
5. Click on Community Rewards on the left
6. In the Search box, type "KV939" or "Archdiocese of Los Angeles - Religious Education"
7. Remember to click on the circle next to the name
8. Click on Enroll to finish your enrollment process.
Find step-by-step instructions and information online.
Looking Back 50 Years ... at 1969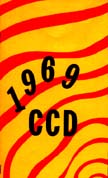 From the 1969 Program book:
THE STAFF OF THE CONFRATERNITY OFFICE GREETS YOU ...
A hearty welcome to our magnificent people, from the staff of the Confraternity office. At this time of our annual gathering, it may be well to set a time for reflection on the nature of Confraternity work.

There are many disturbing elements in the field of catechetics today, and consequently many complaints. One should not assume that these complaints are new in the life of the Church. For history will tell us — and particularly Church history — that the path of the true believer is journeyed with many difficulties and obstacles. One has only to read the epistles of St. Paul, and the epistles of St. Peter and St. James, to note the many warnings against those who would indulge in merely the expression of human wisdom to the
detriment of the divine Message of salvation.

The objective, then, of the Confraternity teacher, is a devotion to, and emphasis on, the essentials of Christian doctrine, with the fond hope that through grace and further study the child will grow in wisdom and grace, even as he grows in age. From the standpoint of
a complete religious education, we do but little, but let us do that little well.

A Snap from ... 1989
From the 1989 Religious Education Congress Program book:
General Assembly - Friday, April 21, 1989, 8:00 p.m.
Music: Steve Croskey & Vision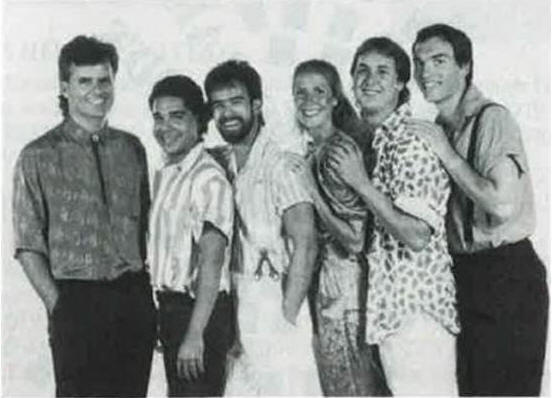 From left: Steve Croskey, Jaime Cortez, Edward "Eddie" Cook, Julie Barrett Smith, David Burba, and Tim Smith.
Steve Croskey and VISION, a contemporary music Christian group, from Phoenix, Arizona, may be a familiar name for Southern Californians. Steve, originally from Los Angeles, moved to Phoenix six years ago to take a position as a parish Youth Minister.
Steve is currently the Associate Director of Young Adults and Campus Ministry for the Diocese of Phoenix. Steve and his group VISION are also familiar to us for their performance during the Papal Space Bridge at the Universal Amphitheater and at last year's Youth Day at Anaheim.
Our Web Site — RECongress.org
You can find all RECongress information and updates online. Our upcoming Emailings will feature some Congress Spotlights, and we will be adding our speaker and hotel information online. Check our site for updates and announcements.
RECongress Emailing
Be sure to sign-up for our twice-a-month Emailings about the latest updates and information about the Religious Education Congress. You may opt out from our Congress Emailing at any time from the "Manage Your Subscription" link below.

Find past Emailings at archive.recongress.org/emailing.htm
© 2019 Los Angeles Religious Education Congress
RECongress 2019

RECongress Dates
March 21 (Youth Day) &
March 22-24 (adult days)
Location
Anaheim Convention Center
800 West Katella Ave.
Anaheim, Calif. 92802
(just south of Disneyland and Disney California Adventure).
See a Yahoo Map »
Registration
The key to registration is the Registration Guidebook. If you attended RECongress 2019, you will automatically be mailed a Guidebook (around October).
Order a Guidebook »
RECongress Milestones
1956 - first two-day CCD Institute (500 teachers in attendance)

1967 - first three-day "Southern California Confraternity Congress" (7,000 in attendance)

1970 - CCD Congress moves from Los Angeles to Anaheim Convention Center

1973 - first "Religious Education Congress" as CCD office is renamed to Office of Religious Education
See the REC Milestones »