RECongress 2013
Feb. 21 (Youth Day) & Feb. 22-24, 2013

2013 Theme
"Enter the Mystery" /
"Entra al Misterio"

FUTURE DATES
RECongress 2014
March 13 (Youth Day) & March 14-16, 2014


Online at archive.recongress.org


Email us at
congress
@la-archdiocese.org


Featured Exhibitor




For those who attended Congress and haven't submitted your survey yet, please take a few minutes and complete our online evaluation. Use the QR code or go to the survey at archive.recongress.org/survey. There is a great deal of thought and effort that has gone into planning the RECongress, and we'd like to know how effective our efforts have been.

For those who filled out the paper version of the form: If possible, we ask that you also please take the online survey. We can tally our information much sooner using the online method. We'd like to hear from you, especially if you rate any event as "excellent" or "poor." Please let us know the reasons for your evaluation at the end of the survey in the comments section. NOTE: Please complete the survey by Friday, March 15.

Pass along this emailing or our link — archive.recongress.org — to share with friends and encourage them to sign up for our Congress Emailing for the latest information and updates. If you do not care to receive future updates, you can find removal information at the bottom of this message.

¡Para información en español, clic aquí!




RECONGRESS.ORG/LIVE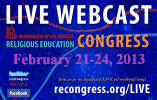 RECongress.org/LIVE broadcast nearly 40 hours of events held in the Arena at Congress. If you didn't get a chance to watch the sessions live, you can still watch as we begin to post sessions on our www.YouTube.com/RECongress page. There is a link off our RECongress/live page.
Go to our RECongress/LIVE! page
CONGRESS STATISTICS
See who came to Congress! This year at Congress 2009, we had registrants representing nearly every state in the nation. You can find details on number of registrations by state and country, as well as the top cities in California. Also, see the number of people who came from YOUR city! (We will be updating totals as our on-site information is tabulated.)

PRE-REGISTRANTS
YOUTH DAY
Youth Day Chaperones - 2,772
Youth Day Youths - 11,958
Youth Day Pre-Registrations - 14,730
ADULT DAYS
Adult Pre-Registrations - 19,492
Total Pre-Registered - 34,222
See the RECongress 2013 Statistics page
CONGRESS LIVES ON!
The days of Congress 2013 may have passed, yet Congress lives on! Relive some of the Congress "magic" with our photos and videos from Congress online at archive.recongress.org. And check back regularly to see if "you're in the picture!" as we continue to add new photos.
See the Congress 2013 Photos page
LOST AND FOUND
Feel like you left something at Congress ... literally?! Every year after our Religious Education Congress event there are a great many unclaimed items that end up in our Lost and Found. We have several pairs of eye glasses, note books, keys, travel mugs and much more! Please contact us and let us know what you are missing, and we'll see if it's among our Lost and Found items.
AUDIO RECORDINGS
If you are still thinking about that Congress session you missed or wish you could have shared a talk with a friend, it's not too late! There were 251 Congress workshops recorded by CSC Digital Media that are available on Audio CDs — and soon, as downloadable MP3s. The order form in is the Program Book (page 25) or online at archive.recongress.org/recordings. Also, from that page you can order cassettes and Audio CDs from past years as well.
See the Congress Recordings page
EMAILINGS
We only have two more emails scheduled for Congress 2013. Sign up now and watch for our RECongress 2014 Emailings beginning in August 2013.