Congress 2011 March 17 (Youth Day) & March 18-20, 2011

2011 Theme
"Hold Firm ... Trust!"

• Dates

•

Emailing


Online at archive.recongress.org


Email us at
congress
@la-archdiocese.org
The 2011 Congress Guidebook is now online! (The paper version will take a few weeks to print and mail.) Get a first look at the RECongress Guidebook. In this RECongress Emailing we have news about the Congress 2011 logo and new hotel updates. So start your planning now to attend Congress 2011.

Note: Online registration is expected to begin the week of October 25.

Pass along this emailing or our link — archive.recongress.org — to share with friends and encourage them to sign up for our Congress Emailing for updates. If you do not care to receive future updates, you can find removal information at the bottom of this message.

¡Para información en español, clic aquí!




WHAT IS CONGRESS?
The Religious Education Congress, sponsored by the Archdiocese of Los Angeles Office of Religious Education, is the nation's largest annual gathering of Roman Catholics! Our last RECongress, held in March 2010, brought together nearly 40,000 people during the four-day weekend! We had registrants from across the country and as far away as Ireland and Australia.
DATES
The 2011 Los Angeles Religious Education Congress dates are:
• March 17, 2011 (Youth Day)
• March 18-20, 2011 (Congress days)
Location
Congress is held at the Anaheim Convention Center, located at 800 West Katella Ave. in Anaheim, Calif. (just across from Disneyland and Disney's California Adventure). See a Yahoo Map
Fee
The registration fee for the three-day adult Congress is $60 per person. Youth Day has a separate registration and fee ($20 per person).
Registration
The Registration Guidebook contains all workshop and speaker descriptions, entertainment and liturgy options, and all events during Congress. There are two Registration Forms per book. If you attended RECongress 2010, you will automatically be mailed a Registration Guidebook. If you need a Guidebook, please order one here. (Guidebooks will be available late-October.)
THE GUIDEBOOK IS ONLINE
The 2011 Congress Registration Guidebook is available online. And now you can view the Guidebook in a variety of ways:
PDF - Using the free Adobe Reader, you can download the complete Guidebook (for those with fast Internet connections) or download the Guidebook in smaller sections.
WEB PAGES - You can view all of the workshops, in each period, as Web pages.
iPAPER - See the complete Guidebook without having to download any software.
See the Congress Guidebook Page

CONGRESS LOGO
"Hold Firm ... Trust!" The Congress Committee chooses a theme based on the weekend's Sunday readings. For the past five years Valerie MacRae has designed our logos for the Religious Education Congress. She shared with us her experience this year:
"When I first was given the theme of 'Hold Firm ... Trust' so many images immediately came to mind –- two hands holding on to each other, a tree with deep roots perched on a cliff side, and many more. The directive for this project was to do something abstract to allow the viewer to see and interpret their own meaning of the theme from their perspective. That seemed like an impossible task.

"I work best with concrete images. I am not an abstract painter, but I did not want to let go of this challenge. In the past I have journeyed this Congress road with my close friend Susan J Paul. She had written 'We Remember' as one of the Congress theme songs and knows how rocky this creative path can be. She died of cancer this summer, so now she speaks to me through her music. I looked there for inspiration and as I put on the headphones and turned up the volume 'Free it Up!' played. I laughed and said 'Ok, Susan ... let's do this!' I held on firm to that phrase and trusted in my faith that I do not create alone but with the inspiration of the Holy Spirit who is the creative force behind the art and music. If you really believe you have that kind of creative partnership then you just paint.

"The finished piece speaks to me in different ways. I want to leave it open for interpretation. However, 'Hold Firm ... Trust' became for me a prayer that challenged me to trust the strong connection I have with my God and to not stand still in fear but to move ... move forward in life with bold color! 'Free it Up!' "

-- Valerie MacRae
See Past RECongress Logos & Themes

YOUTH DAY
Thursday, March 17, 2011
Theme: Godbook: Everyone Invited
You can find the Youth Day pages from the Registration Guidebook online. Start making plans to attend and check out the workshops and schedule for the day. Youth Day is specifically designed for those in the 9th-12th grades. High school students from across the state — and beyond — come together to participate in morning and afternoon workshops, share in liturgy, and end the day with a Youth Rally. Registration for Youth Day is a separate from Congress registration and has its own fees: $20 per person ($25 after February 4, 2011). Watch for online Youth Day registration coming soon.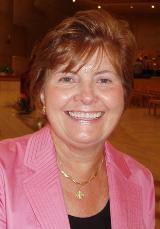 SR. EDITH'S WELCOME
"I would like to welcome you and invite you to join in our uplifting and inspiring Religious Education Congress. This outstanding weekend offers many opportunities for re-energizing our lives and enriching our ministries.

"The Congress theme — 'Hold Firm…Trust!' — echoes the words of the prophet Jeremiah who likens the one who trusts to a tree by the waterside that has no fear even in a year of drought. Nourished at its roots by the rich soil it grows and flourishes in all seasons. Heartened by this promise we move forward buoyed up with energy for the journey.

"I look forward to welcoming you at this spirit-filled gathering."
Sr. Edith Prendergast, RSC
Archdiocesan Director, Office of Religious Education
CONGRESS SPEAKERS
Congress 2011 offers a wide variety of speakers (193 of them this year) presenting sessions from personal growth to music to dealing with your child. There are 308 workshops available in English, Spanish and Vietnamese over the 4-day weekend. You can find our updated listing of speakers for Congress 2011 online.

Also be sure to check our Topics listing page, where you can sort speakers by their topic, workshop or language.


HOTEL UPDATE
Don't forget to book your hotel room early. We have contracted with 28 properties around the Anaheim Convention Center area for special pricing for Congress attendees. Be sure to ask for the Religious Education Congress rate when you book with one of these properties.

And now you can see exactly where the hotels are located on our interactive map of hotel properties. You can also find pricing, contact information and special offers on our Hotels Map. Check our Hotels page periodically for updates and announcements.

BRING YOUR OLD CELL PHONES TO CONGRESS


Last year we witnessed two of the largest natural disasters in recent memory in Haiti and Pakistan. And through the generous participation of Congress 2010 attendees in our Cell Phone Recycling Initiative, we have been able to donate $1,800 to Catholic Relief Services' emergency assistance to Haiti. Again this year we are partnering with GetGreenToGetGreen.com to collect phones to benefit Haiti and Pakistan.

Bring your old cell phones — working or not — with you to Congress. More than 130 million cell phones are thrown away every year. Don't throw away electronics that should be recycled. Do your part to recycle your old cell phone — and help us help Haiti and Pakistan in the process.

JUST FOR SOUTHERN CALIFORNIANS

Ralphs Grocery Company, a major supermarket chain in the Southern California area, supports schools, churches and other non-profit organizations with annual contributions. The Los Angeles Religious Education Congress is a member of Ralphs Community Contributions Program. Simply by using your Ralphs rewards Card a portion of eligible purchases are contributed to the RECongress. (Note: This is an annual program that must be renewed each year. The current term is September 1, 2010 through August 31, 2011.)

If you part of the program last year, you will need to update your account again this year. We encourage all Ralphs shoppers to sign up for the free Ralphs rewards Card and register their card with the Community Contributions Program. It's easy! Every time you shop for groceries and scan your card at Ralphs, RECongress will automatically earn up to 5% of all eligible purchases per enrolled card. Sign up now! It's never been easier to contribute to the RECongress.

Organization Name: Archdiocese of Los Angeles - Religious Education
Address: 3424 Wilshire Blvd., 3rd Floor, Los Angeles, CA
Organization Number: 90658

Find step-by-step instructions and information online.
RECONGRESS.ORG
You can find all Congress information and updates online. We will soon be adding Congress Spotlights and are constantly updating speaker and hotel information. Check our site for updates and announcements.
EMAILING
Be sure to Sign-up for the Congress Emailing List. You may opt out from this Emailing at any time from the link below.