Congress 2010 Lives On!
Please Help With Our Survey
Just a reminder that we need your help. For those who attended Congress, let us know what you thought. Even if you completed a paper survey, you can fill out the online survey -- ONLY until Monday, April 19.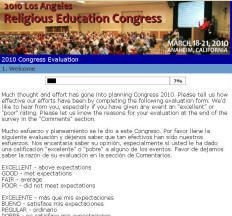 Please take a few minutes and complete our online evaluation at archive.recongress.org/survey.
There is a great deal of thought and effort that has gone into planning the RECongress, and we'd like to know how effective our efforts have been. We'd like to hear from you, especially if you would rate any event as "excellent" or "poor." Please let us know the reasons for your evaluation at the end of the survey in the box labeled "Suggestions for improvement."
For those who filled out the paper version of the form: if possible, we ask that you also please take the online survey. We can tally our information much sooner using the online method. By taking the online version of the survey, you greatly aid our staff. Please take the Congress Evaluation.
---
The days of Congress 2010 may have passed, but Congress lives on. Relive some of the Congress "magic" with our photos and videos from Congress online at archive.recongress.org. And keeping checking back as we continue to add new photos.
---
Pass along this Congress emailing or our link — archive.recongress.org — to share with friends and encourage them to sign up for these Congress Emailing updates. This is scheduled to be our last Emailing for Congress 2010; our Emailings for Congress 2011 should begin in late summer. If you do not care to receive future updates, you can find removal information at the bottom of this message.