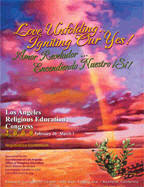 If you didn't attend this past Congress, be sure to order your Congress 2009 Registration
Guidebook here
---
Congress 2009
Feb. 26 (Youth Day) &
Feb 27 - Mar 1, 2009
It's only 5 months until RECongress 2009! Are you ready?!
Pass along this emailing or our link --
archive.recongress.org
-- to share with friends and encourage them to sign up for our Congress Emailing for updates. If you do not care to receive future updates, you can find removal information at the bottom of this message.
---
The Religious Education Congress, sponsored by the Archdiocese of Los Angeles Office of Religious Education, is the nation's largest annual gathering of Roman Catholics! Our last RECongress, held in February/March 2008, brought together over 40,000 people during the four-day weekend! We had registrants from across the country and as far away as Ireland and Singapore. (See our
2008 Congress statistics
.)
DATES
The 2009 Los Angeles Religious Education Congress dates are:
•
February 26, 2009
(Youth Day)

• February 27 - March 1, 2009
(Congress days)
LOCATION
Congress is held at the Anaheim Convention Center, located at 800 West Katella Ave. in Anaheim, Calif. (just across from Disneyland and Disney's California Adventure).
See a Yahoo Map
FEE
The registration fee for Congress is $60 ($70 after January 5, 2009 deadline).
Our theme for Congress 2009 is:
"Love Unfolding ... Igniting Our Yes!"
"Amor Revelador ... Encendiendo nuestro ¡Sí!"
Love unfolding is the way of Jesus, calling his disciples to "come and see" and now calling us into deeper friendship and interconnection with Him and with all of life. This bond of oneness, this fastening of the spirit to God sustains us on the path, generates and ignites a fresh energy and propels us to give voice to our "yes" anew. -- Sr. Edith Prendergast

You can read the Director's full reflection on the RECongress 2009 theme – as well as past themes – at
archive.recongress.org/retheme.htm
.
Find our listing of Congress themes at
archive.recongress.org/themes.htm
The Congress weekend officially gets underway on Thursday, February 26, 2009 with Youth Day, which is specifically for those in the 9th-12th grades. High school students from many different backgrounds from throughout the Los Angeles Archdiocese – and beyond! – come together to participate in morning and afternoon workshops, share in liturgy and end the day with a Youth Rally.
Registration for Youth Day is a separate from Congress registration and has its own fees. Youth Day registration is $15 per person. Watch for the Youth Day theme announcement and registration information online at archive.recongress.org/YD

Most of our Congress delegates stay in the surrounding area hotels. We have contracted with 31 hotels for Congress 2009 that will offer special rates for attendees. We suggest making hotel reservations as soon as possible. A few hotels have already sold out of their special rates (though they might have rooms available at higher rates). When making reservations, be sure to ask for the Religious Education Congress rate.
You can find updated information about contracted hotels at
archive.recongress.org/hotels
Congress once again offers a wide variety of speakers (182 of them this year) presenting sessions from personal growth to music to dealing with your child -- in English, Spanish Vietnamese, and two in Korean. Returning speakers lined up for RECongress 2009 include John Allen Jr., Richard Cheri, Rev. Virgilio Elizondo, Sr. Fran Ferder, Sr. Barbara Fiand, José-Román Flecha Andres, Fr. Richard Fragomeni, and many more ... in addition to some new names: Jack Jezreel, Roland Kim, Gen Rosso and still more!
You can find a complete and updated listing of speakers for RECongress 2009 online at
archive.recongress.org/2009/speakers.htm
You can find all Congress information and updates online at
archive.recongress.org
. We will soon be adding Congress Spotlights and updating speaker and hotel information. In two weeks we will be posting our Congress Registration Guidebook and opening our online registration.
Watch for exciting announcements on
archive.recongress.org
.